Aloo-baingan a saucy curry and a perfect combo with roti's and Rice.  I got this recipe from one of my friends. She cooks delicious Gujrathi Dishes. She made this curry for me when i was preggy with Bala. Loved this totally.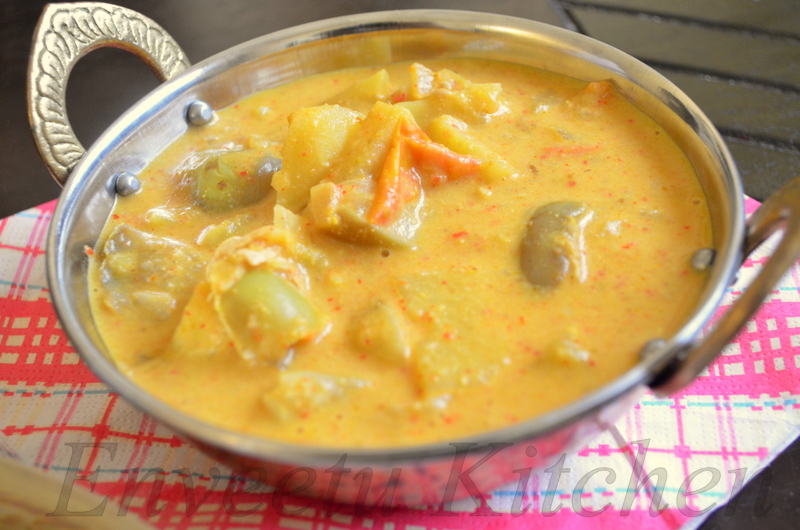 Ingredients
2 Medium-size Onions, finely sliced
2 medium-size Tomatoes, finely chopped
2-3 cloves of garlic, chopped
a small piece of ginger,chopped
1 teaspoon Red Chili Powder
1 teaspoon Coriander powder
½ teaspoon Garam masala Powder
¼ teaspoon Turmeric Powder
½ Cup Milk or Cream
2 tablespoon Groundnut Oil (gives a nice aroma to the dish)
Coriander leaves for garnishing
1 tablespoon Peanuts
2 nos almonds
1 small onion
1 green chili


Method
Wash and Peel the Potato, cut them into  cubes. Wash the Brinjals, cut the tail off and Chop them too into cubes. Keep the brinjals immersed in water until use.

Grind the ingredients under '

To Grind'

to a fine paste using little water.

Heat oil in pan, throw little cumin, when it sizzles, add the chopped onions, ginger, garlic and saute them until onions turn pink. 
Next add Chopped Tomatoes, and the dry masala powders (Red Chili Powder, Coriander powder, Garam Masala Powder, and Turmeric Powder) along with half cup of water and cook till the tomatoes are done.

Now Add the Potatoes and Brinjals and another half cup water, Salt, Ground Paste. Mix well Cover and Cook for 10 minutes.

After 10 minutes, add milk and let it simmer for another 10 minutes.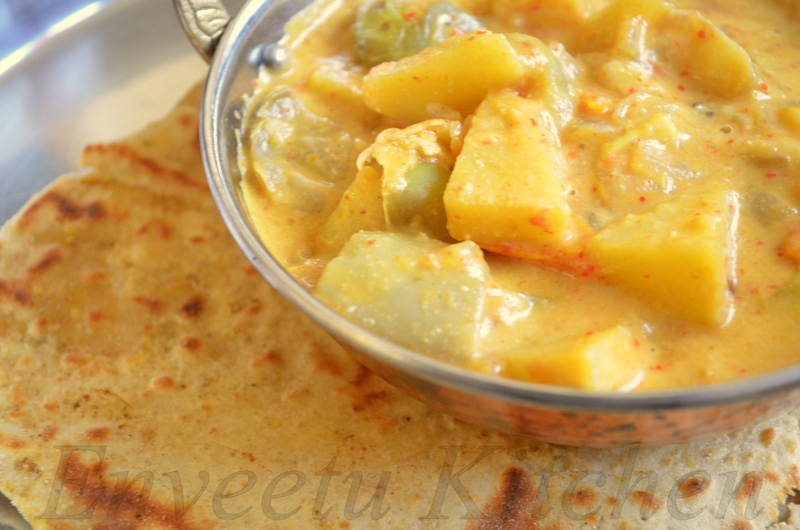 Take it off the stove, Garnish with coriander leaves. Serve Hot with Roti's or with Rice. Either way it tastes amazing!!!!!