Today we are travelling to assam. I m sure all the BM-ers doing this marathon, would definitely agree, that the NE states gave us a tough run while searching for their food habits. But, this gave me the strongest urge to learn more about their food habits, a deep digging gave me lead to few journals published about their Food,culture and ethnicity of their tribal life. Here i present a glimpse of what i absorbed.
Northeastern India is one of the richest floras in India, where people depend on shifting cultivation systems and forest based food products for their sustainable survival. This region, which lies under eastern Himalayan ecosystem, is not only rich in plants diversity but also have a great treasure of cultural, social and linguistic variability, conserved by tribal people. The region is a treasure of indigenous knowledge systems pertaining to agriculture, food, medicine, and natural resources management
People are habituated to live and survive with the forest and Jhum cultivation culture, which ensure a range of ethnic foods rich in nutrition and compatible to culture and ethnicity of tribes. Since time immemorial, tribal women have conserved many local crops, ethnic vegetables and indigenous fruits used in local diet for food and nutritional security.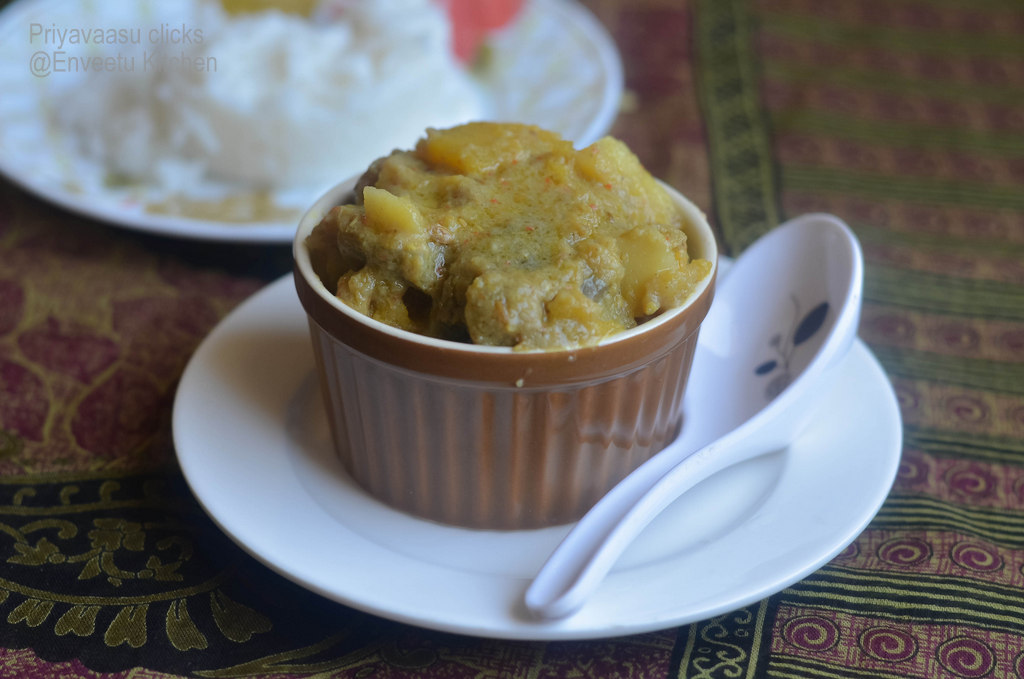 Assamese Cuisine,is a style of cooking that is a confluence of cooking habits of the hills that favor fermentation and drying as forms of food preservation, and those from the plains that provide fresh vegetables and abundance of fish from its many rivers and ponds; both of which are centered on the main ingredient—rice.
The cuisine is characterized by very little use of spices, little cooking over fire and strong flavors due mainly to the use of endemic exotic fruits and vegetables that are either fresh, dried or fermented. Fish is widely used, and birds like duck, squab etc. are very popular, which are often paired with a main vegetable or ingredient. Preparations are rarely elaborate—the practice of Bhuna, the gentle frying of spices before the addition of the main ingredients so common in Indian cooking, is absent in the cuisine of Assam.
Info Source : CSIR - NISCAIR, WIKI
Recipe Inspired from Sunitabhuyan
Ingredients
1.5 Cups chopped butternut squash/pumpkin
1 medium-sized moola/mooli(Daikon radish), chopped
2 medium sized potatoes, chopped
1 medium raw banana, chopped
¾ teaspoon turmeric powder
¾ teaspoon garam masala powder
To Grind
2 tablespoon mustard oil/vegetable oil
1 teaspoon paas puron/paanch phoron
1 whole red chilli, halved
Method
Grind the ingredients given under "To Grind" to a paste. Heat the oil in a pan and add the ingredients for tempering. When the seeds splutter, add the onion-ginger-garlic-chilli paste. Keep stirring till the moisture evaporates and the mixture is lumpy.
Add the vegetables, radish, potatoes,butternut squash, raw banana and aubergine, stirring well after each addition till everything is nicely coated with the spices.Add the sugar and season with salt.

Reduce the heat to low, cover and cook till the vegetables are done ¾ths of the way, stirring every now and then.

Add the turmeric and cumin powders, stir well for about a minute and add the water. Bring to a boil over high heat.

Reduce the heat to low, cover and cook till done, stirring every now and then. The aubergine should have lost its shape, the squash and potatoes very soft ( no sharp edges) and the radish slightly firm. Add the garam masala powder.

Increase the heat and stirring continuously, reduce the gravy, but do not let it dry out completely.Serve hot as a side dish with plain rice and dal.
The Labra was amazing, the aroma of it while cooking, was fantastic, keeping in mind the amount of masala/spices used, it was mind-blowing. It paired well with rice, while hubby had it with roti's and i had it as such to serve my daily dose of veggies.