After a short break, i m joining +Srivalli Jetti and team for Blogging Marathon#38. For the first week, i have taken up the theme Evening snacks for kids. It has become increasingly difficult to please them with a variety every day. My elder one is ok, he understands sometimes and gobble whatever i give with the mantra "it is healthy", but my lil one is such a brat, he will keep his hands on his fore-head and shake his head, meaning No-No. He needs variety,not even 2 now, but that fellow needs variety, tough one to please!
For one such demanding evening, i made these bread baskets, he totally loved it and devoured them! yes, devoured is the correct word, if at all these baskets had eyes, they would have cried enough for the way he picked them,squished them and put it in his mouth!!! 🙂 Anyway, plate was empty and mommy was happy!
Ingredients
6 slices brown bread/white bread
6 tablespoon shredded mozarella cheese
1 slice of cheddar cheese, cut into 6 pieces.(optional)
oil for greasing the muffin pan
½ teaspoon red chili powder
2 sprigs of curry leaves, chopped
Method
For the filling
Pressure cook the potatoes for 3 whistles or until soft. since i was cooking rice in Pressure cooker, i added the potatoes along.

If planning to cook in the microwave, then take them in a Microwave safe bowl, add water to immerse the potatoes well. Cook @ high for 8-10 minutes.

Once the potates are cooked, let it cool for 10 minutes, then peel and chop them into cubes.

Heat 2 teaspoon of oil in a kadai, splutter mustard seeds, add hing, turmeric and curry leaves, saute for a minute or two.

Add onions and saute until they turn translucent. Next add cubed potatoes, red chili powder and salt.

Cover and cook for 5 minutes for the flavors to mingle. Remove the cover and cook for another 5 minutes. Take it off the stove and set aside until use.
Preheat the oven to 180C. Cut the corners of the bread slice. Flatten them slightly with a rolling pin. Do not press too hard, just make the slice a bit flat.

Oil a muffin pan, and snuggly fit the bread slice into the mould. Grab the corners of the bread with your fingers and gently fit the bread into the muffin hold. Press the center with your fingers to settle it well in the pan. Brush the bread cups with oil/butter.

Now add a spoon of the filling into the center of the bread cups, top with a tablespoon of shredded mozarella.

Bake in a preheated oven for 12-15 minutes or until the cheese melts and the cups are browned well.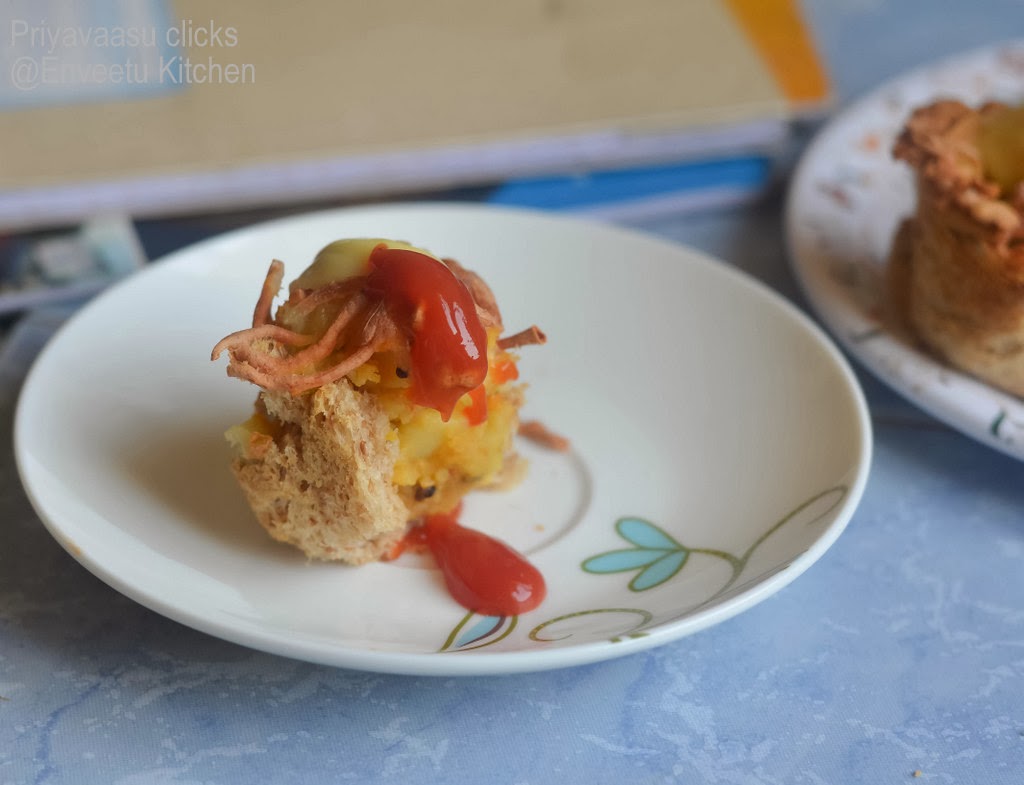 Once done, remove it from the oven and immediately add a piece of cheddar slice on top, it will melt in the residual heat.

Serve along with sauce, your kids will definitely go ga-ga and ask for more.
Sending this to Kids Delight - After school snack's/tiffen, happening @ +Nivedhanams Sowmya space, event by +Srivalli Jetti. And also to Bake fest#29, happening @ +Priya Suresh space, an event by +Vardhini Koushik


Check out the Blogging Marathon page for the other Blogging Marathoners doing BM#38