Beets is my favorite veggie, infact our favorite veggie. I love to make Beets thogayal atleast twice a month and beets lassi whenever i feel like having a chilled drink. At home, my younger one loves the beets rasam and beets pachadi. Even my elder one who doesn't prefer beets curry much, loved the beets croquettes, which i made last week. So, while deciding dishes for the colorful dishes theme, i wanted to do this beets labneh too. Labneh is a soft cream cheese made of hung yogurt. I already have a spiced labneh in my kitchen, this beets and chili labneh is another wonderful additon.
I served this with some chapathi to my younger one for dinner, he loved it. My elder one has asked me to make some sandwich with it for his snack tomorrow. A simple recipe, that will be ready when you are asleep, yup leave it to drain overnight in the fridge, you will have a creamy condiment for breakfast the next day.

Ingredients
1 small beetroot, around 80 grams
250 grams full fat yogurt
1 green chili, finely chopped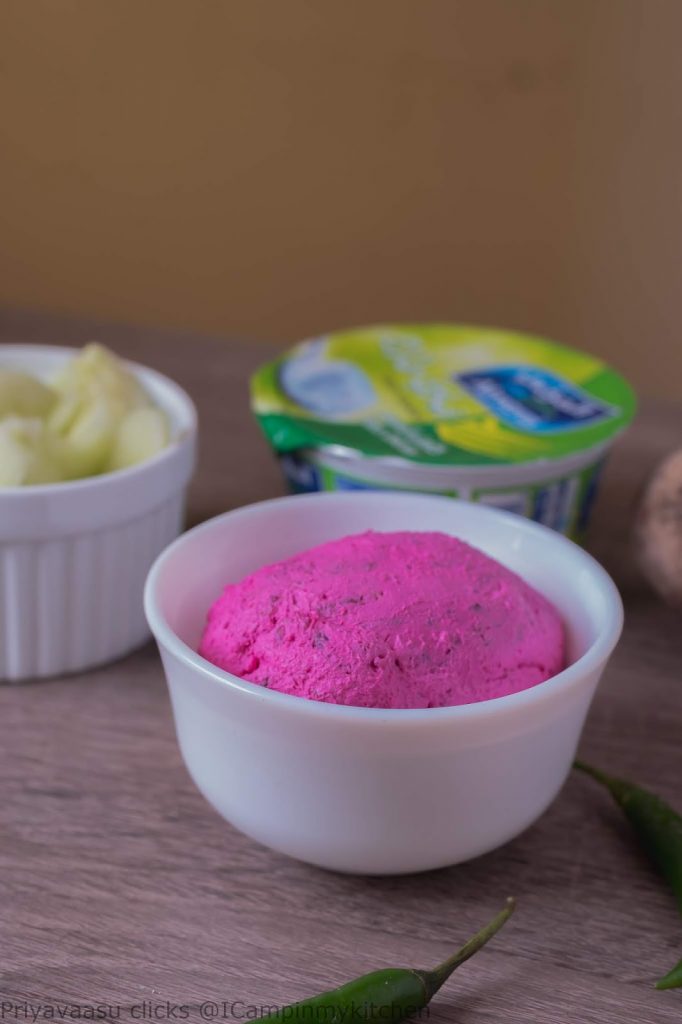 Method
Peel and cook the beets in the microwave or stove-top until soft. You can also use it raw, but since both my kids love labneh, i didnt want them to be put off by raw beets, so i cooked them soft. Do not waste the water in which the beets were cooked, use it make rasam or cook your dal.

Once beets cools down, grate it fine. In a bowl , take the grated beets, chopped green chili, dump the yogurt, and salt. Give it a good mix.
Pour the yogurt in a cheese cloth, tie on top, place it on a sieve and let it sit overnight or atleast 6-8 hours and drain off all the whey. Take it off the cheese cloth, and serve it along roti's, bread and your veggies.