I never imagined that i would bake with ancient grains and flour mix when i first started baking. All i knew was all purpose flour/maida/white flour. But slowly with many disasters, i learned how to bake with whole wheat flour. Thanks to may baking groups i joined earlier to feed my baking enthusiasm. Now all my bakes are made of 100% whole wheat flour, i don't buy all purpose flour/maida these days. Now i have left almost all the groups, i m not able to handle deadlines these days. But the love for baking has never left, i try to bake atleast once a week, mostly during weekends, thanks to my folks who eagerly wait for my bakes, that keeps me motivated.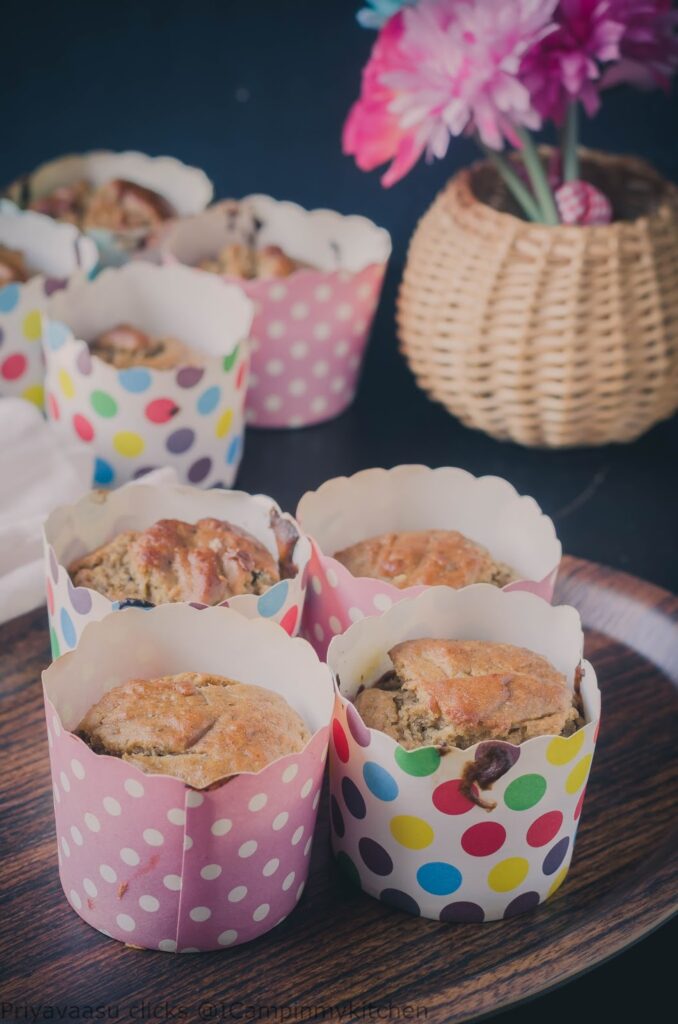 The love to bake with gluten-free flours started recently. I do get these flours easily, that is another motivation. I made a Barley flour muffins last year for #BreadBakers, i still remember how soft and fluffy those muffins were. I have used buckwheat substituting it for half the wheat flour in many bakes like this Banana Loaf with cream cheese center.
This recipe today is a revelation for me, i totally loved the texture of these muffins. I have made this recipe two times in a week now and i m definitely going to try more variations in this. Go ahead give it a try and let me know
If you happen to try this recipe do tag me #icampinmykitchen and i would love to see your bakes.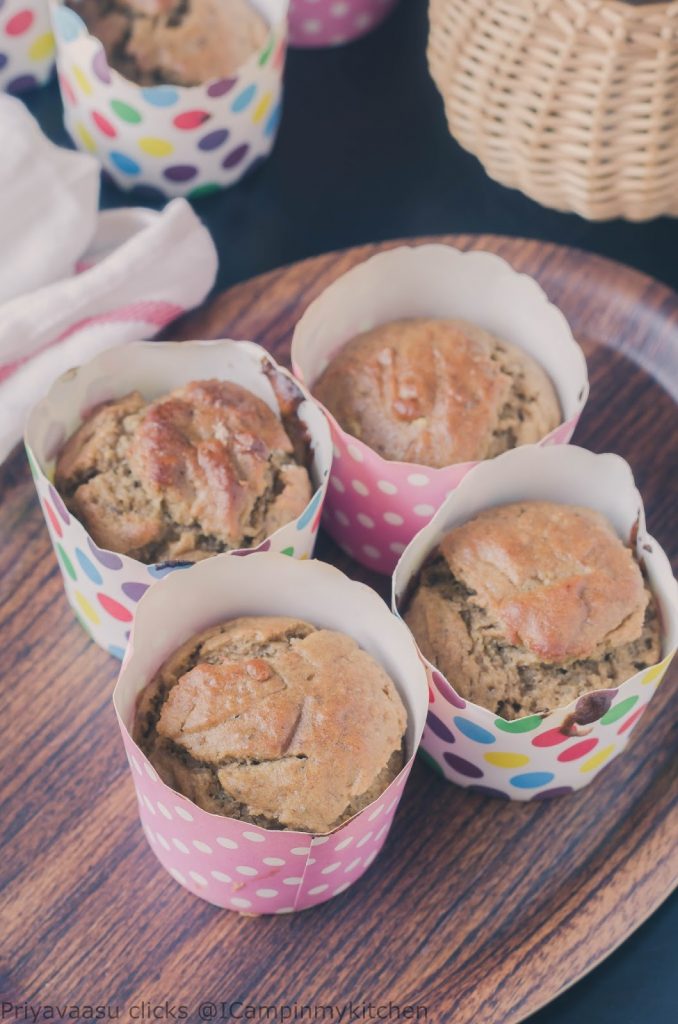 Ingredients
1.5 cups of buckwheat flour
3 large bananas (i used dole variety)
1 teaspoon chia seeds (try using 1 tablespoon flaxmeal)
4-5 nos of cardamom seeds
Method
Preheat the oven to 180C and grease a 12-muffin mould or line it with muffin liner.

Take flour, baking powder, baking soda in a wide bowl and whisk well for it to mix well, you can also sift the 3 ingredients together for a homogeneous mixture.

Take bananas, sugar, chia seeds and oil in a blender and blend smooth. Add this banana puree to the flour mix

Using a spatula, mix the dry and wet ingredients together. While mixing, move the spatula in the same direction.

Using a ice-cream scoop, fill each muffin hole with 2 scoops of batter. i got around 11 muffins, left hole last hole empty.

Bake the muffins in the preheated oven, for for 20-25 minutes or until done. Mine was done by 20 minutes. Remove the muffins from the oven, let it cool on a wire-rack for 10 minutes. Serve warm.