It is already June now, days just whizzed by!! It was only yesterday we were all wishing Happy New year and 6 months just flew!! phew, what did we achieve in this 6 months, how many of us followed their New year resolution or still following? I just had one and i m sticking with it, Exercise and have fun. I cannot stick to a diet, i cannot diet, the word diet itself makes me weak.
I train myself to eat healthy, i try to keep away from junk, and try to find healthier options for foods we like. For the first week of BM#53, i took the theme : Movie Snacks. The first thing that pops in our mind is Popcorn!! We kind of have a fascination for Garret Caramel Popcorn. We have an outlet at Dubai mall, that is so far far away, but whenever we visit we make sure to have a pack of it.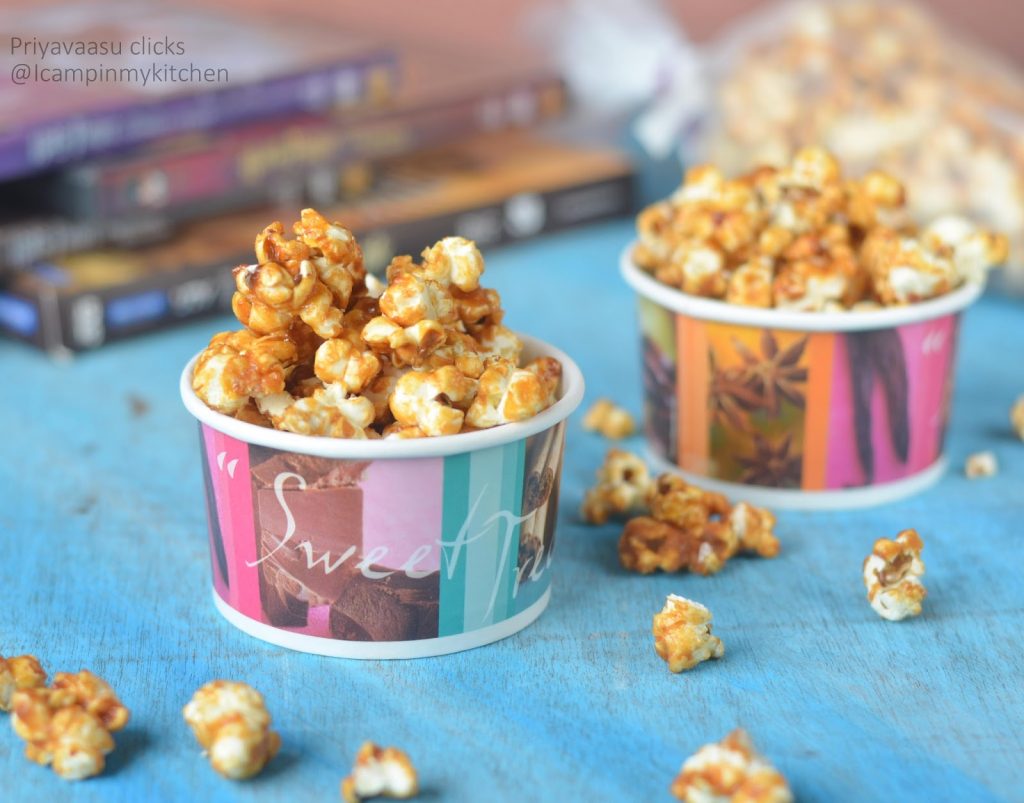 I wanted to recreate the same recipe at home. While googling for recipe, all of them had sugar and corn syrup and the ones without corn syrup and using honey, failed to have that attractive caramel color. So, i went on to do my one, instead of sugar i used jaggery powder and for corn syrup i substituted with dates syrup. The resulting caramel had a beautiful color. The final corn too was so crisp and the taste was spot on!!!
Ingredients
For the caramel
½ teaspoon vanilla extract
Popping the corn
Heat a heavy-bottom wide pan, add oil, when the oil heat ups, add the corn and close the pan with a lid. Reduce the flame to simmer.

The popping will start and once it starts to slow down and almost no popping for ⅔ seconds, then switch off the flame and let it sit for another 5 seconds covered.

Remove the lid. If planning to have plain butter popcorn, then add 2-3 tablespoon of ghee and salt, mix well. Serve immediately.
Remove the popped corn into two separate baking sheets, i used two large aluminium takeaway pans.

In the same pan which i made popcorn, i made the caramel too. To the hot pan, add butter, jaggery and date syrup. Stir well. Reduce the flame to simmer.

It will thicken immediately. When butter melts completely. the sauce will become of pouring consistency all brown and slippery. Remove it from flame. Add vanilla extract, salt and baking soda. The sauce would foam a bit after adding baking soda. Stir well.
Carefully using tongs, take the pan and divide the sauce among the two baking trays of popcorn. To achieve even pouring, use a ladle and pour in a wiggly fashion once horizontally and again vertically. Toss and Mix well or use a ladle to evenly coat the popcorn.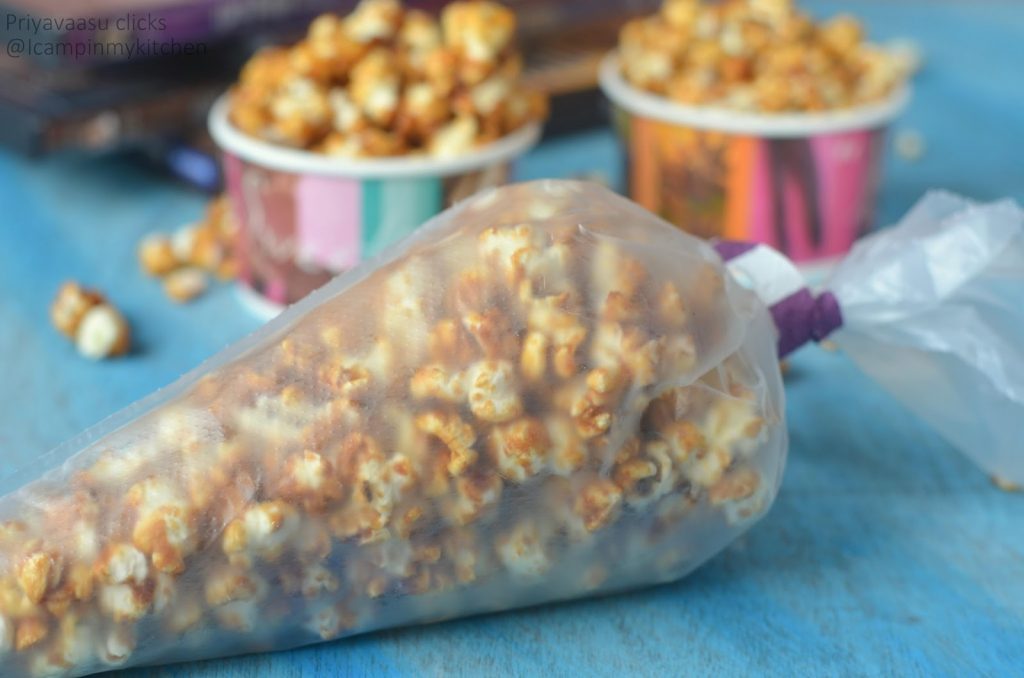 Preheat the oven to 100C (250F), bake the pop corn for an hour, taking out after every 15 minutes and mixing them well.

After an hour of baking, let them cool completely in the tray, by this time, they will be non-sticky and you will hear nice crunchy sound when tossed in the tray.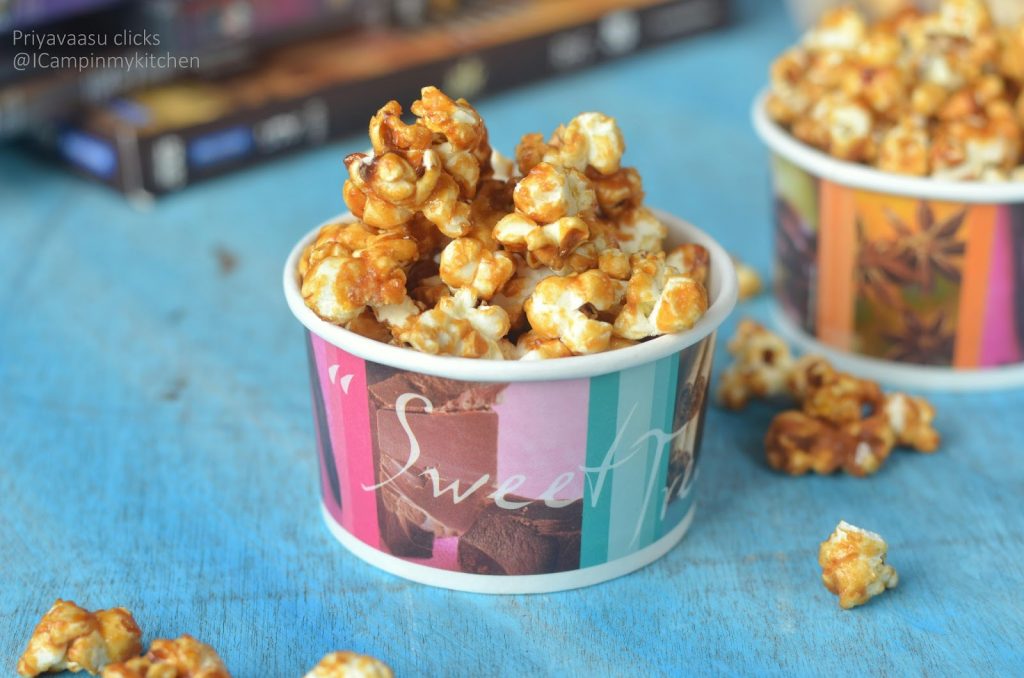 Once cooled, store them in an air-tight container. They make great gifts too. Just put them in candy bags, wrap a nice ribbon around and make sure to put a note that it is home-made, i bet the love will be felt even more!!!