Chocolate nut clusters, delicious and crunchy treat made of toasted nuts and dark chocolate. Nut clusters are easy treats that can be made literally in minutes.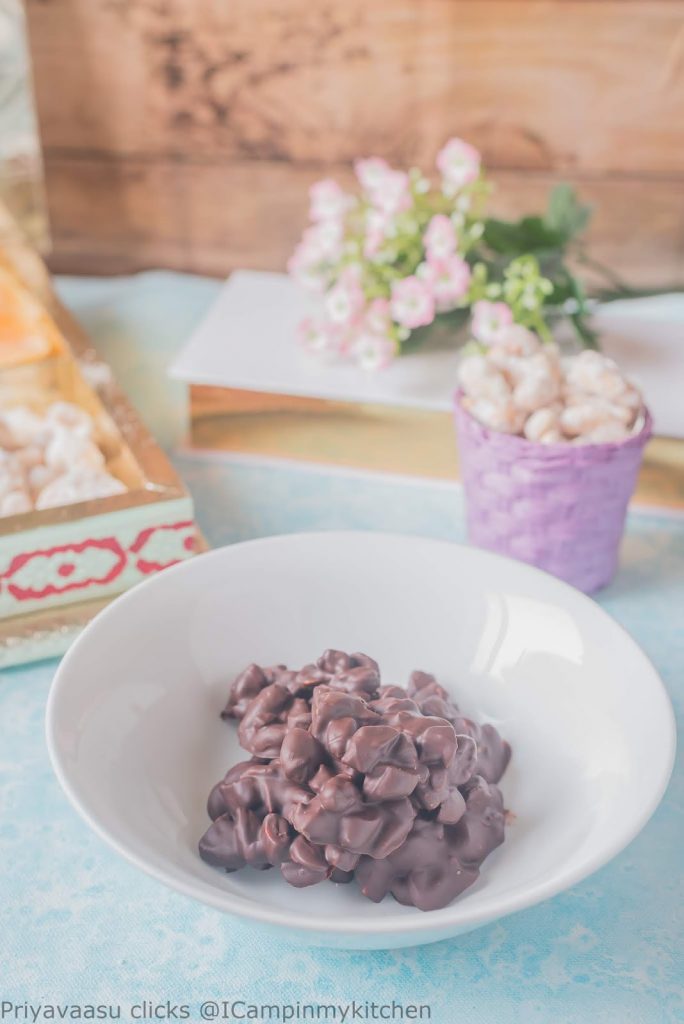 When valli announced candy theme for the Blogging marathon, i had quite a lot of recipes to try.  When you have lot of options to chose from, it is always confusing, you keep jumping from one recipe to another, unable to decide. I chose 6 recipes and had to pick 3 from the list, was a tough selection, but happy with what i chose.
How to make Chocolate nut clusters
Chocolate nut clusters, quickie recipe, that needs only 2 ingredients roasted nuts and good quality chocolate. I always have Lindt 70% chocolate handy, for my sweet cravings.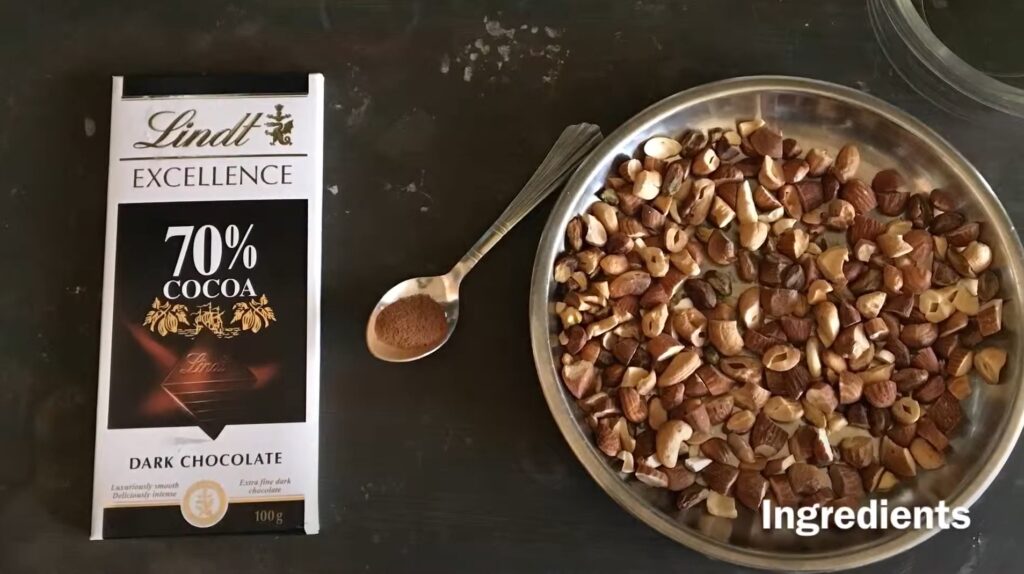 I have used equal amount of almonds and cashews for the chocolate nut clusters recipe, you can use nuts of your choice. First step is to toast the nuts, i prefer the oven to toast them. Spread the roughly chopped nuts in a oven-proof tray and toast @ 180C for 10 minutes. Once toasted, let the nuts cool completely.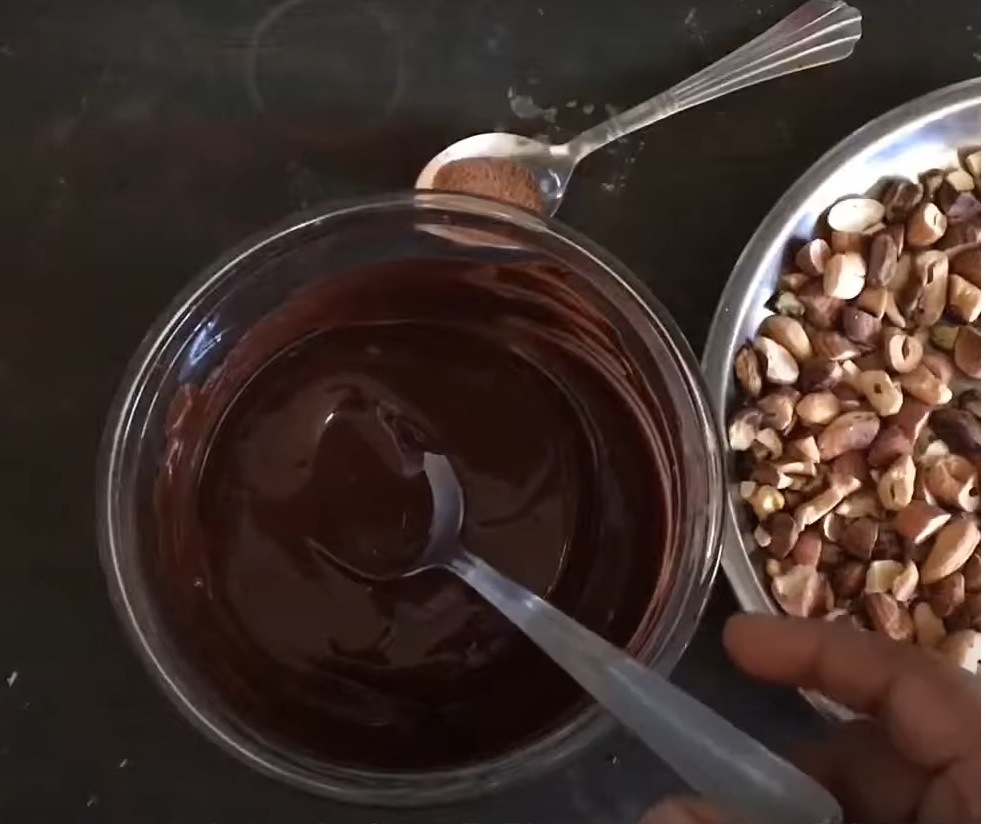 Cooling the nuts is important, as they crisp up after cooling, or else we end up with soft chunks of nuts coated with chocoalte. To make the clusters, we need to melt the chocolate. I prefer to melt it in the microwave. Take chopped dark chocoalte in a microwave safe bowl, microwave high for 1 minute. Remove the chocolate, stir, check the chocolate for chunks. If there are chunks, then proceed in bursts of 30 seconds to get a smooth melted chocolate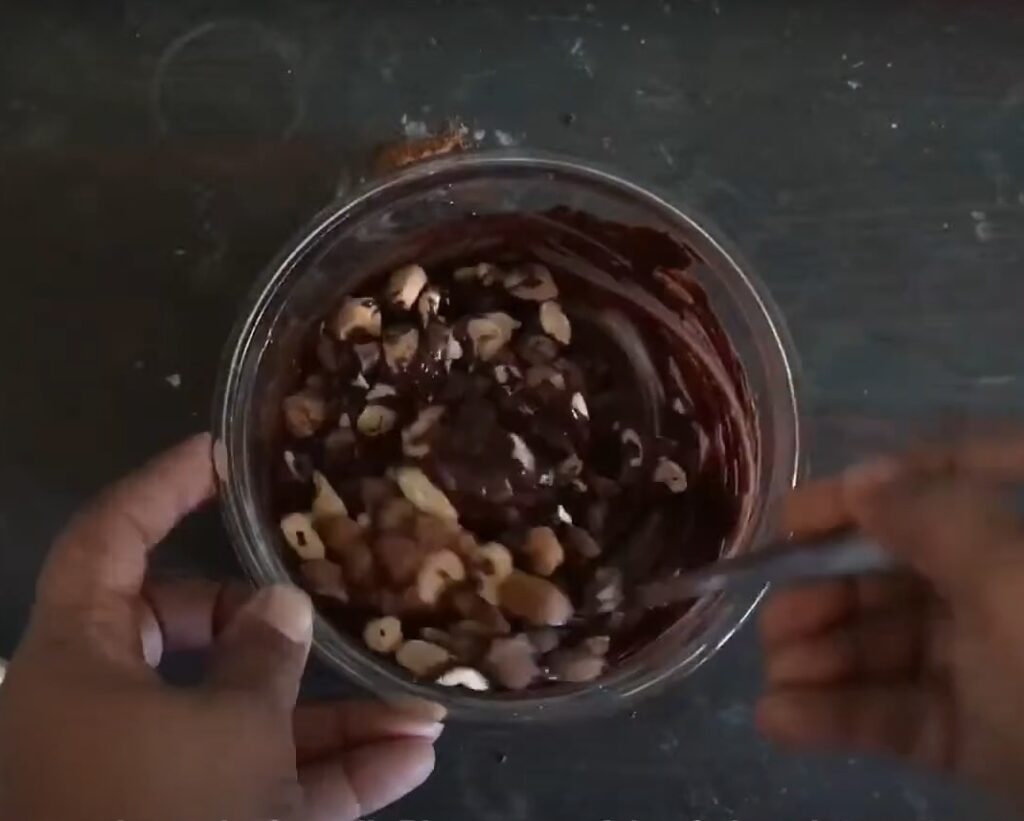 Add the roasted, cooled nuts to the chocolate, along with cinnamon powder and mix well. Lay a parchment lined tray and place scoops of chocoalte nut mixture on it. Refrigerate teh tray until set. It should set in 10 minutes. Remove the clusters from the tray and store it in an air-tight container in the fridge.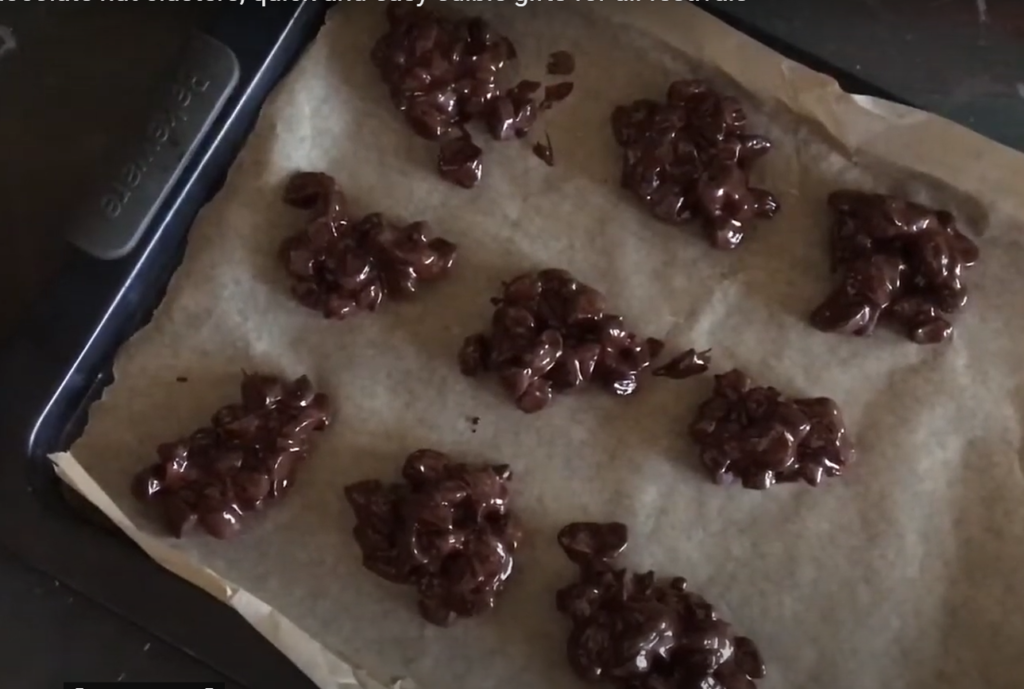 I had hard time, keeping my kiddos away from these until i finished clicking the chocolate nut clusters.  These make a wonderful gift for any festive occassion. They are healthy, guilt-free treats , they make a great grab & go kind of snacks. Do try and let me know how you liked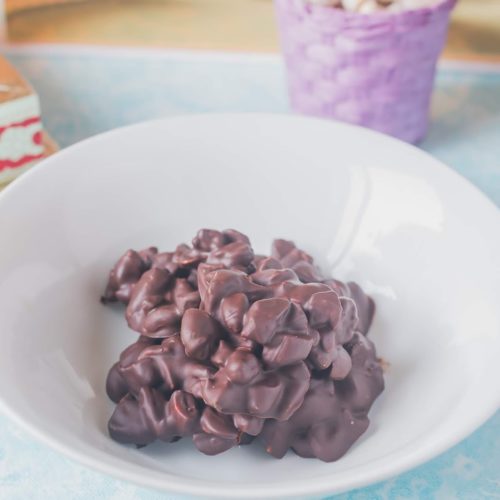 Chocoalte Nut Clusters | Vegan | Gluten-free
Chocolate nut clusters, delicious and crunchy treat made of toasted nuts and dark chocolate. Nut clusters are easy treats that can be made literally in minutes.
Print
Pin
Rate
Ingredients
100

grams

dark chocolate

i use lindt 70% cocoa

75

grams

chopped almonds

75

grams

chopped cashewnuts

½

teaspoon

cinnamon powder

optional
Instructions
To toast the nuts
I have used the oven for toasting the oven. Takethe chopped nuts in a oven-proof tray, add a teaspoon of oil and using your hands,mix it into the nuts well

Preheat the oven to 180 C and toast the nuts 8-10 minutes. The temperature and timings vary from oven to oven, so keep an eye from 8th minute. Once done, remove the nuts and let it cool completely, before using it in the recipe.
Let us make the chocolate clusters
In a microwave safe bowl, add roughly chopped chocolate, microwave it for 60 seconds first. Remove it and give it a stir, check if all the chocolate is melted, if you have huge chunks of chocolate, then microwave it for another 15-20 seconds and mix it again. 

Remove the chocolate from the microwave, stir it until smooth. Let it sit for 10-15 seconds, now add the chopped, roasted and well cooled nuts to this chooclate, add the cinnamon and mix it well.

Keep a parchment lined tray ready by your side.Place spoonful of chocoalte nuts on the tray, giving some gap inbetween eachlump you put on the tray

Refrigerate the tray until the chocolate is set. It would be ready in 10 minutes. Remove the clusters and refrigerate them. If the chocolate is well tempered it would stay good in room temperature also, if not it might start melting. 

Enjoy these nutty chocolate clusters, they make a great snack, healthy too.
Video
Notes
i prefer using the oven to roast the nuts. You can also do it on stove-top, but take care not to burn the nuts, do it in simmer flame until you get a toasted aroma of the nuts.
The nuts must be completely cooled before adding it to the chocolate.
Again i prefer the microwave to melt the chocolate. you can also melt it on stove-top, follow bain-marie/double boiler method. 
I have used cinnamon powder as flavoring, you can also use vanilla or your choice flavors.
I prefer to refrigerate the nut clusters, since the chocolate might melt in room temperature, if its not tempered well. 
Disclaimer
I m not a Doctor or a Nutritionist The Nutrition information provided above comes from the plugin and is only an estimate.
Enjoy making these chocolate nut clusters during the festival season and enjoy a healthy and guilt-free snack.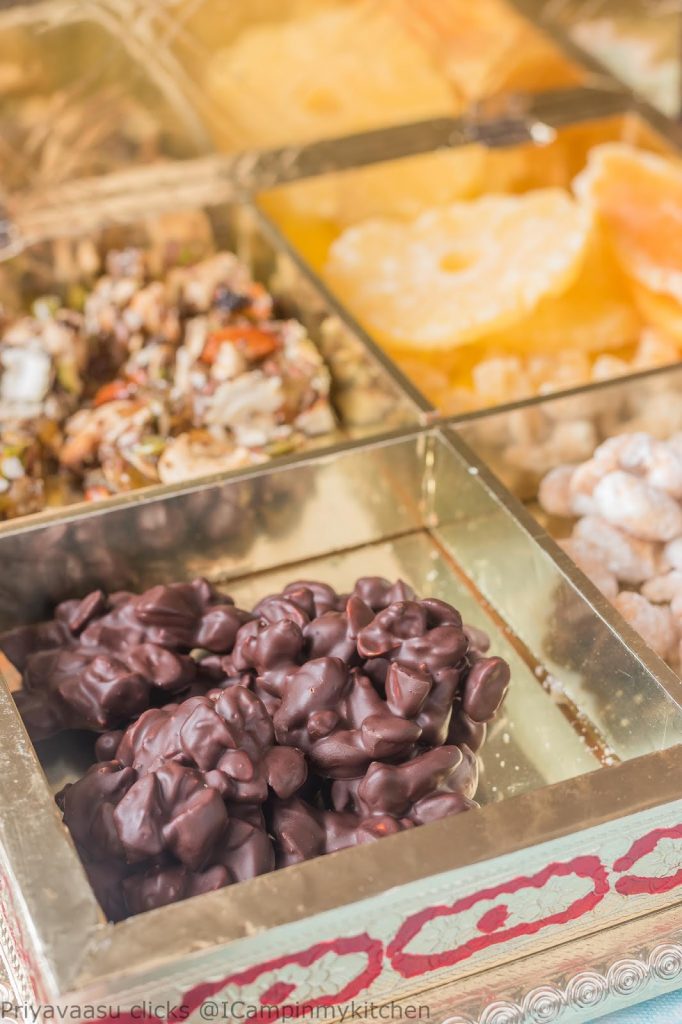 If you have tried this recipe and like it, give it a star rating or let me know in the comments below. You could also share it with me on Instagram using #icampinmmykitchen and tagging me @priyasrinivasan.
You could follow me and my recipes on  Facebook |  Instagram  | Pinterest  | twitter
Chocolate delights to try
Chocolate burfi
A quickie treat made with milk powder, cocoa and condensed milk. An easy dessert to try during festivites.
Check out this recipe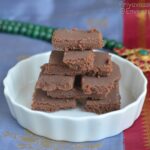 Chocolate Peanut Butter
Chocolate peanut butter, delicious homemade sandwich spread with roasted peanuts and chocolate.
Check out this recipe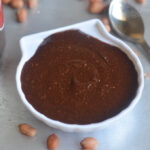 Brigaderia | Brazilian chocoalte truffles
Brigaderio, Brazilian chocolaty bonbon, a popular chocolate candy that is served as dessert and a specialty during birthday parties.
Check out this recipe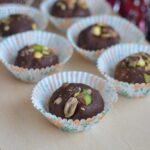 Do you like this recipe, PIN IT