Chocolate peanut butter, delicious homemade sandwich spread with roasted peanuts and chocolate.
A quick and easy sandwich spread that takes only 10 minutes to make. Since it is homemade, it is free of all the preservatives and additives.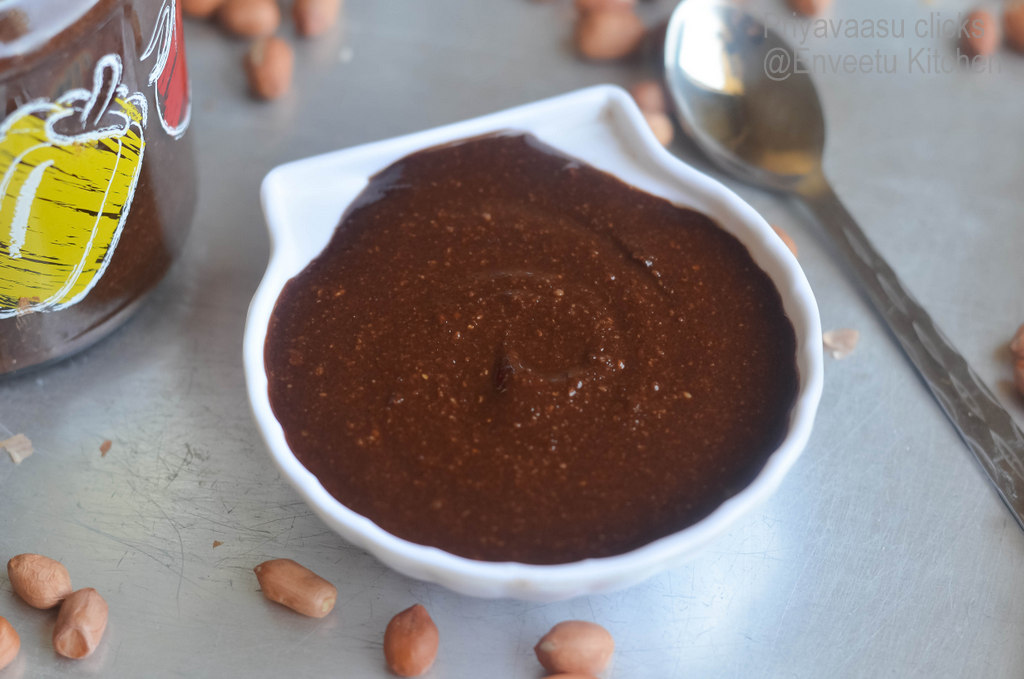 When you have young kids at home the one constant word is "i m hungry". Though we try to cook healthy and make fresh meals all the time, there are few moments when you want something magically appear from the bottle to pacify their sudden hunger pangs.
This healthy homemade spreads come in handy for those times. I keep a loaf of bread handy and both my kids help themselves with some quick sandwiches with the spread. Me too happy as they are indulging in something homemade and little less processed.
This smooth chocolate peanut butter is also good for travel. Pack some homemade flatbreads and a jar of this spread, you can have a yummy snack anytime. The spread comes handy as a dip too, fresh apples and some chocolate peanut butter on the side, you might notice more apples are been gobbled.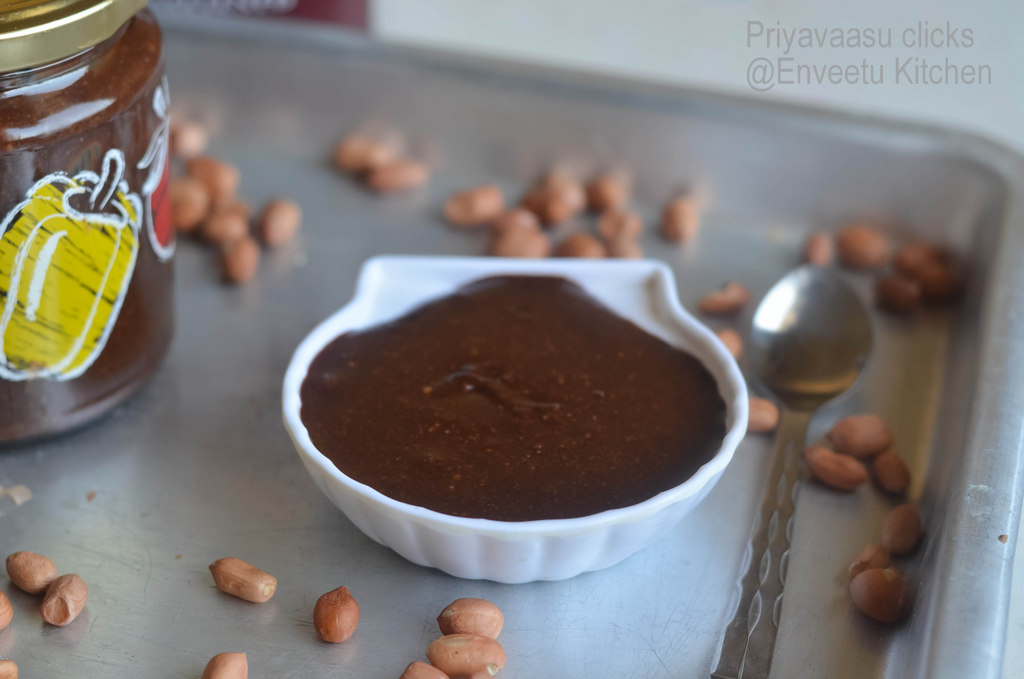 On the whole, this chocolate spread is a handy dip/spread in your kitchen to make your day better in many ways.
The ingredients
Peanuts, use good quality peanuts, i get mine in a nearby spice shop, skinned peanuts are better.
cocoa powder, i usually use Hershey's or Cardbury's brand cocoa powder. This can also be omitted to get a good old plain peanut butter
Sugar, recommended if making for kids, if this for adults try replacing it with agave nectar or sweetener of your choice, i personally have used only sugar.
Oil, this gives the spread the necessary viscosity that allows the spread to be spreadable.
Spices, i haven't used any, but if interested add a good pinch of cinnamon or clove to your nut butters for a nice aroma.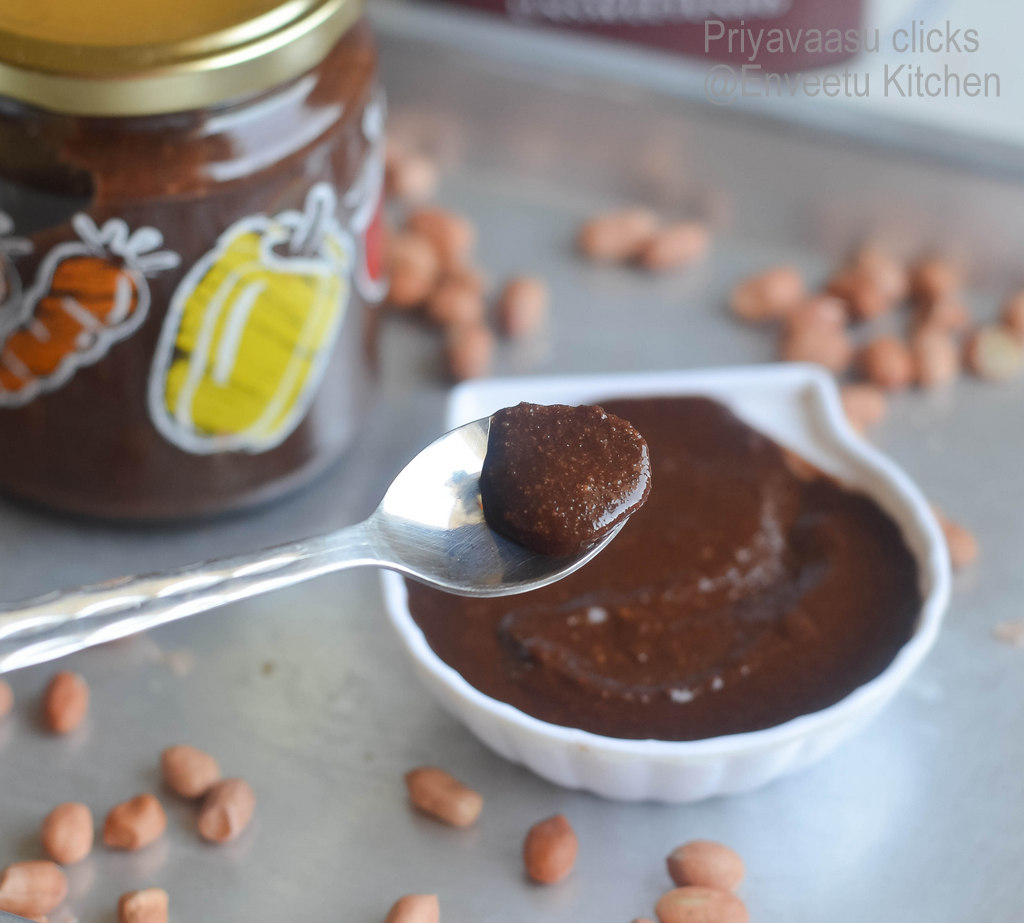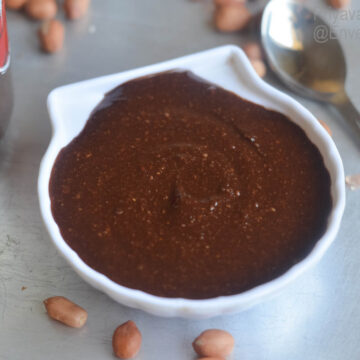 Chocolate Peanut Butter
Chocolate peanut butter, delicious homemade sandwich spread with roasted peanuts and chocolate.
Print
Pin
Rate
Ingredients
1cup Skinned peanuts6-7tbsp powdered sugar4tbsp Unsweetened Cocoa Powder2tbsp Oil¼tsp Salt

1

cup

skinned peanuts

6

tablespoon

powdered sugar

4

tablespoon

unsweetened cocoa powder

2

tablespoon

oil

any flavorless oil, i used sunflower oil

¼

teaspoon

salt
Instructions
Heat a heavy bottomed pan on a medium flame and roast the peanuts to golden brown color.

I used skinned peanuts, if you use peanuts with skin, after dry roasting, remove the skin and use. Let the roasted nuts sit for 2-3 minutes and cool.

Take the roasted peanuts into the food processor jar and pulse them a few times. Then grind it to a fine powder. Mix and scrape down the sides as needed. 

I have used my small jar of my food processor. Continue grinding until the peanut butter is smooth and shiny. I preferred a bit grainy, not chunky, teeny bit grainy.

Add the cocoa powder, powdered sugar, and salt to the peanut mixture and continue to grind until well mixed. Scrape the sides of the jar as you grind. Grind until the mixture is creamy and shiny. 

Finally add oil and process it once more until well mixed.

Transfer the peanut butter to a clean, glass jar and store in the refrigerator. It will stay good for a couple of weeks. 

Refrigerated peanut butter, might go a bit thick, so, let it rest for 10 minutes on the counter before using it as a spread on sandwiches/roti. I made some yum peanut butter crescent rolls. 
Notes
If using salted peanuts, avoid using salt in the above recipe.
Above given sugar is fine for us, but if you prefer your spread to be sweet, increase it to ½ Cup. 
The sugar in the recipe can be replaced with alternate sweeteners. 
Disclaimer
I m not a Doctor or a Nutritionist The Nutrition information provided above comes from the plugin and is only an estimate.
If you have tried this recipe and like it, give it a star rating or let me know in the comments below. You could also share it with me on Instagram using #icampinmmykitchen and tagging me @priyasrinivasan
You could follow me and my recipes on Facebook | Instagram | Pinterest | twitter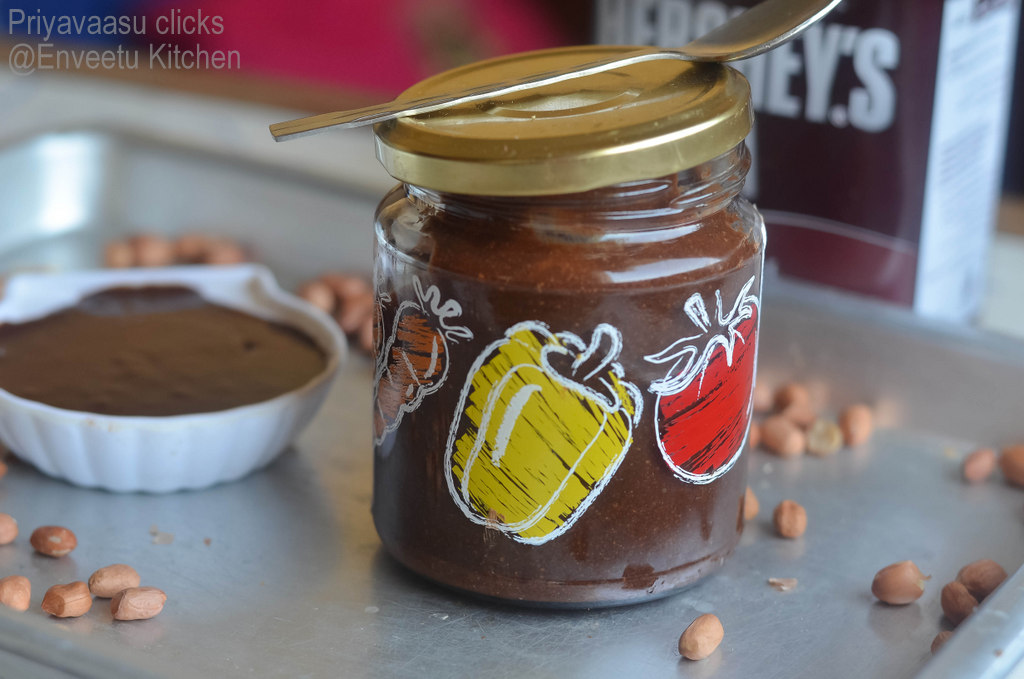 Some interesting sandwich spreads