My family has a great affinity to roasted almonds, who doesn't? right! After making honey roasted almonds, i always have a stash of flavored and roasted almonds handy at home. Sudden guests or sudden craving, they make great snack, sans the guilt. Serve them in a nice fancy bowl, your guest might even ask you for the recipe and pack some with them.
Though they look pretty classy, the recipe is damn simple. 10 minutes in the oven, tada it is ready. The advantage here is you can keep changing the flavors. Recently i tried these cinnamon and spice roasted almonds. It was out of the world. I made 2 cups, they vanished in 2 days, my elder one liked it so much, he kept on munching them. I m so happy, he has started to try new flavors, it gives me more opportunity to experiment.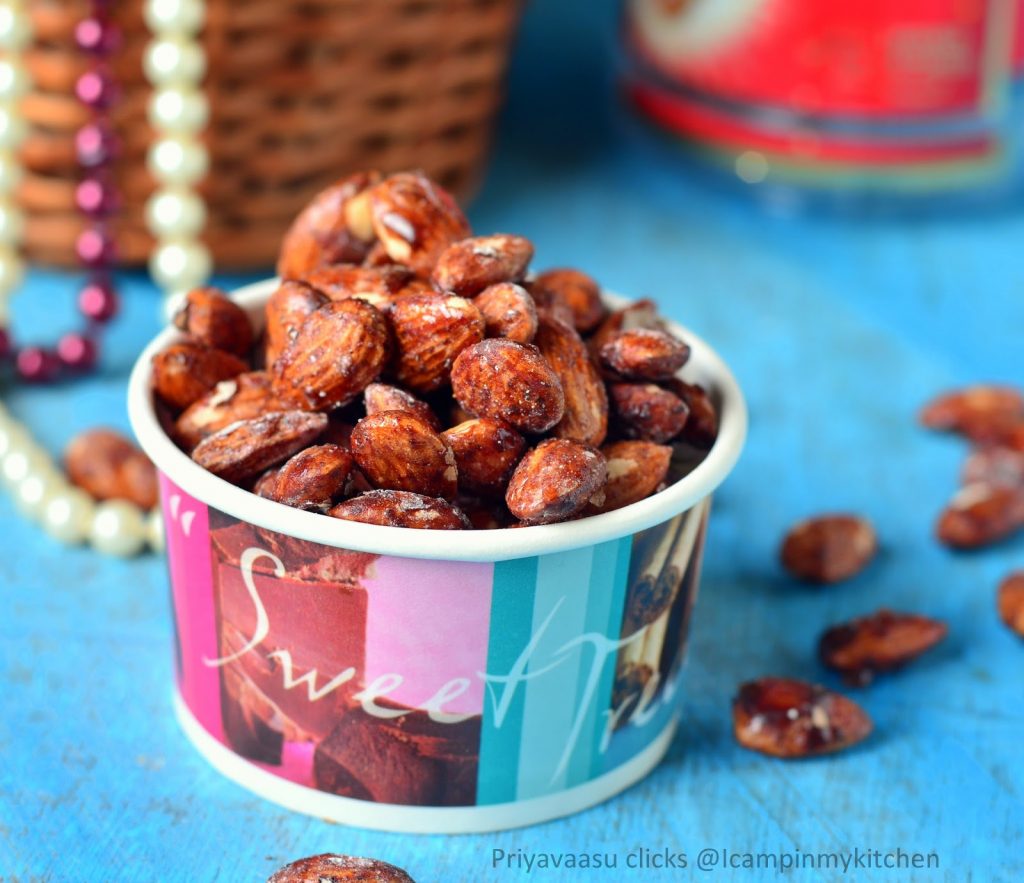 Needless to say, these go to Kids Delight - Finger food, happening right here, an event by +Srivalli Jetti.
Ingredients
2 cups raw almonds
3 tablespoon honey
2 tablespoon butter
½ teaspoon ground cinnamon
2 nos cardamoms, powdered
a pinch of clove powder
a pinch of pepper powder
¼ teaspoon sea salt flakes
2 tablespoon icing sugar


Method
In a small tadka pan, heat honey, until it becomes runny, take it off the stove, add butter, cinnamon, cardamom powder, clove powder, pepper powder. Give it a good stir.

Pour this mixture over the almonds. Use two spoons/spatula's and coat the almonds well. Line a parchment paper on a baking tray, spread the almonds on the baking tray. sprinkle sea salt flakes over the almonds.

Preheat the oven to 200C. Bake them for around 13-15 minutes . Take them out once in between(around 8 minutes), toss well and bake again.
Take them out of the oven, spread the almonds to cool well. They might be a bit sticky, do not worry. Let them cool well. Sprinkle icing sugar on them, toss well. Store in an air-tight container. They are sooper addictive, if they vanish soon, do not blame me!!! 🙂
Check out the Blogging Marathon page for the other Blogging Marathoners doing BM#60