It was a Wonderful Year 2012, personally for me. Some of the Best Moments to summarize, My Pregnancy, Bringing my Parents to Dubai after 8 long years of my residence here, Arrival of Kuttu's Lil Bro Bala!!! My Brother Becoming a Father, Me Becoming Athai/Aunt, Diwali @ Chennai after 6 years, Bheema Ratha Santhi Function/70th Birthday Celebrations of our in-laws, My Hubby learning to Drive, soon will be shopping for a Car!!! 🙂 The personal side was very good so far. Thanks to God.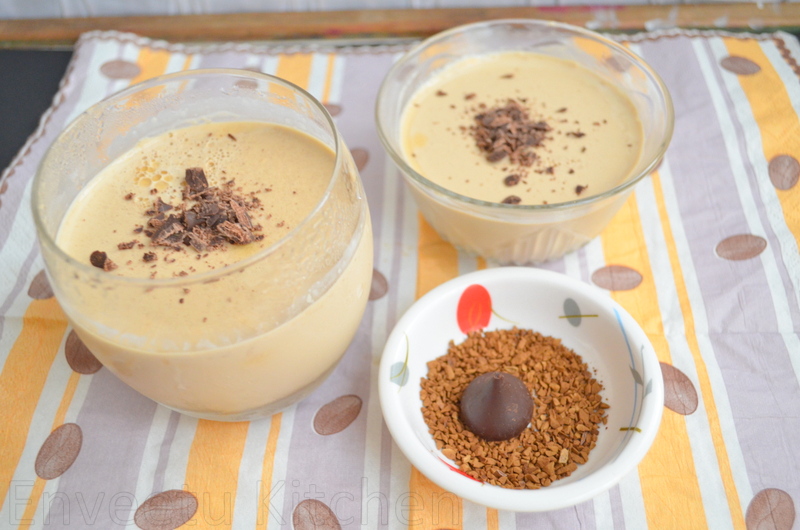 I hope and Wish New Year 2013 is Even more better for the Entire World, All the People in it, May God Bring Peace and Good Health to Everyone. With all the Bad Events happening around us, Need of the Moment is a Safer Planet for everyone. So let us to our bit towards the betterment of our Planet in every way possible.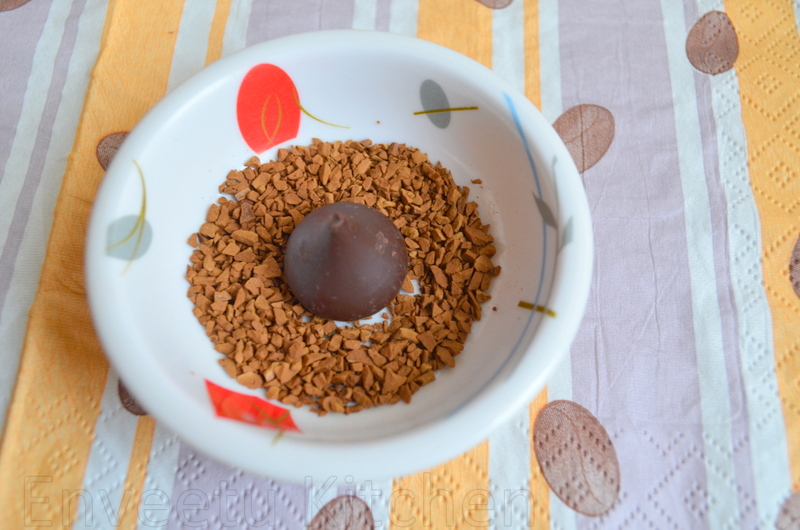 Celebrating New Year With all my readers/Followers and my Friends of the Blog World with this Delicious, Aroma-Enriched and the most favored Beverage by most, Coffee as Dessert!!!!
Ingredients
500ml Whipping Cream (35% Fat Content)
3 tbsp Instant Coffee Powder (I used Nescafe Gold)
Chopped Dark Chocolate For Garnishing
Method
Soak agar-agar in Water for 20 minutes. I usually get long-strips of agar-agar. So, whenever i need to use them, i cut a few strips and run them in my spice grinder and use them.

After the given soaking time, take agar-agar along with the soaked water to the stove. Let it heat in a medium flame and dissolve. Keep Stirring and do not allow it to boil. It took about 15 minutes for the strips to dissolve.

In another Pan, take the Whipping Cream, Coffee,Sugar and gently bring it to simmer, Strain the agar-agar liquid and add it to simmering cream, Stir, let it sit on the stove for another couple of minutes.
Take it off the heat, Let it cool for 10 minutes. Prour them in Small Bowls/Moulds or Serving cups of your choice.

Refrigerate, Allow them to set for atleast 6 hours. Garnish with Dark Chocolate Shavings before Serving.
Wishing you all a Happy, Healthy and a Prosperous New Year 2013!!! God Bless!!!