Inspired by Lataji's Rose Flavored Maida Cake, i too did a Double decker Cake. I havent tried this all these days, treading that it might turn as hard as a brick or would definitely turn into halwa. 
My Mom used to make wonderful Besan cake, yummy!!!! She will be watching her eyes wide-open when the sugar syrup reaches its consistency, then mixing the gram flour, lil by lil, and Stirring my God!!!! this will be followed by Me or my brother rubbing Iodex on her shoulder the following night.
All these scenes came b4 my eyes when i decided to make this cake. But the output was Worth the pain taken.Got this recipe from this month's Mangayar Malar Supplementary issue.
cardamom powder – 1/2 tspoon
Dry fruits powder- 2 tbsp
In a heavy bottomed pan heat ghee, keep the flame low. Add maida to the hot ghee and roast until the rawness disappears and it reaches the consistency of curd. Add Dry Fruits powder and Take it off the flame.
In another heavy-bottomed pan boil sugar and water to prepare sugar syrup of one thread consistency. take it off the flame.
Now add the ghee-roasted maida and cardamom powder to this sugar syrup. When it leaves the side of the pan, pour it over a greased plate.
This forms the lower deck.
Same as above, Instead of dry fruits powder use 2tbsp cocoa Powder and follow the same method and pour it over the lower base burfi. Make the squares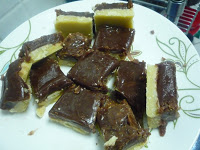 Now, ask me why my cake is so shining, my mistake!!!! I should have waited two minutes on the flame, but never mind, it tasted good.