When Anusha Praveen of Tomato Blues asked to make an Avante Garde pizza for Groovy Gourmets this month, i challenged myself to make a Dough-less pizza and started looking for some inspiration for the same. I came across pizza with cauliflower crusts, chickpea flour,etc. I didn't want to settle for the usual. I decided to make a Potato Crust Pizza.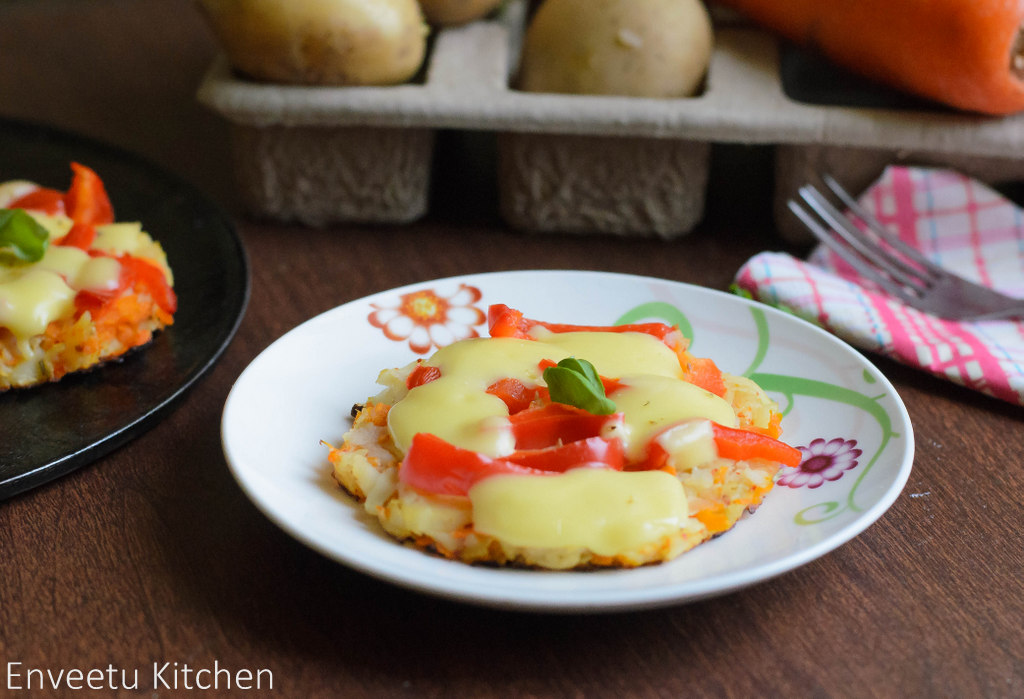 Hearing the name Potato Pizza, my hubby was so much worried about the amount of calories and carbs. Naturally, we always think Potato is something Loaded with Bad stuff and anybody saying they are on a diet and eating potatoes, are insane. Before Proceeding with the recipe, i wanted to confirm whether this thinking is right or not?So, i mailed my Nutritionist Sangeeta Khanna , who blogs @ Health Food DesiVideshi, to clear my doubts.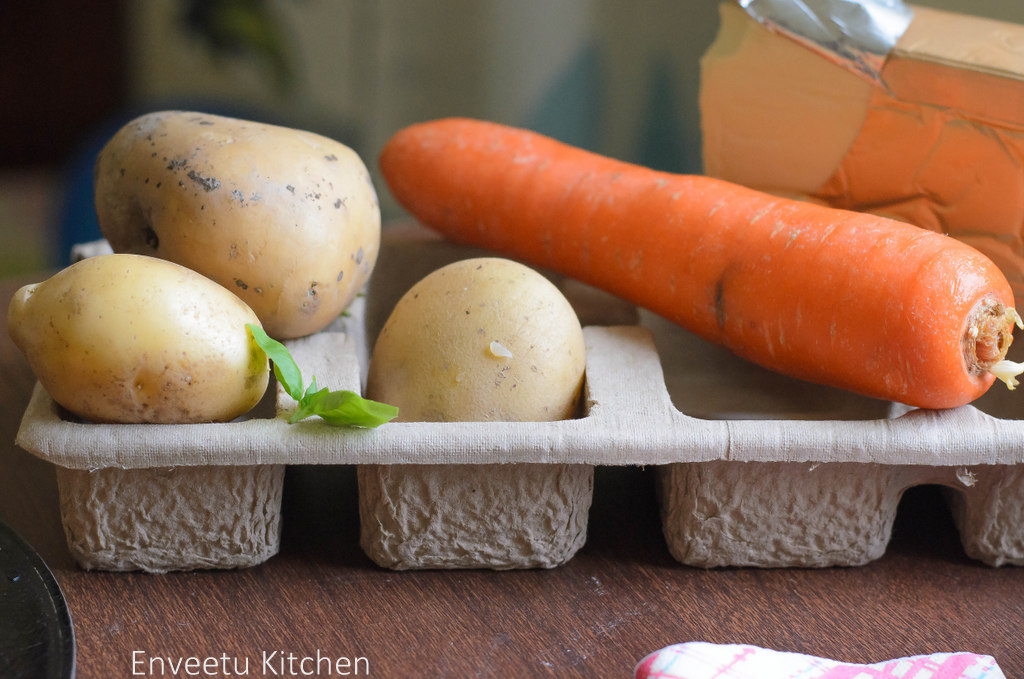 My Question was Does Potatoes Contradicts Healthy Eating?
This is what she replied
Hmm..small amounts can be had, especially with skin. Fried is bad, boiled, roasted grilled is better. Potatoes are actually a healthy starch but most abused in Indian cooking.
So with dense protein meals , potatoes can be had if you are not having roti or ric
e.
.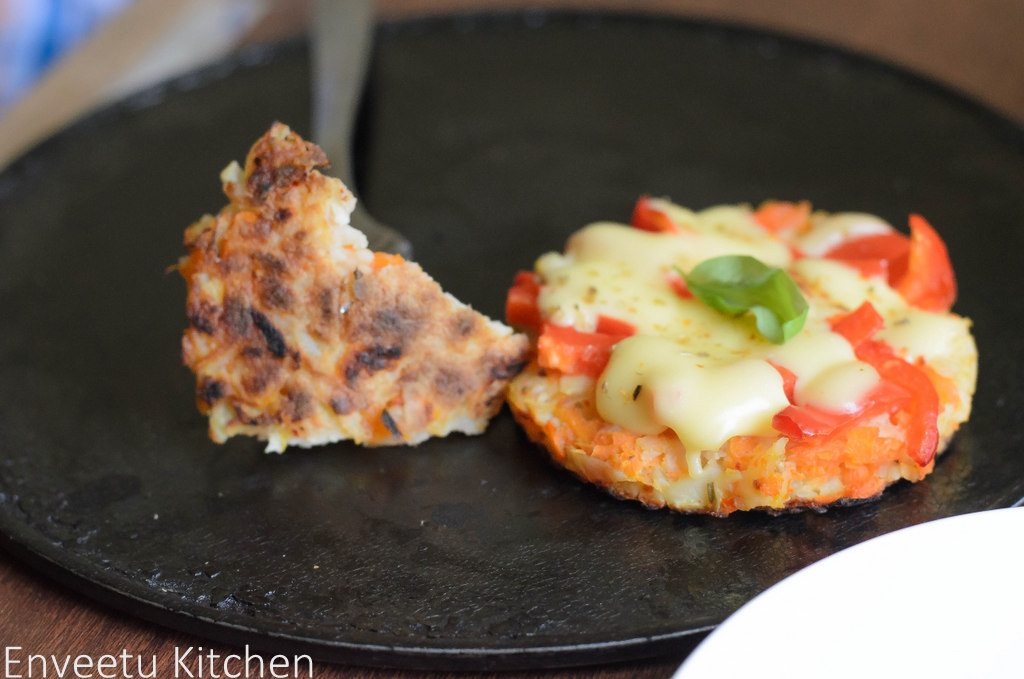 After seeing the reply, i happily proceeded to the kitchen and made this for the entire family. When making for kids, i would recommend adding a blob of butter, while cooking the base, this surely enhances the flavor. Its a perfect Party snack, try using different moulds and experiment with the toppings.
¼ teaspoon red chili powder
Toppings
1 Red Bell pepper, thinly sliced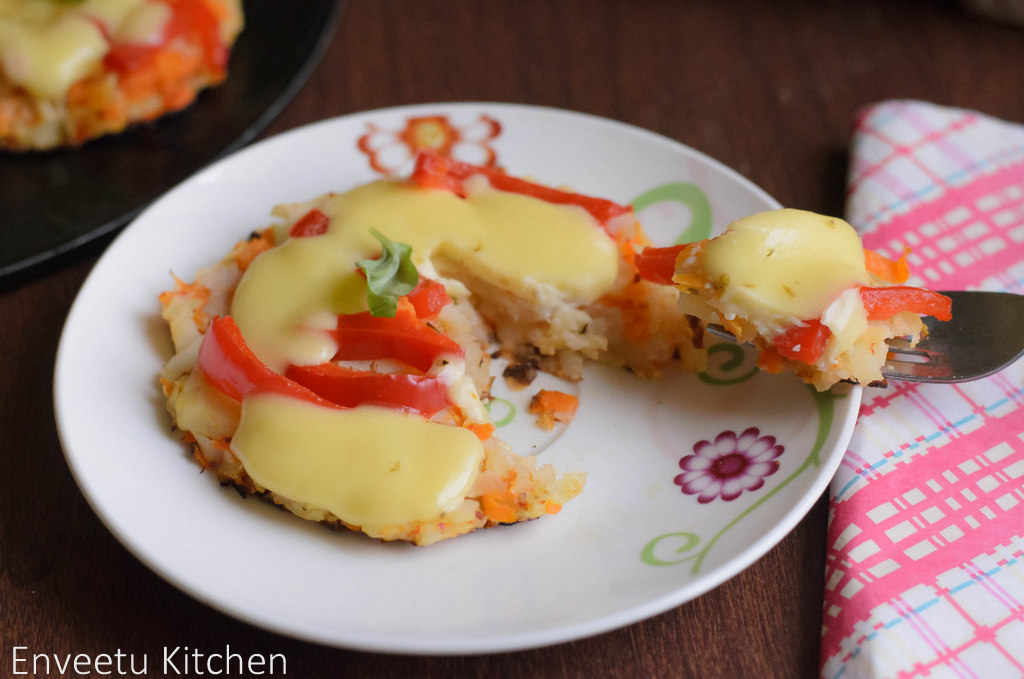 Method
Peel Potato and Carrot, Chop into cubes. Take the veggies along with a Cup of water in a Microwave Safe bowl and Cook @ Microwave high for 6 minutes. or until the vegetables are ¾th cooked. You can even do it on stove-top. If doing on stove-top, then switch of the gas when the water starts boiling. Keep it covered for 10 minutes for the veggies to cook al dente.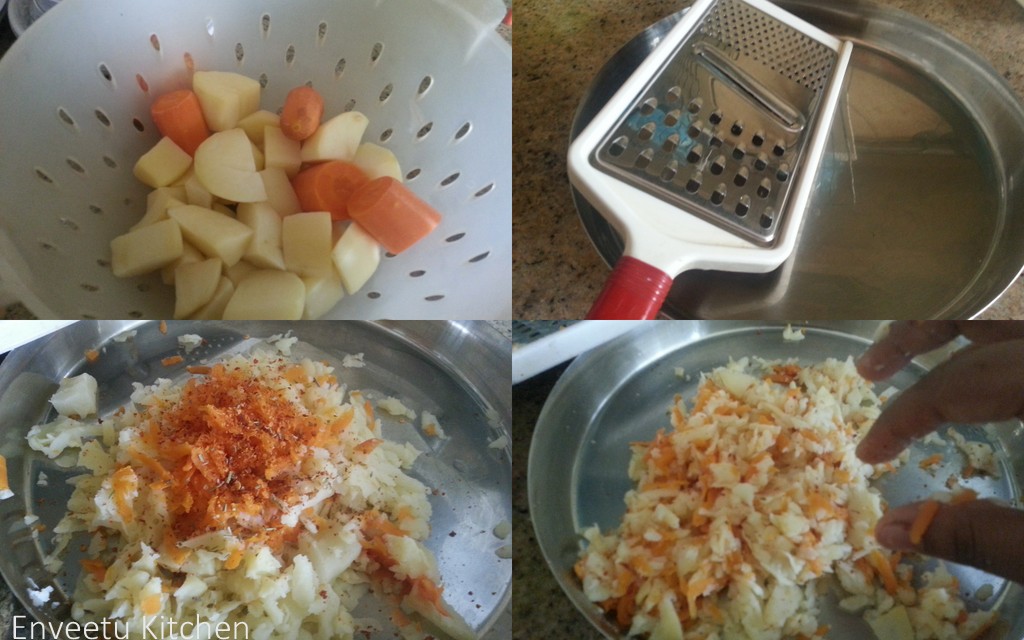 Once the veggies are done, drain the excess water and let them be in the colander until the last drop of water has drained and veggies are completely dry. At this stage i kept them in the refrigerator for 30 minutes for them to firm up and ease grating. This is purely optional, but guarantees, easy grating without the veggies turning into mash!!!

Next step is to Grate the veggies using a grater. Take the grated veggies in a bowl, add red chili powder, oregano, dried basil and salt. Combine together to form a loose dough.

Heat a Skillet. Place a Cake ring in the center or any mould that is heat-resistant or if you are good in shaping it into a thick patty, then proceed without the cake ring.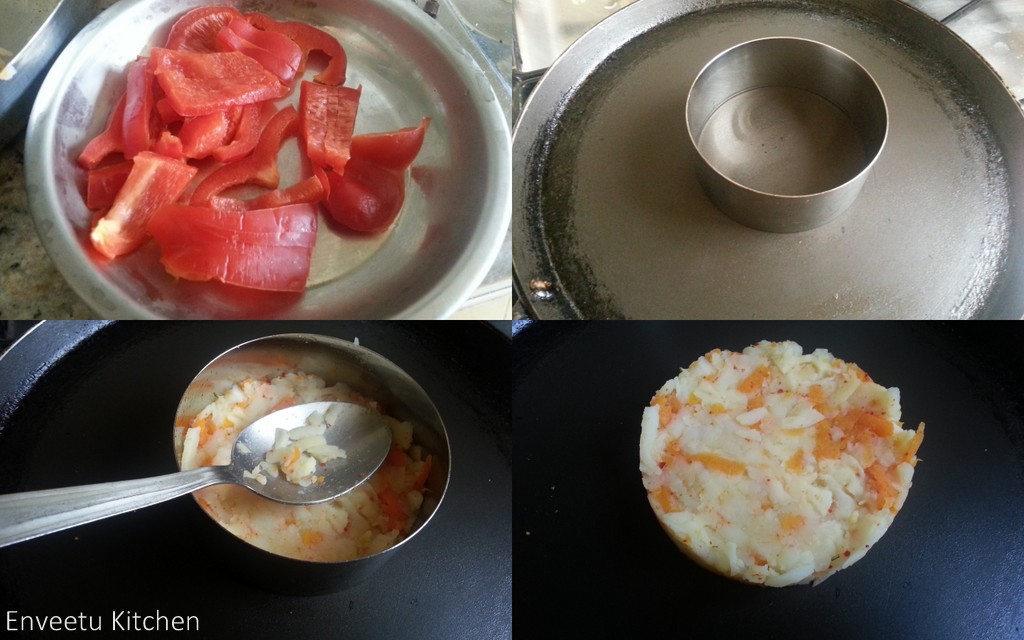 Fill the Cake-ring/mould with 2-3 spoons of Veggie filling and press it well to form a good shape inside the ring/mould. After a minute, remove the ring mould. you can see a perfectly shaped crust there!!!

Let this cook in a Slow flame. Patience is important, if you cook in a high flame, the base might burn and the top will be uncooked, spoiling the taste. So, Let this cook in a slow flame. Take about 8-10 minutes.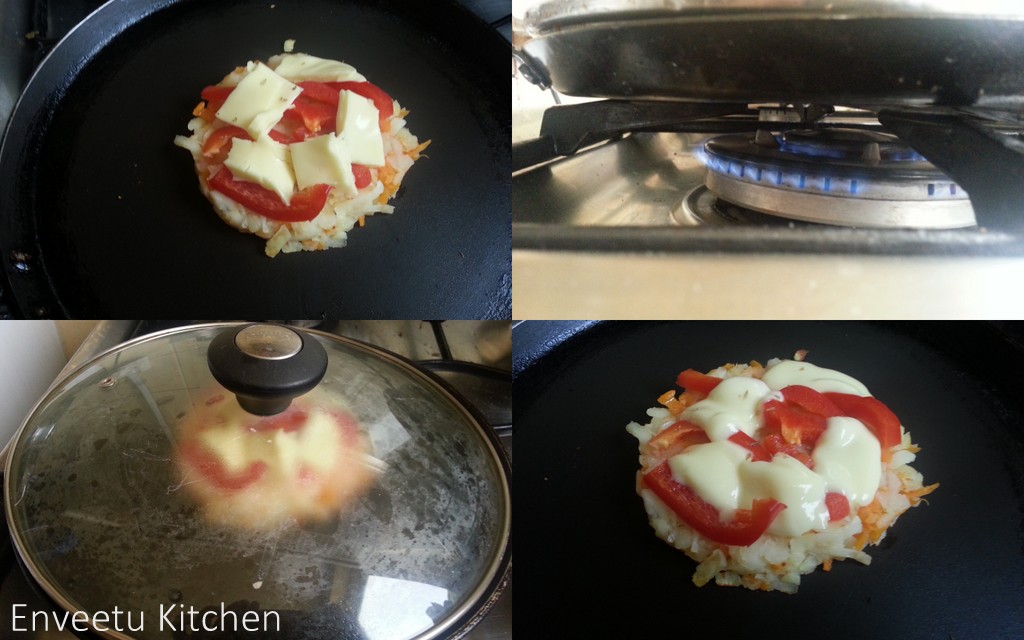 Add a spoon of oil to the base and place 4-5 slices of red bell pepper on it and tear a slice of cheese into 4-5 pieces and place it on top of the pizza. Sprinkle a pinch of oregano on top. Cover and Cook in a Slow flame for another 10 minutes or until the cheese melts.
Transfer it into a serving plate and Hog Hot!!!! The Leftover pizza can be refrigerated, before serving, reheat for 30 seconds and Serve Hot.
Notes
The Skillet can be either Iron or Non-stick, i have used both. If using Iron-Skillet, then first add a teaspoon of oil to the skillet, let it rest of 4-5 seconds and wipe it off clean in circular motion, covering the entire pan, using a kitchen-towel and then start making the pizza

i tried baking it too, but the base didn't hold well even after baking for 12 minutes @200 C. May be adding a little Chickpea flour or any other gluten-free flour might help.


Sending this to Kids Delight - Party Ideas, Happening @ Sizzling Tastebuds, Event by Srivalli, also to Only- Crazy for Potatoes, happening @ Nivedhanams, Event by Pari. What's with my Cuppa 2?, happening @ UK Rasoi.


Check out the Blogging Marathon page for the other Blogging Marathoners doing BM#29