Challah, braided jewish holiday bread, is in my baking list for a long time now. Actually i made them once for a baking group challenge, but couldn't post since i didn't take pictures of the bread. When i was looking for a twisted bread for my theme for this week baking marathon, i came across this round challah, that looks like turban/head gear. Round challah or Turban Challah is typically made on Rosh Hashanah, Jewish New year,meaning head of the year. It is said that it signifies the cycle of year, that has no beginning or end. They are baked with raisins and brushed on top with honey to signify a sweet new year.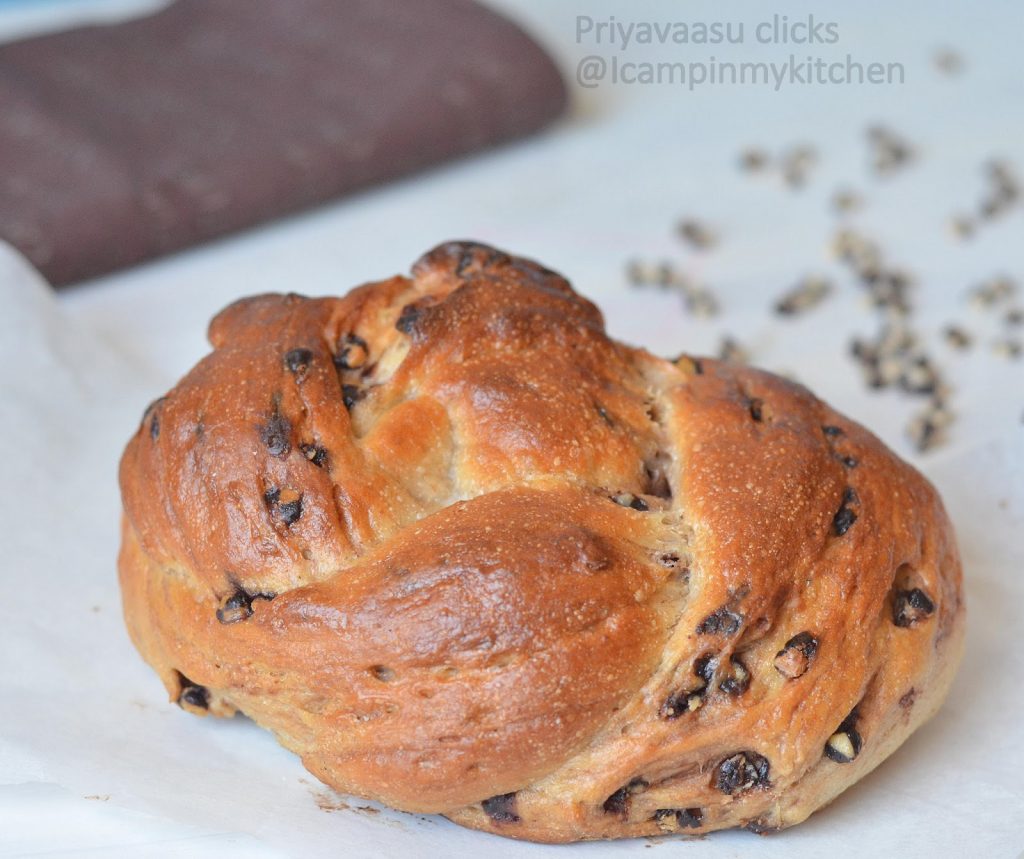 I immediately decided to make these turban for the last day of Week 1. 
I checked Pavani's recipe for Whole Wheat Challah and have modified the recipe to get a sweet challah. 
To make it rich, i added chocolate chips and almond flakes. This bread fits the bill of a dessert too. If needed, serve it with a dusting of sugar or sweetened cream cheese to make it more rich and royal.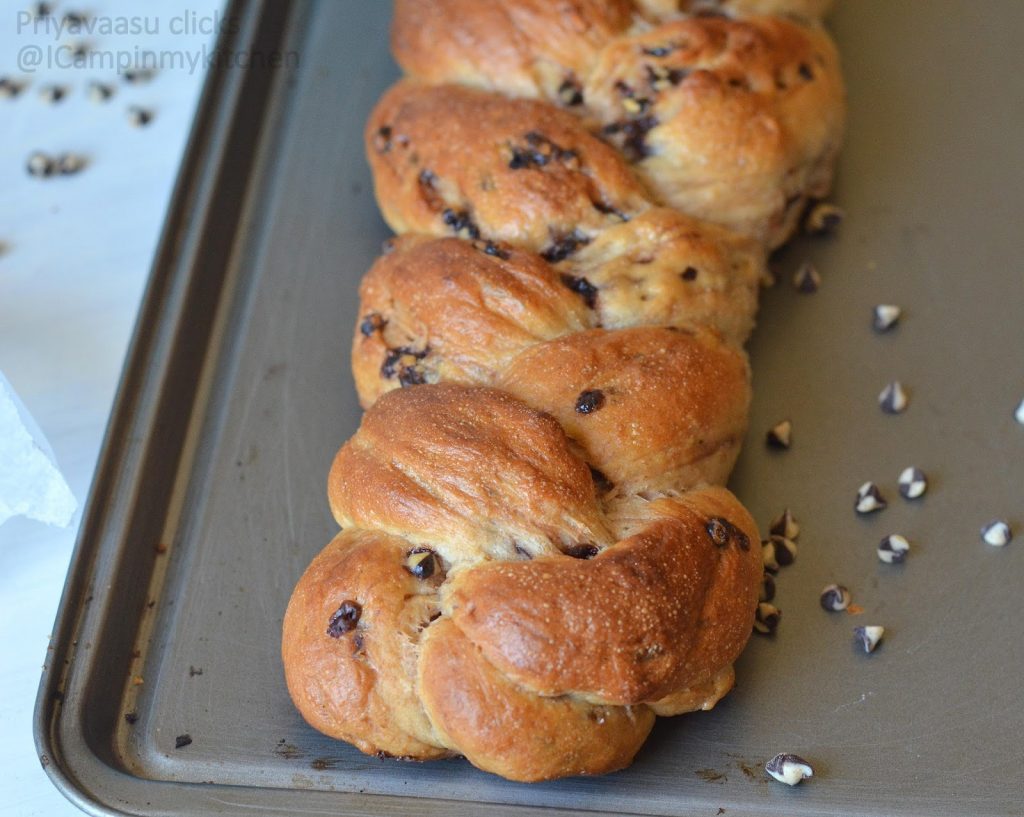 1.5 Cups Whole Wheat flour (i used Qfm brand)
1/2 cup sugar (i used raw sugar)
2 tbsp Egg replacement powder mixed with 6tbsp water (Replacing 2 eggs, 1/2 cup yogurt can also be used)
1/2 cup mini chocolate chips 
3 tbsp cream for brushing the top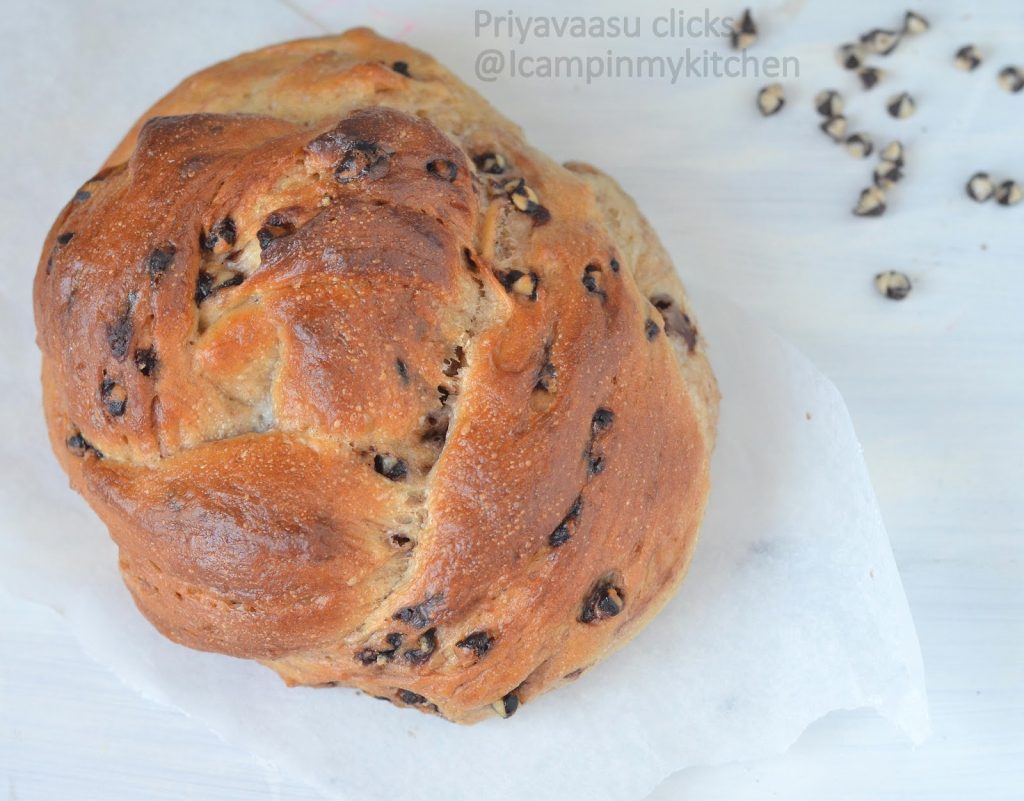 I used my food processor to make the dough, the dough can also be hand-kneaded. Mix the Egg replacement powder with water and keep aside until use.

Take both the flour, milk powder, yeast, sugar and salt in the processor bowl. Run at a low speed for a minute for the contents to mix well. 

Now add the egg replacement powder and slowly add the lukewarm water and start kneading the dough. Add oil, after adding the water and knead to get a dough. The dough would be sticky. 

Remove the dough from the bowl, take it to the kneading surface, sprinkle flour and knead for 2-3 minutes to get soft, smooth dough.

Place the dough in a well-oiled bowl and let it rest in a warm place for an hour or until it is double in size. 

After an hour or after it has doubled in size, take the dough to the kneading surface. Punch it to remove the excess air. Roughly stretch the dough to make a rectangle, add the almonds and chocolate chips to the center of the rectangle, bring the edges together and knead a couple of times for the chips and flakes to mix with dough evenly

. 

Divide the dough into 9 or 10 equal pieces. I divided into 9 pieces and got 3 round challah and 1 3-strand braid. If you divide into 10 pieces then you can make 5 round challah.

Roll each portion into a long strand of 10-12 inches long. To make a round challah, take 2 strands, join one edge of the strand with the other edge and braid both the strands together to form a rope and seal the edges. Now, coil this rope inwards to form a ball and tuck the edge under the ball to form a round challah.
Repeat the same with rest of the dough portion. I made 3 round challah's and one 3-strand braid. Let the challah rest for 40 minutes, towards last leg of the second rise, preheat your oven to 180C. Brush the challah's generously with cream, Bake them for around 25-30 minutes or until golden brown on top. 
Remove from the oven to a wire rack. Cool completely, cut and serve.I served them as such for breakfast. It tastes delicious when served warm with a blob of butter on top.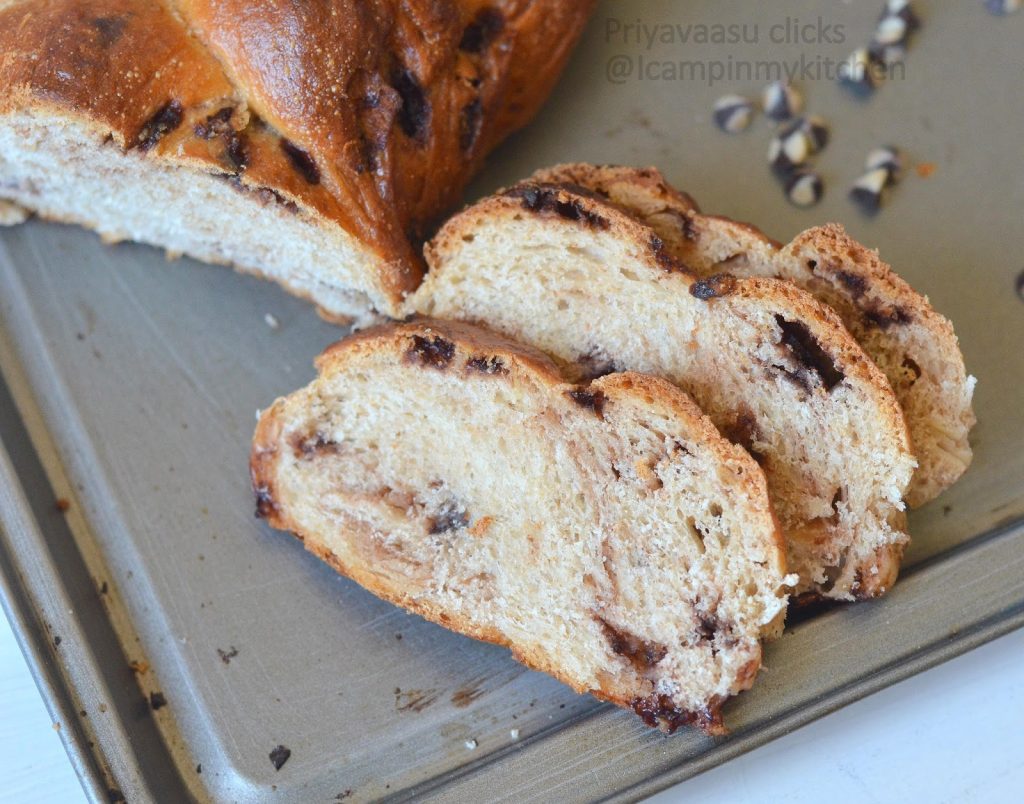 With this we are coming to an of Twist and roll theme in this Mega Marathon, will catch you next week with yet another delicious theme.