We are starting another Mega Marathon from today. Last year we did two Mega Marathons Indian Food Odyssey, a virtual tour around Indian States and Around the world in 30 days, a taste of World Cuisine, and a bakethon of baked goodies!!!  This Mega Marathon, is going to be Baking yes, you are going to see delicious bakes for the next 30 days, titled Fire up your Oven!
Unlike other marathons, this time i planned my posts and bakes well ahead. I had a list of bakes ready in December 2014 and started working on it slowly. My idea was to get first 2 weeks posts ready, so if at all i lag i can make up the other weeks as we proceed. 
Since, Valli gave us a open theme of Baking, we marathoners have planned for a sub theme every week. In that genre, this week it is going to be Twist and Roll. You will be seeing some shaped rolls. In this sub theme, today i m giving you Bear Claws. 
The name is what, made me see what these rolls are. The rolls are shaped in such a way, it represent a bear's claw. First i thought, it is a tough shape to get, but then i didn't want to let go, so i checked some you tube videos to nail the shape. It is not too tough, the video i followed, explained it so very well. It is a simple cinnamon roll, that is shaped in such a way to look like a claw, a very beautiful claw i must say! So, try the shape and enjoy the Oh wow!!! from your family.
Source : Two of a Kind 
Ingredients
For Dough
3½ cups all-purpose flour
4 tablespoons unsalted butter, melted
1/3  cup light brown sugar
2 tablespoons ground cinnamon
6 tablespoons unsalted butter, softened, divided
Glaze
2 dahses of vanilla extract
Method
I used my food processor to knead the dough. you can even hand knead the dough. Warm milk in microwave for 20 seconds, it should warm, not boiling hot. Add butter to this. Take flour, sugar, salt and yeast in the processor bowl. Pulse twice to combine. Now slowly add milk to the flour mix and start kneading to a soft dough.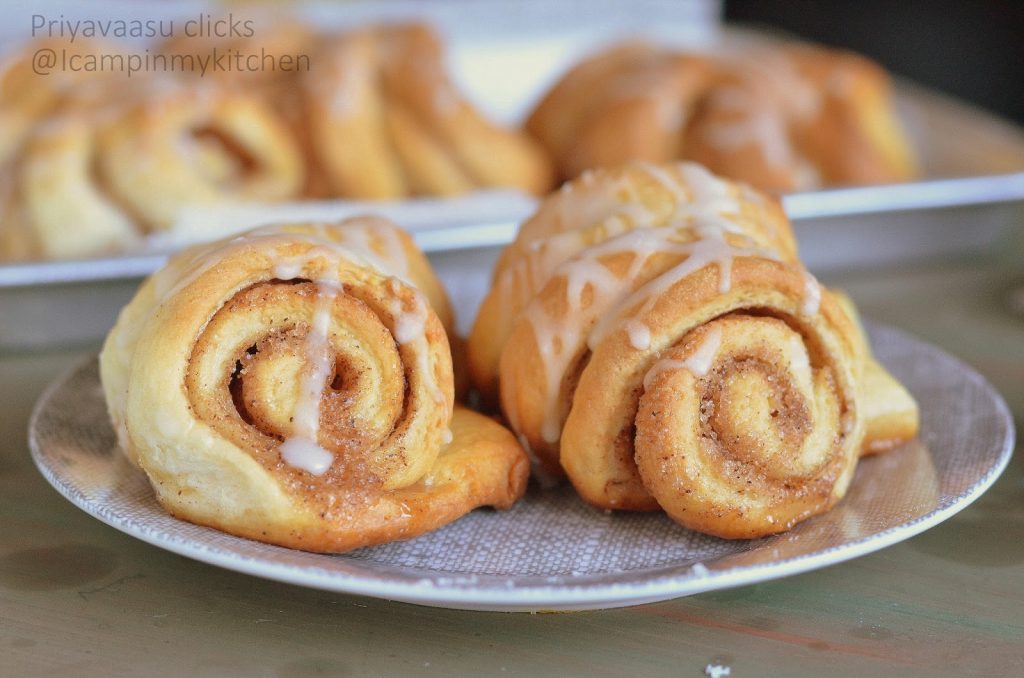 Knead about 5-6 minutes in medium speed to get a nice soft and smooth dough. It will take about 8-10 minutes if kneading by hand to get a soft dough. Keep the dough in a well-oiled bowl and covered and let it rise about 1-2 hours or until it has doubled in size. I left the dough for 90 minutes.

When the dough is rising, keep filling ready by mixing cinnamon and sugar together and the butter on the counter to get soft. Not to make the bear claws. Roll teh dough into a 15×12 inch rectangle. Spread about 3 tbsp of butter on the rolled rectangle. Spread cinnamon sugar generously on top of the butter. Now roll the dough into a log, pinch the seam to seal. I cut the log into 4 pieces measuring 3 inches each.
Now to shape it into a bear claw. Work with one cut piece at a time. Make 3 or 4 slits on one side of the log. Carefully lift it and place in a baking sheet, slightly tilting the edges to make a curve.  Repeat the same with the rest of the dough.
Let the bear claws rest for 15 minutes. while it is resting, preheat the oven to 180C. Brush the claws generously with butter and bake them for around 30-40 minutes or until golden brown. Mine were done by 30 minutes. Once done, take it out and let it cool completely on a wire rack.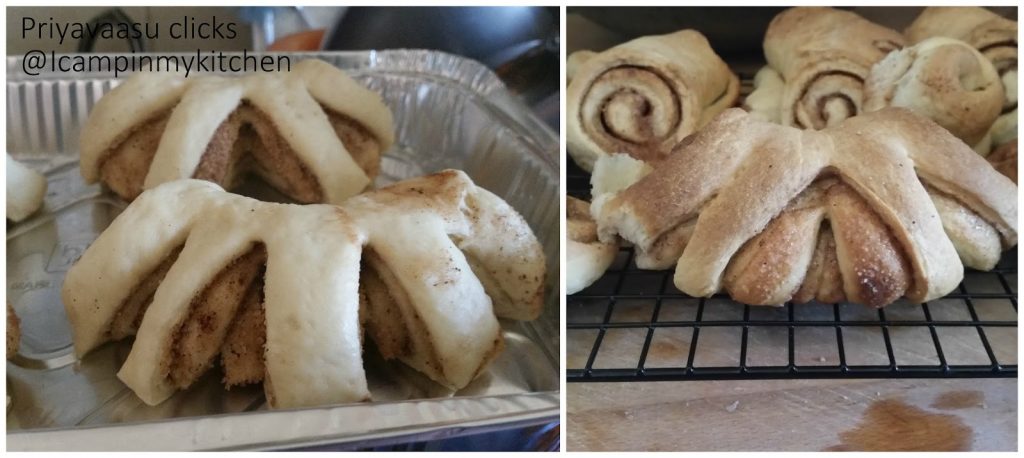 While the claws are cooling down, make the sugar glaze by mixing powdered sugar and water and vanilla extract. Using a fork or a piping bag, drizzle glaze on the claws.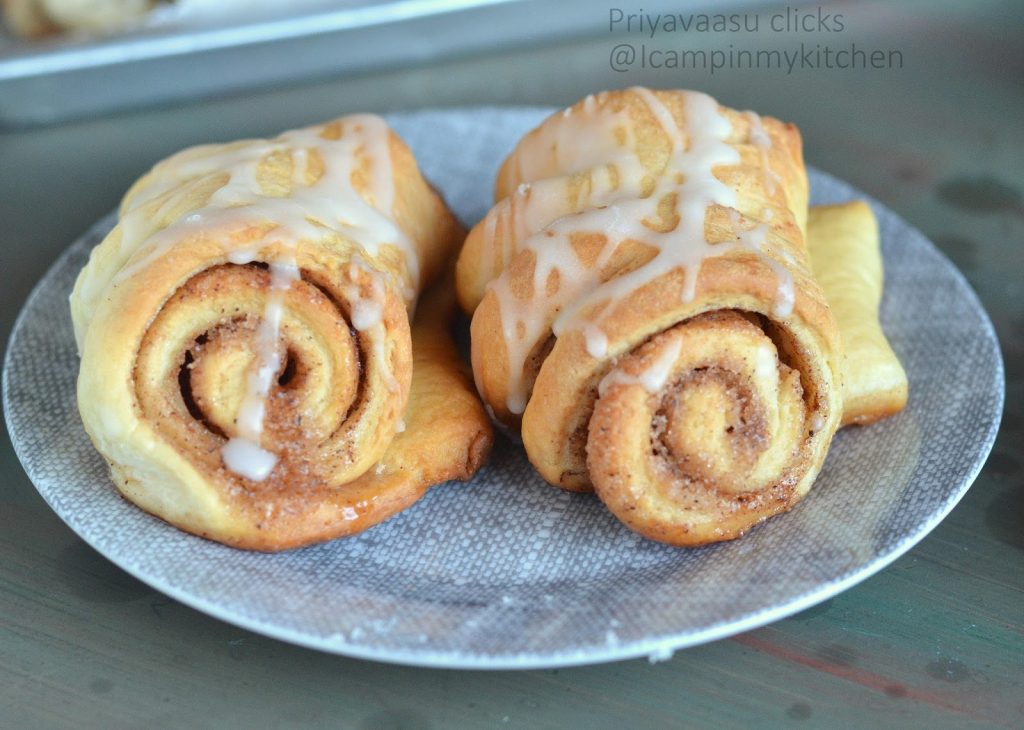 Serve them warm. My Kiddo's enjoyed them to the last bite, Kuttu even took it to his school snack for next day. This is a definitely keeper recipe for the fun-shape and also for the taste.