Finally i m up with this Month's Baking Partner's Post. This month we actually had 3 choices to bake from, i selected Archana's Plum Cake. I m also planning to bake the other two cakes for Christmas. After all, it is Christmas, which is not complete without some delicious Cakes!!!!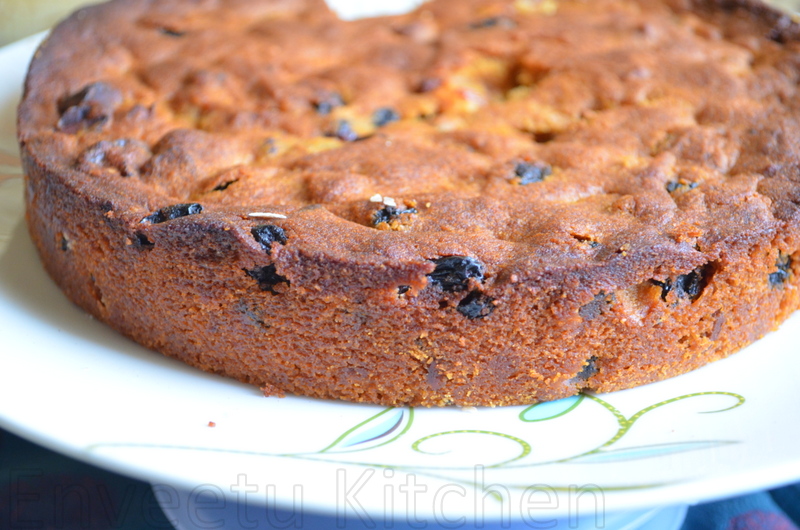 I choose to bake an Eggless and alcohol-free Plum Cake. I already have a Eggless Fruit Cake already in my recipe, but then i wanted to try this Boiled Fruit Cake, Which my kiddo was asking me to bake after watching his favorite contestant Callum of Masterchef Australia baking it during Masterclass competition!!! 🙂 
My First attempt to bake this cake didn't come as i expected. Though the cake was very tasty, it was a bit dense and didn't rise well. So i tried again, the next day, it came out good.
Ingredients
Dry Fruits n Nuts
½ Cup Raisins (i used a mix of Brown and black raisins)
¼ Cup Chopped Apricots and Figs
For the Caramel Syrup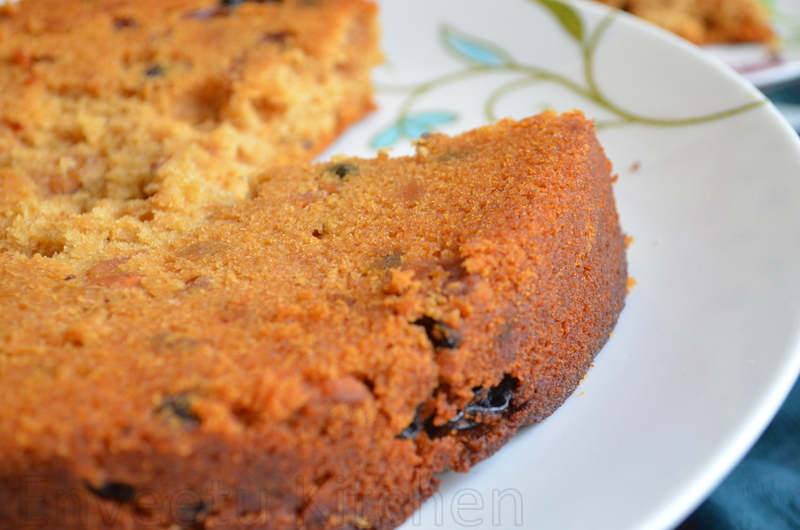 Egg Replacement(instead of 1.5 eggs)
1 tablespoon Apple Cidar Vinegar
For the Cake
½ teaspoon Vanilla Extract 
¼ teaspoon Cinnamon Powder
2tbsp Whipped Cream (instead of egg whites)
Method
Combine Vinegar, Water and Baking Powder given under Egg Replacement in a small bowl. Keep aside.

In a medium pan, Apple juice, Raisins, Apricots, Figs and Orange zest. Cook for 1 minute on medium heat. Add Cashews and continue to cook for 1 minutes until heated through. Keep aside.
In a small pot, add 3 tablespoon Sugar and 1 tablespoon water and few drops of lemon juice. Swirl pan to mix – do not use spoon. Heat until sugar changes color and becomes caramelized. (approx 7-8 minutes).Add ¼ cup boiling water and swirl pan again to mix well. Keep aside.

In another Bowl Sift together All Purpose Flour, Dry Spice Powders and Baking Powder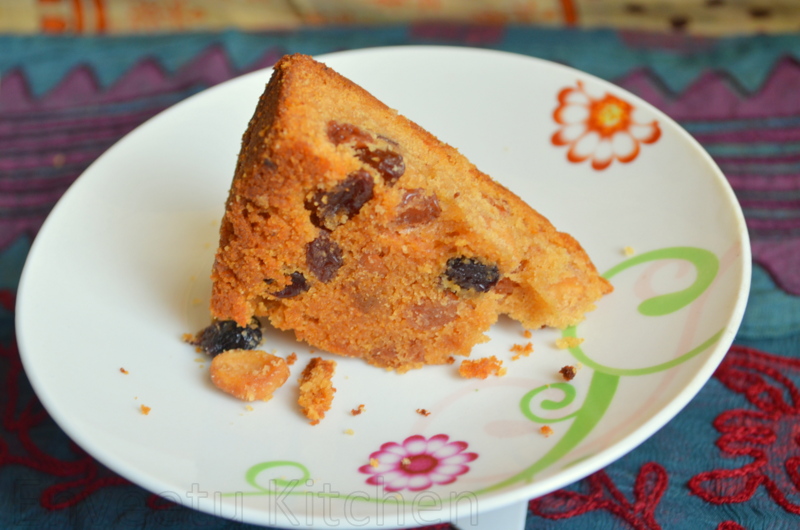 In a large mixing bowl, combine softened butter and powdered sugar and beat with hand blender.Add Vinegar + Water + Baking powder Mix and beat again. Add Vanilla Extract and blend.

Add Flour Mix little by little to this and Blend Again.Add caramelized sugar syrup a little at a time into mixing bowl and blend.Add fruit/nut mixture, Whipped cream into mixing bowl and mix with a spoon.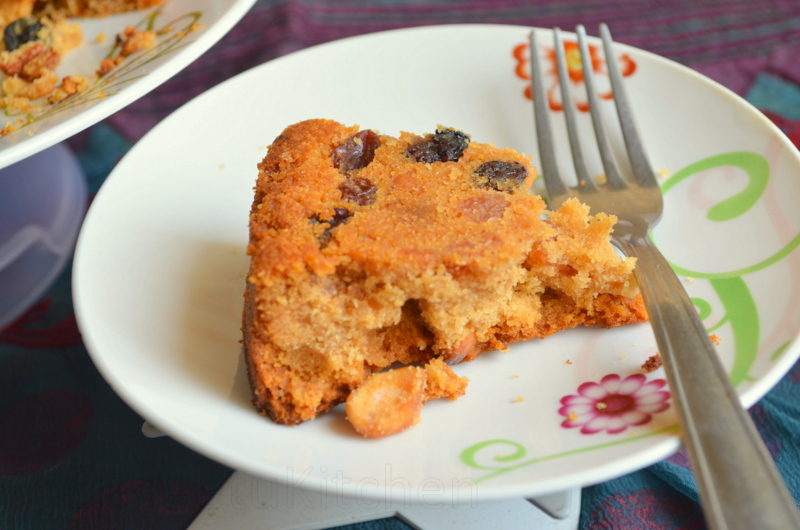 Preheat oven to 160C.Lightly coat baking pans with spray cooking oil or regular oil.Pour batter into greased baking pans and bake for approx 50-60 minutes. Remove cake from oven and allow it to cool Completely.
Just noticed, this is my 400th post!!! yay!!!! Thank you guys for all the support!!!!