Tiramisu an Italian dessert literally meaning "pick me up" or "lift me up". It is made of ladyfingers(Italian: Savoiardi) dipped in coffee, layered with a whipped mixture of egg yolks and mascarpone cheese, and flavored with Marsala wine and cocoa. The real challenge in here was to make the savoiradi. Making Mascarpone was a real dream, Once you are ready with the biscuits then it is very easy to assemble the tiramisu and then comes the toughest part, waiting for it to set well, flavors to infuse!!!!! 
This month Baking Eggless Challenge was chosen by Soumya of Nivedhanams Foodblog, she picked up "Pick me up" aka Tiramisu!!!! Wonderful Challenge, enjoyed making it from scratch and the proud feeling after the tasting it was priceless!!!! 🙂 
Thanks to Gayathri and Soumya for an amazing challenge.We are very happy with challenges we meet and the way we are getting tough every month, Three Cheers to the Baking Eggless Group!!!! 
Source : Baking Obsession
Ingredients : For Making Mascarpone Cheese
Take the Whipping cream in a heat-resistant bowl. Heat a large shallow-pan with water. When the water starts to boil, reduce the flame and place the whipping cream bowl on top of it. Let the cream simmer in this double-boiler method. Keep Stirring to avoid burning.

After 20 minutes of simmering, add the lemon juice and keep stirring until the cream curdles. You wont find whey separating like it does for Cottage cheese. All that would happen is, the cream will start thickening, you will be able to notice the change, it will coat the back of the spoon very thick. Keep Stirring.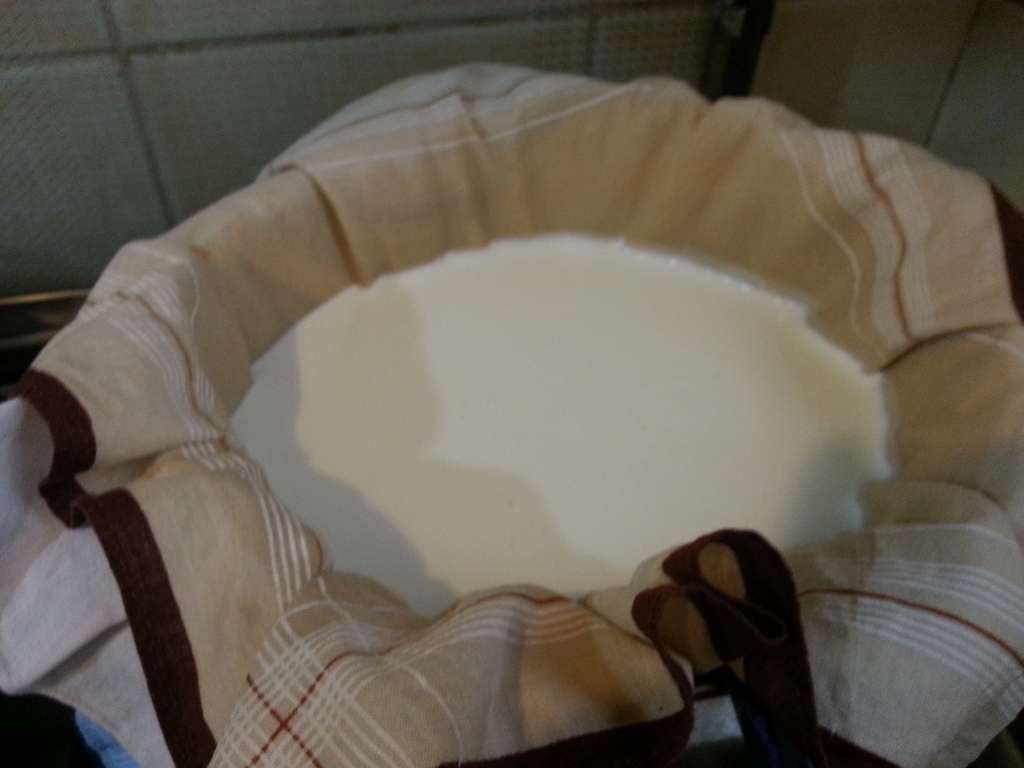 After 10minutes of stirring you might notice mild streaks of whey as  you stir. Meanwhile line a sieve with 4 cheese cloths. Take the cream off the stove, Let it cool for 10 minutes. Pour the cream on to the Cheese-cloth lined sieve. Let it sit in the fridge for a day. Creamy Mascarpone Ready.

If not using immediately, then cling wrap it tightly and store in the fridge. It will be good this way for a week. But if not going to use it within a week, better store in the freezer. The Cheese is costly if you buy it outside, so to save you from guilt, Store it in the freezer!!!!
Eggless Savoiardi/Lady Finger Biscuits
Ingredients
200gms Unsalted Butter, Soft
¼ Cup  Granulated Sugar
½ cup Coarsely ground Almonds 
1 teaspoon  Vanilla extract
Powdered Sugar (for coating)
Preheat the oven at 160 C 

Cream Butter and Sugar together.Add Vanilla Extract and Mix again. Followed by Flour.

Blend all the ingredients well, add the coarsely ground nuts last.

Scrape the batter into a piping bag. I used my freezer bag and cut out a small opening @ the end and piped the dough out.

i measured the pan in which i was going to assemble the Tiramisu and piped the biscuits accordingly,  which was the length of the fore-finger.

Bake them for 35-40 minutes till they start turning slightly brown at the edges.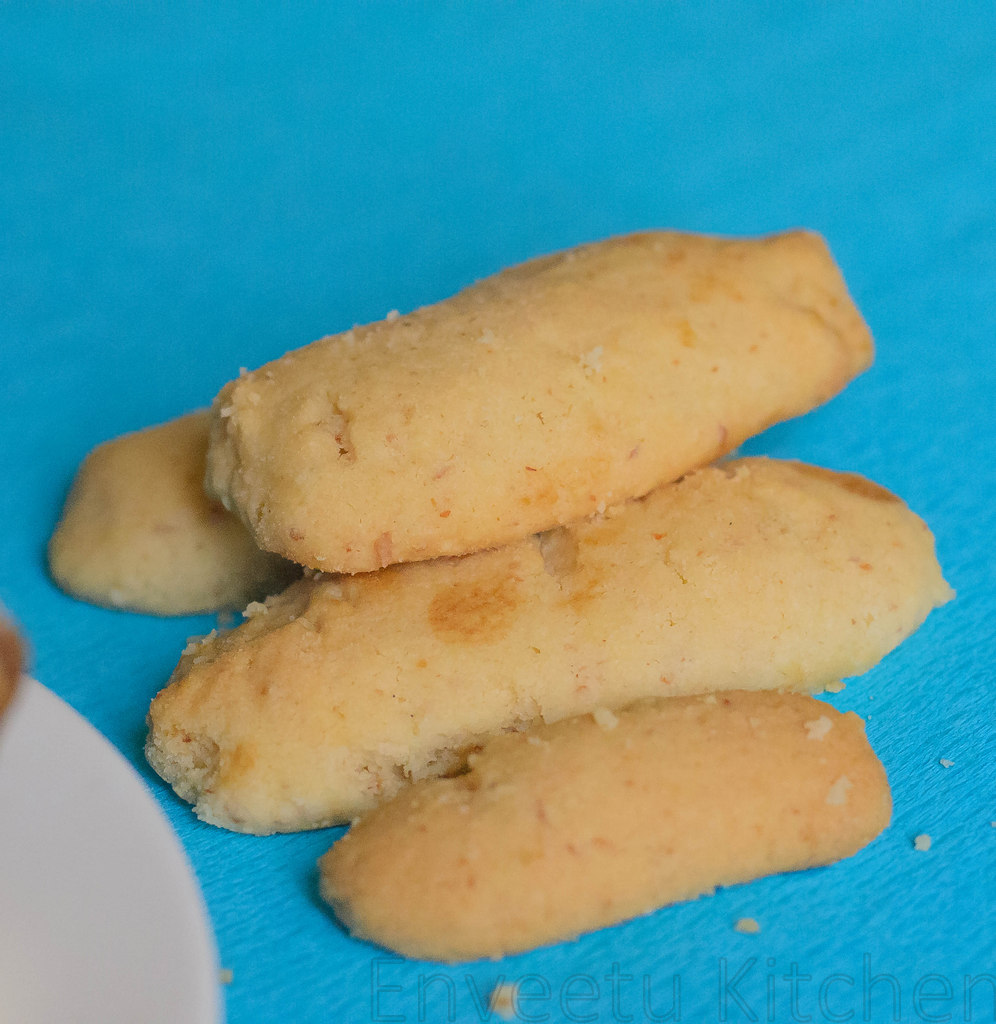 When done, remove from oven & cool on a tray for about 5 minutes and then move the biscuits to a cooling rack.

When slightly cool, roll them in powdered sugar. (I completely forgot this step) 

Store them in an air tight container till required. They say it stays good up till a week, but i used them up in 2-3 days of making.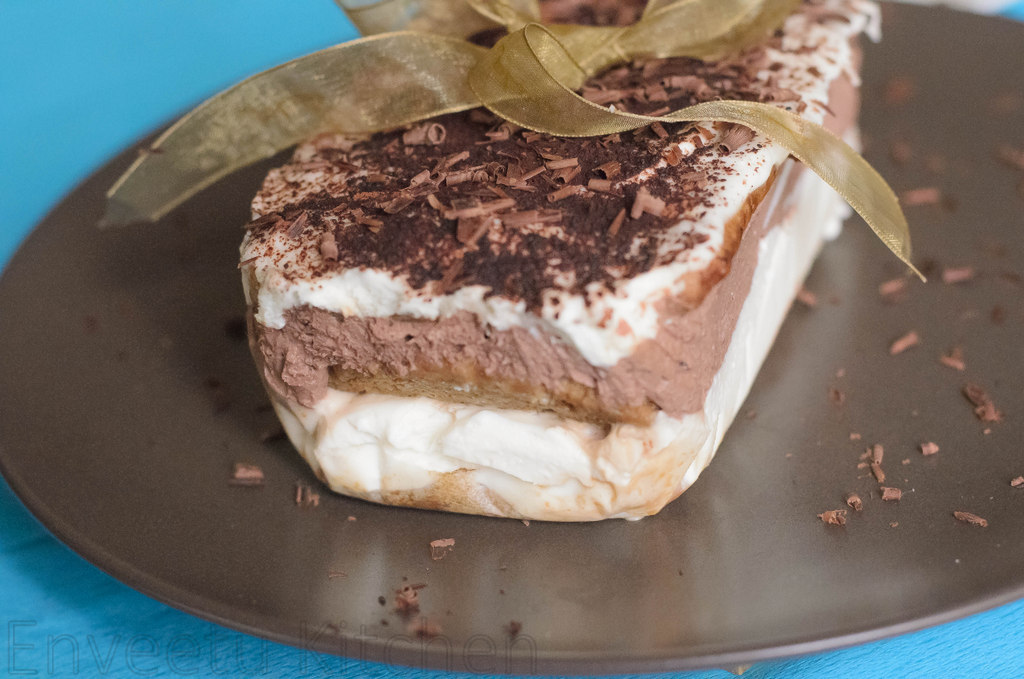 Ingredients : For Assembling the Tiramisu
36 nos Savoiardi Biscuits
2 Cups Strong Black Coffee, a bit Warm
Dark Chocolate Shavings, as required
Extra Cocoa for sprinkling on top of the Tiramisu
Dark Chocolate Shavings for garnish
Method
Preparing Cheese/Frosting
Prepare the Tin in which you are planning to arrange the tiramisu. I used 2 small rectangular tins, greased them with little oil and laid cling wrap from the  bottom, covering the sides with some cling-wrap hanging outside the tin, to make it easier to remove.

Take the Mascarpone Cheese out of the refrigerator and into a bowl. Whisk it well to a smooth texture, using a spoon. Dont do vigorously, or else the cheese will curdle. In case in curdles, keep it in a warm water bath and stir it will be back to creamy texture.

Now take the whipping cream in another bowl and whip it well with an electric beater until stiff peaks form. Mix the whipped cream with the mascarpone cheese. Stir well to incorporate both together.

Divide this into three portions, to one portion add 2 tablespoon of Cocoa Powder and mix well to get the chocolate frosting.
Assembling the Tiramisu
Dip each Lady Finger Biscuit into Black Coffee for a second, turn and dip again, then layer it into the prepared tin.  My tin accommodated 6-7 biscuits in the bottom. 

Next Layer it with Mascarpone-Whipped Cream mix, follow again with coffee-coated Ladyfinger biscuits. Next layer it with Chocolate Frosting. 

Now again follow it with Coffee-dunked biscuits and finally with Mascarpone-Whipped Cream mix. 
Using a Tea-strainer, sprinkle some Cocoa Powder on top . Sprinkle some Dark Chocolate Shavings on top.

Let it sit in the refrigerator for atleast 5 hours, before getting devoured!!!! The taste of tiramisu will be more mesmerizing, if it is tasted after 24 hours of its making, allowing the flavors to infuse well.

We had ours for 3 days, everyday after school and after office both my hubby n kiddo will enjoy a slice with a oooohhhh, aaaahhhh!!! 🙂