How come no Popsicle for a summer cooler theme? Popsicle brings a wave of nostalgic memories,  sucking a orange kuchi ice(popsicle) from the ice-carts outside school gate, is such fun. We were never given any pocket money while growing up, it will be like once in a blue moon we get few coins, we guard them like gems to spend during occasional outings with our friends. 
kuchi ice is a must whenever we come  to the beach, after playing endlessly in the water and sand walking towards one of the many carts and searching  through  the menu and buying a orange or a mango stick is customary. Never knew making one is very simple, today I bring you a zesty, tangy popsicle.
 Today's  recipe is one which i made few weeks before, when i had some fresh pineapples which were a bit tart for us to snack, so i decided to blend it with some peaches and make this zesty popiscle. Instead of water or milk, i chose to blend it with coconut water, do not miss the lime juice in the recipe, it adds a amazing flavor. You can even add some crushed fresh mint to take it a notch higher. 
Ingredients (makes 8-10 popsicles)
300 ml tender coconut water
3-4 tablespoon of sugar (optional)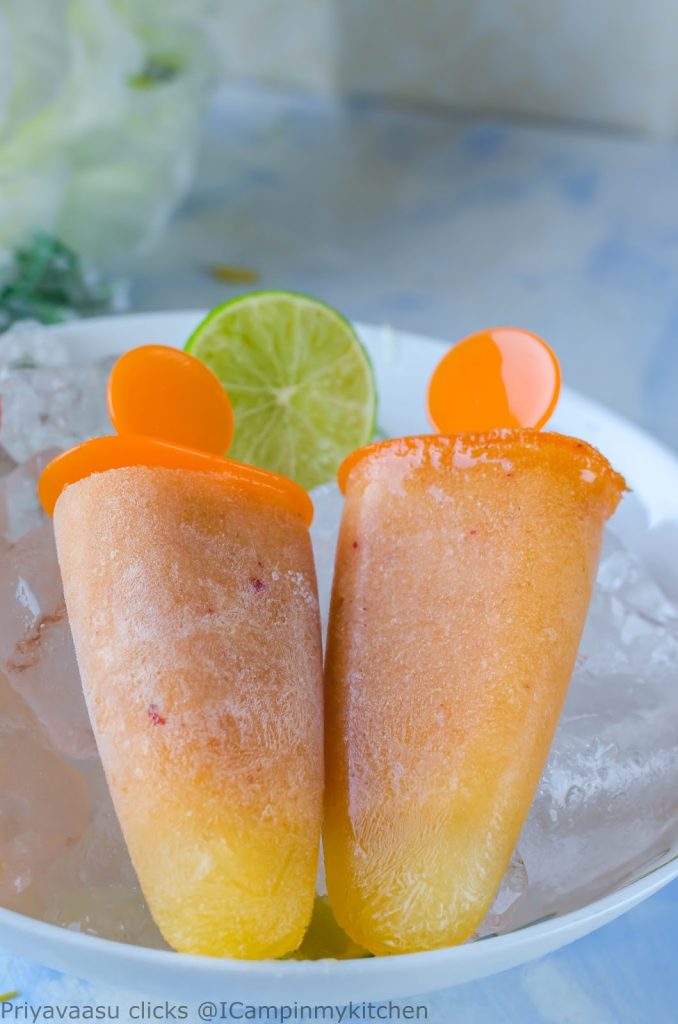 Method
Wash and remove the pit from the peaches, chop it roughly. Chop the pineapple rings roughly.  Take them in a blender add coconut water, lime juice, sugar and blend smooth.

Pour the juice into  Popsicle moulds and freeze 6-8 hours. To serve, just run the mould under cold water, to remove the popsicle and enjoy.
This is for Srivalli's Kid's Delight event
, guest hosted by 
Amara,
 themed on Summer Coolers