I love gifting my friends edible gifts. I wait for opportunities, birthdays, anniversaries, 'just like that i made this'  and make them guinea pigs for many of my experiments. We celebrated a dear friend's birthday in October, i made some granola, nankhatais, her favorite fruit cake, mango muffins, ragi ladoos etc to add to her gift basket.  I frosted the mango muffins with ganache, which is her favorite frosting.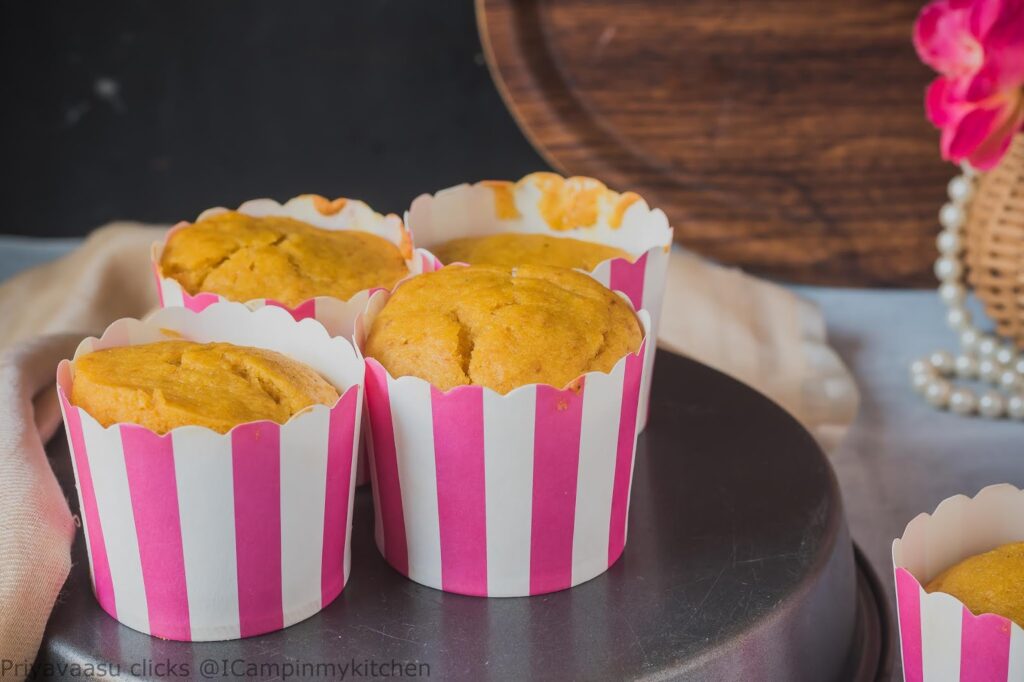 The muffins were such a hit, kids wanted me to make it again. So, for diwali when i made mango ladoos, my son was behind me asking me bake mango muffins for him. I froze the leftover puree, so last week when i was planning the bake-a-thon bakes, i made these again and this time, ensured i click them for the blog too.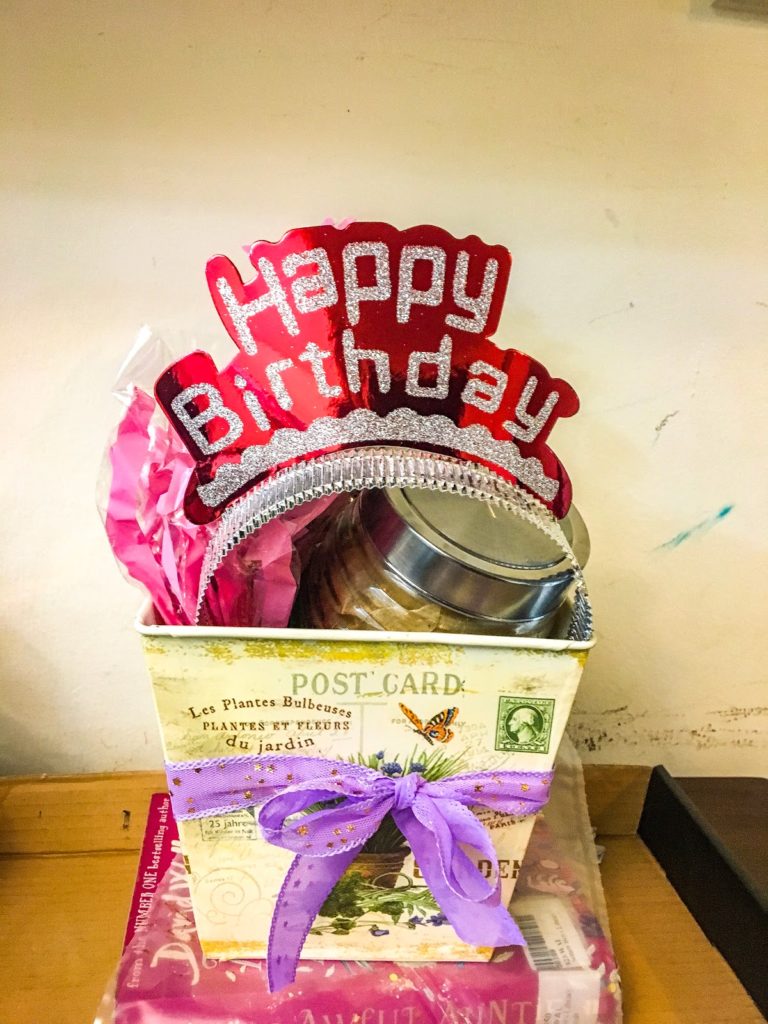 The Gift basket i made for my friend's birthday
The recipe is my fool-proof vanilla cake recipe, which i have tweaked a bit and have used mango puree for the liquid. The canned puree, adds such a gorgeous color, i know it might not be natural, but then if you are using canned goods once in blue moon, it is fine. I m waiting for the mango season to make these again with alphonso or the sidhri variety. These are great afterschool treats and a wonderful way to make your kids enjoy fruits, if they run a mile, hearing the name
Ingredients
1.5 cups of Whole Wheat flour
1 cup mango puree, i used canned
7-8 cardamom pods, cover removed and pounded well
⅓ cup - ½ cup butter milk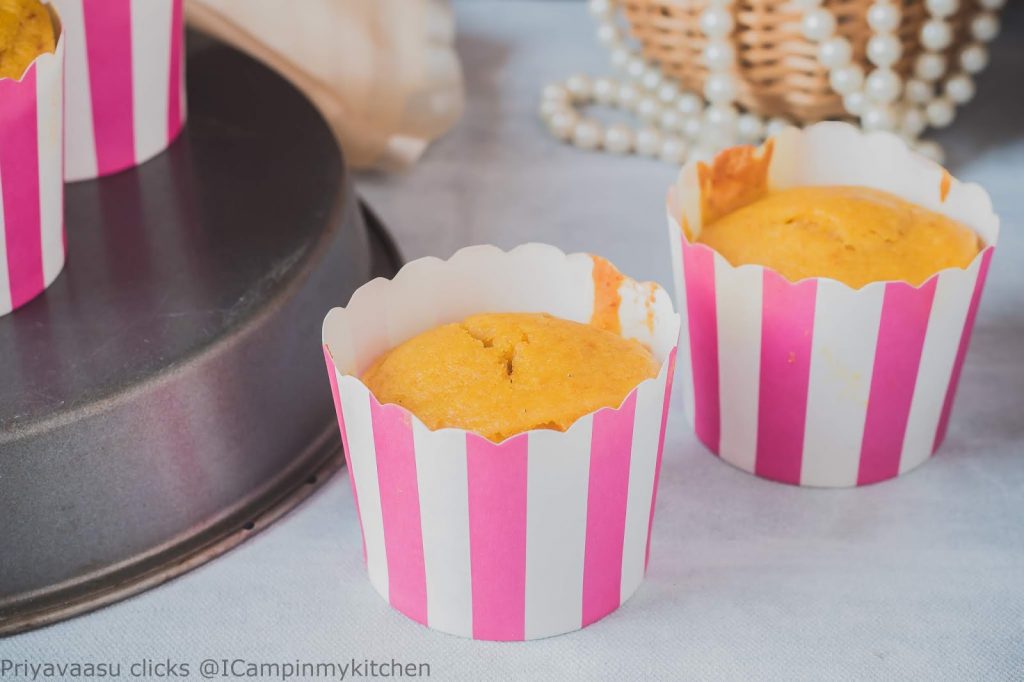 Frosting
2 tablespoon butter, at room temperature
2-3 tablespoon icing sugar
Take cream cheese, butter and whipping cream together in a bowl, whip together for 3-4 minutes, add icing sugar and whip for another minute. The frosting should be thick and holding by this time. Keep it refreigerated until use.
Method for the muffins
Preheat the oven to 170C, line a muffin tray with liners. I got around 10 muffins. Depending on how you fill the muffin tray, you might get around 10-12 normal-sized muffins.

In a large bowl, sift together whole wheat flour, baking powder and baking soda. To this add pounded cardamom and clove powder. 

In another bowl, take mango puree, sugar, add oil and butter milk to it and using a electric beater beat together to form a uniform liquid.  you can also whisk it with your hands, i prefered electric beater.
Take the dry flour mixture and add it to the liquid in 3 batches. While adding mix it together using a spatuala. Take care not to mix vigorously. Mix in one direction, see to that there is no traces of flour in the batter.

Using a ice-cream scoop or a ladle, scoop the batter into the prepared muffin tray. Fill ¾ th of the each muffin hole. I usually grease the ladle or the ice-cream scoop with little oil, so the batter won't stick to it.

Bake the muffins in the preheated oven for 40-45 minutes or until a skewer inserted in the middle of muffins comes out clean.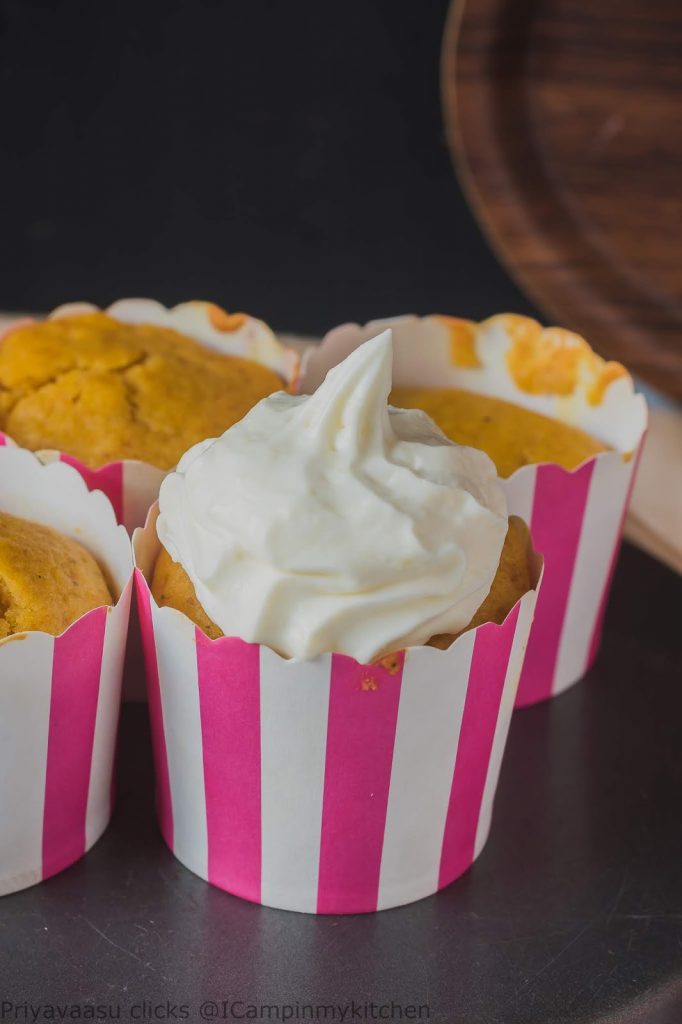 Once done, remove the muffins from the oven, transfer it to a wire rack, let it cool completely. If serving without frosting, serve it warm. 
If planning to frost, fill the frosting in a piping bag, using any nozzle, pipe some cream on top and enjoy the muffins.

I use a Microwave Convection Oven, it take around 40-45 minutes to bake these muffins. If using an electric oven or a gas oven, the time might differ

The oven timings depends on your Oven model.