I m loving this theme : Oceanic Cusines. We might say, because of the Internet and technology, the world has shrunk into a small village, but man, there is so much to explore in this tiny village! Even if i m talking with respect to food, which is one of the many aspects of a country, there are so many cuisines, there might be similarities, but just to know how many such similar food exists, needs a life time!!!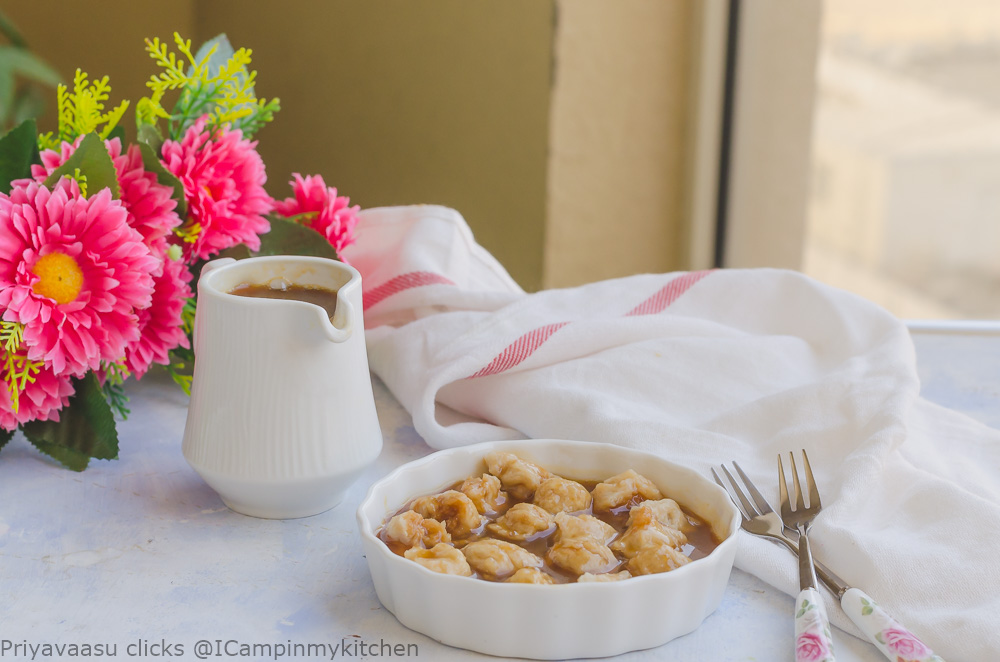 Today, we are exploring Tongan Cuisne. Tonga, officially known as the Kingdom of Tonga, is a polynesian sovereign state and a group of extensive islands, of which some are inhabited. The food is what excites me more. Every recipe, has a rich culture, tradition attached. The names of these recipes, excites me even more. For instance there is this Otai, it is a tropical smoothie, made with Mangoes, Watermelon and pineapple, refreshing isn't. Then there is Keke Isite, a doughnut made with yeasted dough. Then the famous Poke, not that poke some do on FB, this is a delicious dessert made with fruits.
Amongst these divine delicacies, i chose to make Topai, a simple dough of flour and coconut milk, cooked in water and served with some delicious sauce made of coconut milk and sugar.
The ultimate of this recipe is that sauce, golden beauty. i would definitely make this sauce again, as this will pair greatly with many desserts that need caramel toppings.
Ingredients
2 cups whole wheat flour (Plain flour can be used)
For the Coconut caramel sauce
Method
First let us make the sauce
Heat a wide pan, add sugar to it. Keep the flame medium. As the sugar melts, it will caramelize. When it does, add coconut 2 tablespoon at a time, and whisk to combine. Keep adding the entire cup in batches and also whisking it into the caramel.

Once done, take it off the stove. You might feel some thick sugar settled in thebottom while whisking, but do no worry, it will melt and dissolve well in the residue heat. You will have rich, glossy, super yumm sauce ready. Now keep this aside, until our dumplings are ready.
Put a large pan with 4 cups of water to boil. While the water is geting ready, let us get the dough ready.

In a large bowl, sift together flour and baking powder. To this sifted mix, add coconut milk and using a spatula, combine. Once you get the milk mixed with flour, slowly add water and try to make a sticky dough. Add water in batches.

The dough will be sticky, do not add flour to make it pilable. By this time, the water must be rolling boiling now.

Grease your hand with little water, pinch balls of the dough and drop it into the boiling water. Once you drop, the balls will submerge in, but once they are cooked they will float on top.
Add balls in batches, a quick 6-8 in a batch. Once they come on top, cover and cook for 30 seconds - 1 minute. Not more than this, remove the balls using a slotted spoon and drain on a separate plate.

To check whether a dough ball is cooked or not, cut open a cooked dough and check the middle, it will be porous. Repeat this for the entire batch of dough.

To serve, cut the cooked doughball into two or you can also leave it as such, take them in a small serving bowl, pour some coconut caramel sauce on top and serve warm.