Goa, always brings me the Movie Khamoshi to my mind!!! Oh i so love the movie and the songs.Kavitha Krishnamoorthy voice in Gaathe the pehle akhele,aaj gaayega sara jahan, love it totally,the lyrics and the tune both!!!
Goa, located along India's west coast along the Arabian Sea. Seafood, coconut milk, rice, and local spices are main ingredients of Goan cuisine. The area is located in a tropical climate, which means that spices and flavors are intense. The Goan cuisine is also influenced by Portuguese cuisine, so you might find lots of cross-over dishes here.
A Goan meal is incomplete without Fish. Naturally located along the coast, fish is their staple food. So, if you eat fish, you must definitely checkout Goan cuisine for some awesome fish recipes. Now, that i m a complete Ghass-Phoos(Filmy slang of Vegetarian, meaning grass-eater), i made a goa vegetable curry. I first made Mugachi Gaathi(green gram in coconut gravy) but the pictures aren't that good, so i m here with another not so ok picture, trust me,will do justice to this recipe, will try post a decent picture soon as possible.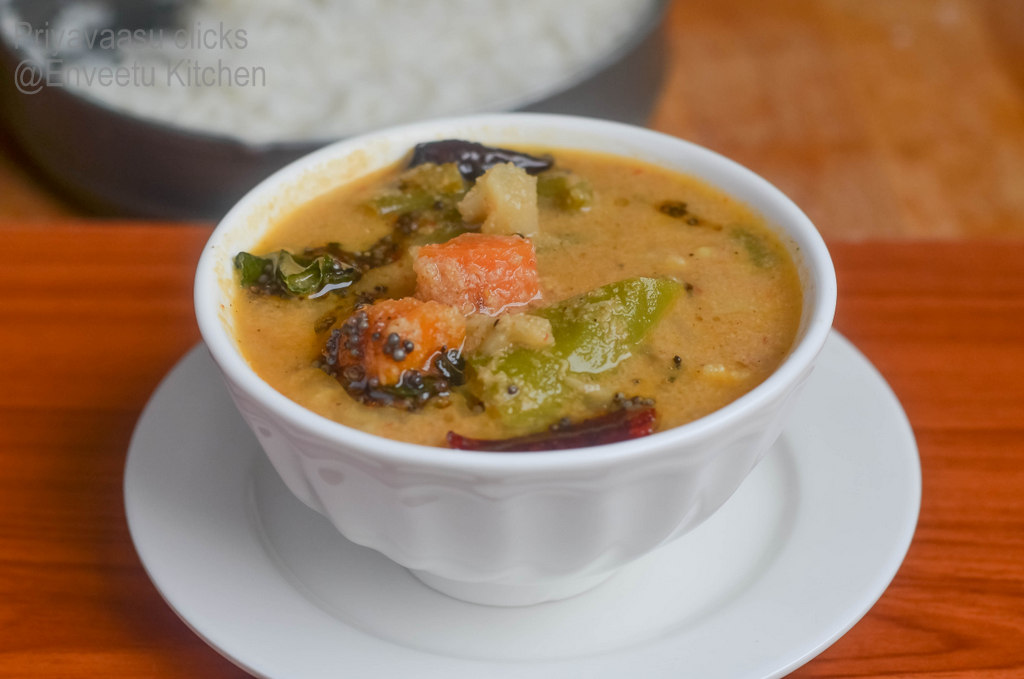 Source : Divine taste
Ingredients
4 cups assorted vegetables(I used French beans, carrots, capsicums, potatoes, cauliflower)
2 teaspoon salt or to taste


To Roast & grind
2 tablespoon coriander seeds
1 teaspoon cumin seeds
¼ teaspoon peppercorns
2 or 3 dry red chillies
2 cup fresh coconut, grated
a small marble-sized tamarind
1 teaspoon grated fresh ginger
½ teaspoon turmeric powder


Seasoning
2 teaspoon vegetable oil
1 teaspoon mustard seeds
2 dry red chillies
1 sprig curry leaves
½ teaspoon asafetida powder


Method
In a small pan/kadai, put in the coriander seeds, cumin seeds m peppercorns and red chilies. Dry roast until the coriander seeds turn golden brown and the spices begin to emit their aromatic flavurs, about 3 to 4 minutes.Take care not to burn the spices.

In a blender or food processor, put in the coconut, tamarind, ginger, turmeric, the roasted spices and ¾ cup water and grind to a fine paste.

In a saucepan, take the assorted vegetable and add water to immerse the veggies, cover and cook till done, about 10 to 12 minutes. Add cauliflower after the carrot and beans are half cooked, to prevent them from turning mushy.
After the vegetables are cooked, add salt and the ground paste and bring to a boil. You could add ¼ to ½ cup more water if you want a thinner gravy. I washed the grinder and added that water to this.
In a small wok or saucepan, heat the oil over a medium flame, add in the mustard seeds and when they pop, put in the red chillies, curry leaves and asafoetida powder, mix once and pour this into the vegetable curry. Give it a good mix and serve hot with rice, rotis or parathas. I served it with rice for my kiddo's lunch and with roti's for my hubby's dinner.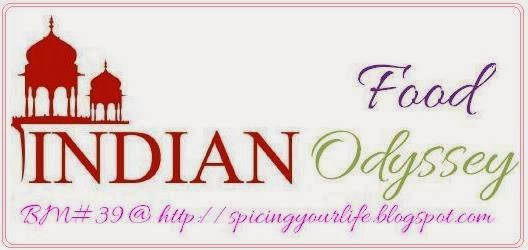 Check out the Blogging Marathon page for the other Blogging Marathoners doing BM# 39