Weekend Cooking is always a bit elaborate @ my place. I try to make ⅔ curries along with regular rice/roti. For kids it is always rice, but for us, it is either roti/rice, but mostly these days, it is roti. I finally, got my Kenwood Food Processor, started using it and loving every bit. Made chapathi dough using the processor, haven't got the water amount right yet, but then the dough comes out super soft in minutes and the roti's are also soft and fluff up well. So, now i make dough almost for a week and refrigerate it. This makes my weekday lunch packing also easy, i just have to think about the side-dish.
With fresh cauliflower and broccoli everywhere, i use them quite a lot in my kitchen. Kuttu loves deep-fried gobi/broccoli, the little one, likes to much on, plain boiled ones. For this weekend, I made this Gobi Matar, turned out finger-licking good. Hubby paired it with roti's, while i had them as such as a meal, it was that good. Quick to make, if you have all the ingredients at hand.
Ingredients
List 1
2.5 Cups of cauliflower florets (Big-sized florets) / 1 Big Cauliflower as such.
1 cup green peas, (i used frozen)
Fresh coriander leaves for garnishing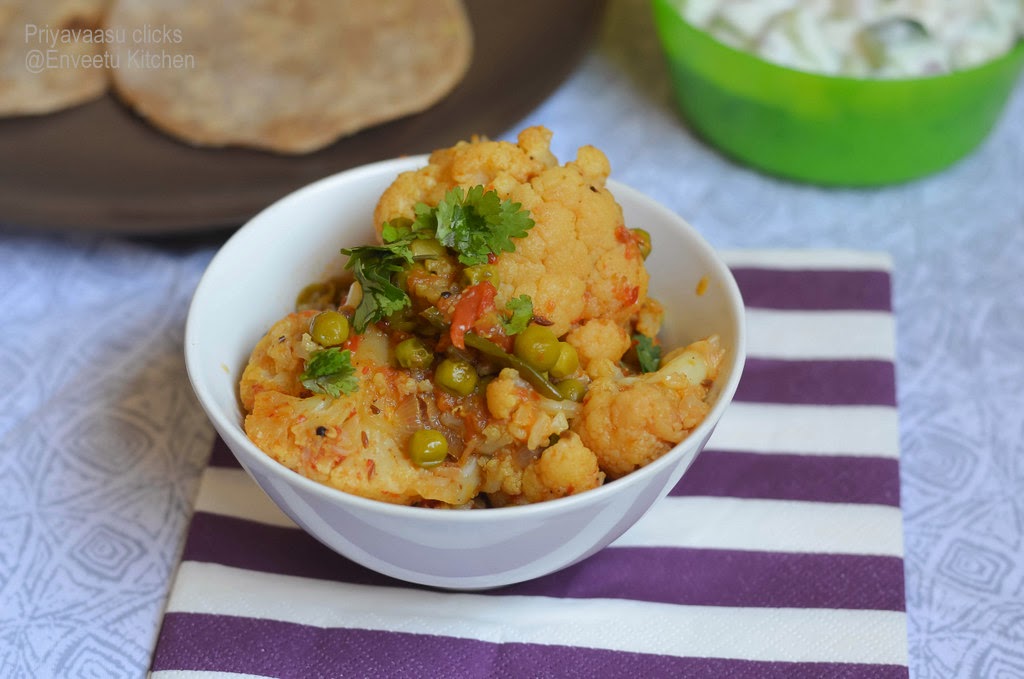 List-2
2 Medium-size Onions, thinly sliced
2 Tomatoes, cut into cubes
1 green chili, slit vertically
1 teaspoon shredded ginger
2 cloves garlic, finely chopped
List 3 (Dry Masala Powder)
2 teaspoon coriander powder
¾ teaspoon - 1 teaspoon red chili powder
½ teaspoon garam masala powder
¼ teaspoon turmeric powder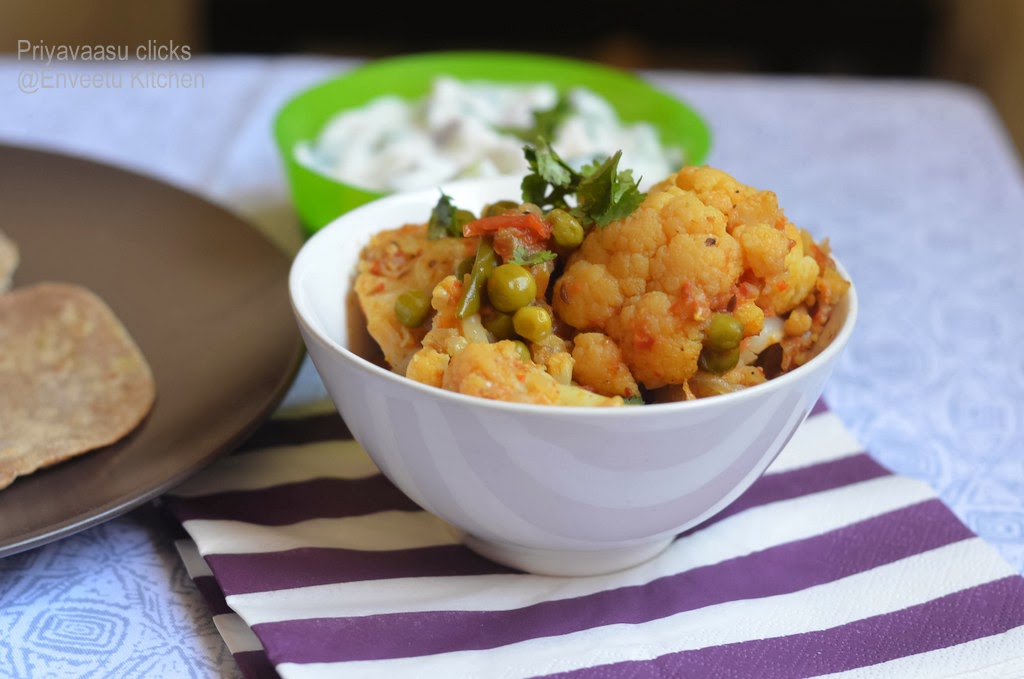 Method
Cut and clean the cauliflower florets for any visible dirt/worms. Soak them in bowl full of salt water. This helps the worms, if any, to get out and float in the water. Drain from salt water and Soak them in Hot water for 5-8 minutes. Drain and keep aside. Both the times, the water should immerse the florets.

Chop Onion and tomatoes, garlic and chili as given. Heat a wide-bottom pan, add 2 tsp oil. When it is hot enough, add chopped onion, garlic, ginger and saute until onions turn translucent.

Next add chopped tomatoes and all the dry masala powder (Red chili powder, coriander powder, garam masala powder and turmeric powder). Add ¼ Cup of water.

Let the tomatoes cook until soft and mushy. Now add Cauliflower florets and peas and another ½ Cup of water. Add salt and mix well.
Cover and Cook for 10 minutes in a medium flame, for the flavors to mingle well. By this time, the curry should be almost dry, if not, cook for 4-5 minutes extra. When it is almost dry, take it off the stove, garnish with fresh coriander leaves and serve along Roti/rice. I served it with roti and cucumber-onion raita.