Weather here is turning pleasant. There was a sudden bout of rain too. We don't have a rainy season here, like in Chennai. People here badly miss rain and when it happens, we never leave the chance of enjoying it with some hot, steamy snack and a cup of chai.
This dhokla i made on one such rainy day. Our love for dhokla has grown manifold after tasting home-made khaman dhokla, Now i have started making it with other veggies too.These green peas ka dhokla, was lovely in terms of taste and also looks. Loved the fresh green color of the dish and the tempering on top is the highlight, the crispy sesame seeds , gives a great taste and texture and makes eating an enjoyable experience.
Source : Tarla Dalal's Non-fried snack
Ingredients
1 cup green peas (i used frozen)
½ teaspoon shredded ginger
2 tablespoon powdered sugar
2 tablespoon chopped coriander
Tempering
1 teaspoon white sesame seeds
1 teaspoon finely chopped green chillies
Method
Take Peas, green chilies and ginger in a mixer, grind to a fine paste. Since i used frozen peas, i didn't add any water, if the mixture is dry, then add 2-3 tablespoon of water to it while pureeing.

In a wide bowl, add besan/gram flour, peas puree, salt, sugar, combine well. Add around ½ Cup - ¾ Cup water to make batter of pouring consistency.

Just before steaming, add the baking powder and 2 teaspoon of water. When the bubbles form, mix gently.

Pour the batter immediately into a greased thali. I used two 6-inch flat plates. Tap the thali twice for even spread of the batter.Steam for 12 to 15 minutes or till the dhoklas are cooked. When done, take it out of the steamer and keep aside.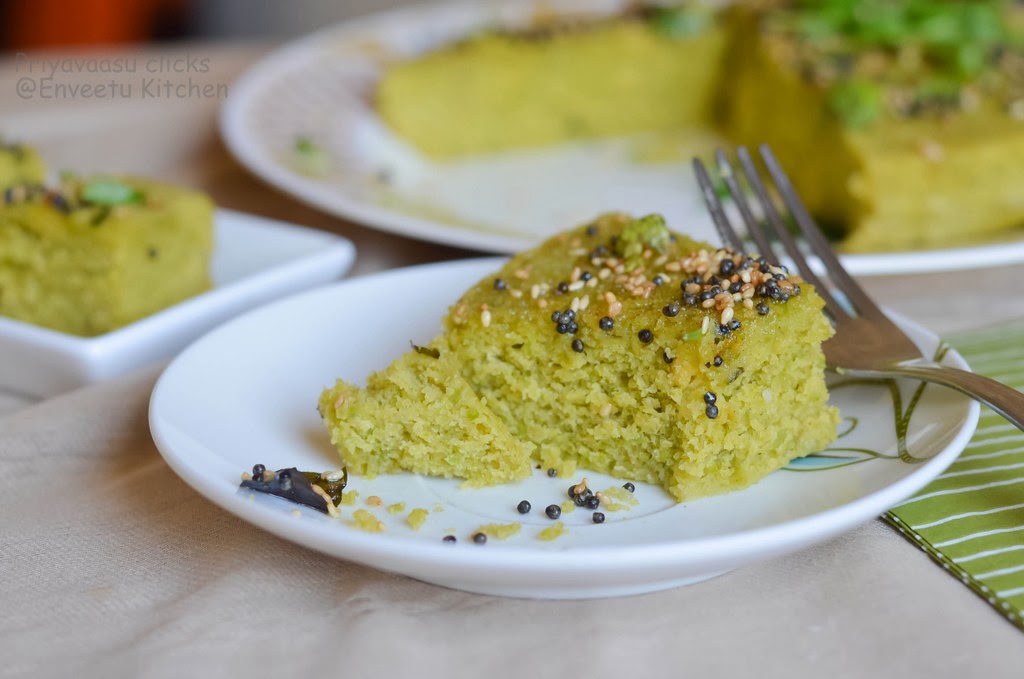 Heat the oil in small pan and add the mustard seeds.When the seeds crackle, add the sesame seeds, green chillies and asafoetida, mix well and sauté on a medium flame for a second, while stirring continuously.

Remove from the flame, add 2 tablespoon of water and mix well. Pour the tempering over the dhoklas.Cool slightly and cut into equal pieces. Serve immediately garnished with coriander.

If serving late, heat it in a microwave for 20 seconds and serve warm
Sending this to CCChallenge happening @ Cooking4allseasons, by +Srivalli Jetti and Let's Brunch on Sunday's.