After a long hiatus, i started baking at home. What so special you might ask, for a person who bakes almost every second day, this 2 months of no-bake
is like suddenly being a Atheist from Theist. My inner-self would love to bake a delicious cake or stunning bread, but then my energy levels were so bad, i will open my freezer, bite a block of dark chocolate and return back to regular work.
Thanks to this Bake-a-thon, i m trying to shun that laziness and trying to be friendly with my Oven. All this December i will be blogging about some delicious bakes every other day. Unlike previous year, i don't have any theme this year. So,it is just a random bake, some breads, some easy to bake snacks.
For the first day, it is guava and almond turnovers. I had some neglected guava's in the fridge, put them to good use in this pastry. None, could find out it has guava and my elder one enjoyed it so much.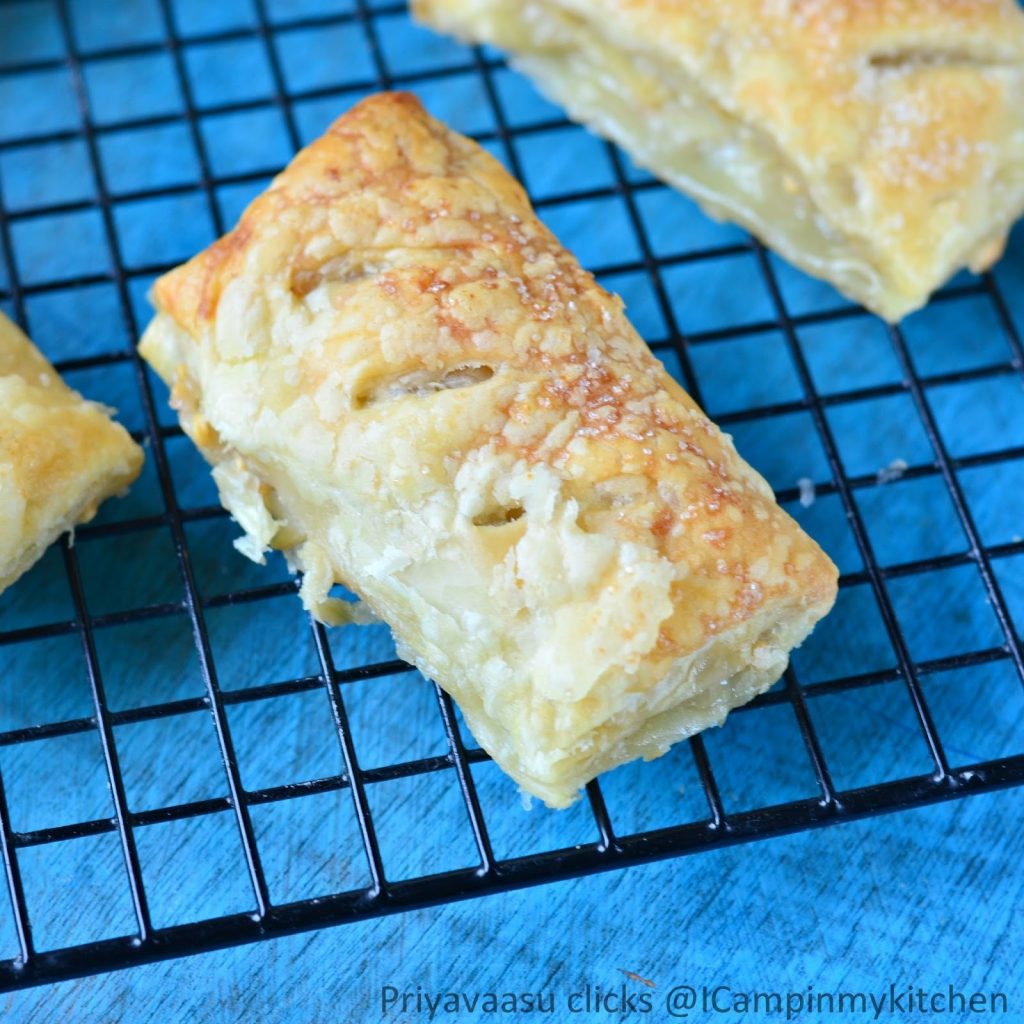 Sorry for the terrible pictures, i m lost somewhere, reading again to take some decent pics, hope i will be back to my own self by the end of this bake-a-thon.
Ingredients
10 nos puff pastry squares
1 tablespoon oil for brushing on top
Lay the pastry squares on a baking pan. I used a rectangle baking tray lined with aluminium foil. Which can hold 12 pastries. since i used frozen, i just rested it for 10 minutes on the tray for it to thaw and become usable.

Wash the guavas well. In a deep-bowl, grate the guava's and add 2 teaspoon of sugar and mix well. If you feel, you can peel the skin of the guava first and then grate it. Do not grate the seeds, since the seeds are in the center just grate the sides of the fruit.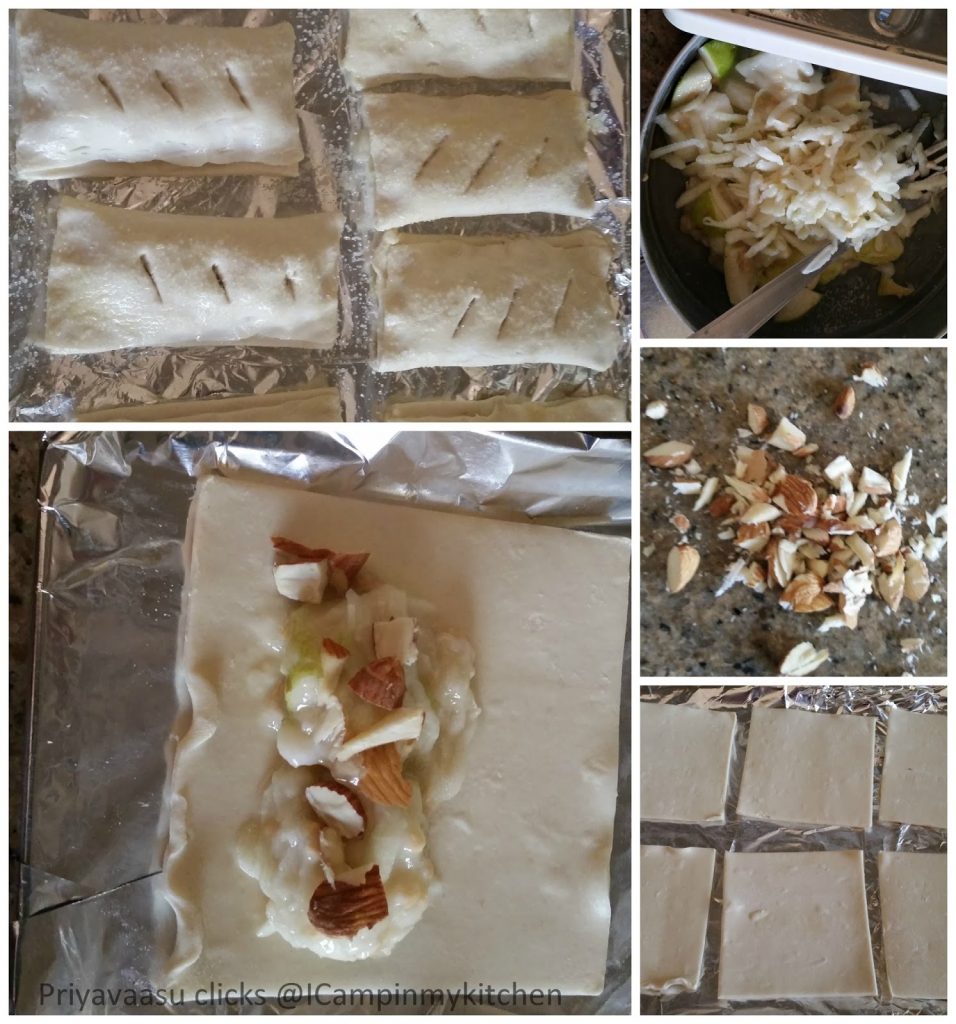 Once the sheets are soft, add a tablespoon of fruit pulp and top with few chopped almonds. Close the other side and press to seal. sprinkle little sugar on top.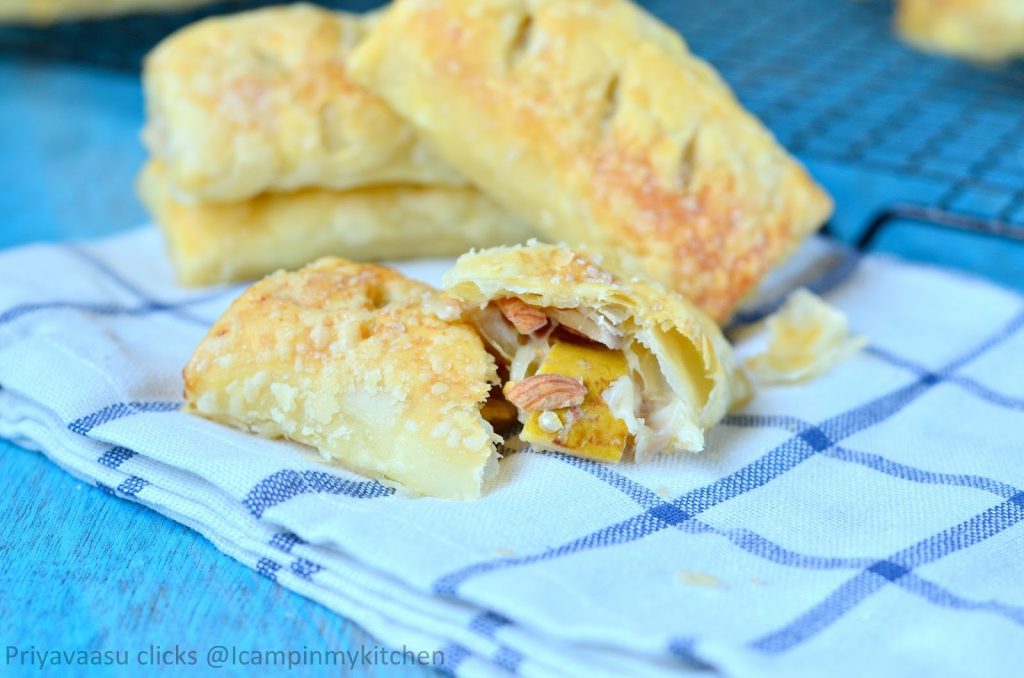 Slit the top of the squares for steam escape while baking. Preheat the oven to 200 C. Bake the square for 15-20 minutes or until golden brown.. Take it out of the oven, let it cool for a minute or two on a wire rack.

Serve warm, sprinkled with sugar or as such along with Evening Tea/coffee.