Last week when we went for grocery shopping, i saw fresh fresh apricots in the market. Couldn't stop myself, so i got a small bag of them. I love the feel of apricots, soft, squishy, like a fuzzy balll!!! Like me, my lil one too loved the touch of this small mighty fruit. Giggling, he said "It feels silly ma" and kept rolling it on his cheeks.
He is one adventurous fellow, he loves to taste new food and fresh fruits. He tasted those apricots, but some were a bit sour for his taste, so he made weird faces and didn't want to try them anymore.
I used to make fresh apricot preserve for our toasts, so, i wanted to try a new recipe with these fruits. While googling, i came across this recipe and loved the way it was served. Tried it immediately, since it was such an easy recipe to make. The sourness of the fruit, mixed with honey and lemon and creaminess of hung curd and crunch of roasted almonds took this fruit to another level.
Ingredients
¼ cup hung curd for serving or sweetened yogurt/shrikhand
1 tablespoon finely chopped mint/coriander for garnish
2 tablespoon roughly crushed roasted almonds for garnish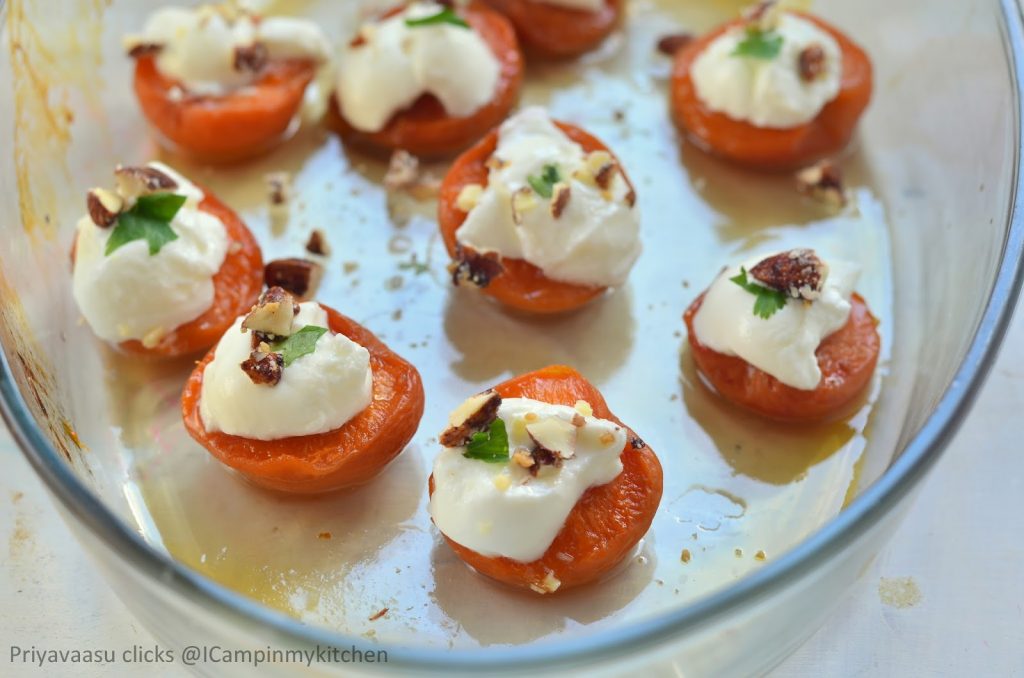 Method
Wash the apricots well with water. Cut them into half and remove the stone. Grease a baking tray with little butter and arrange the apricot halves in a baking tray, with cut side up.

In a small bowl, mix honey, lemon juice and sea salt together. Drizzle this mix on the apricot halves. Preheat the oven to 180C. Bake the apricots for 20-25 minutes or until the top starts to brown a bit.

Carefully turn the apricot halves to the other side and bake for another 10-15 minutes. When the skin looks crumpled then they are ready to be devoured.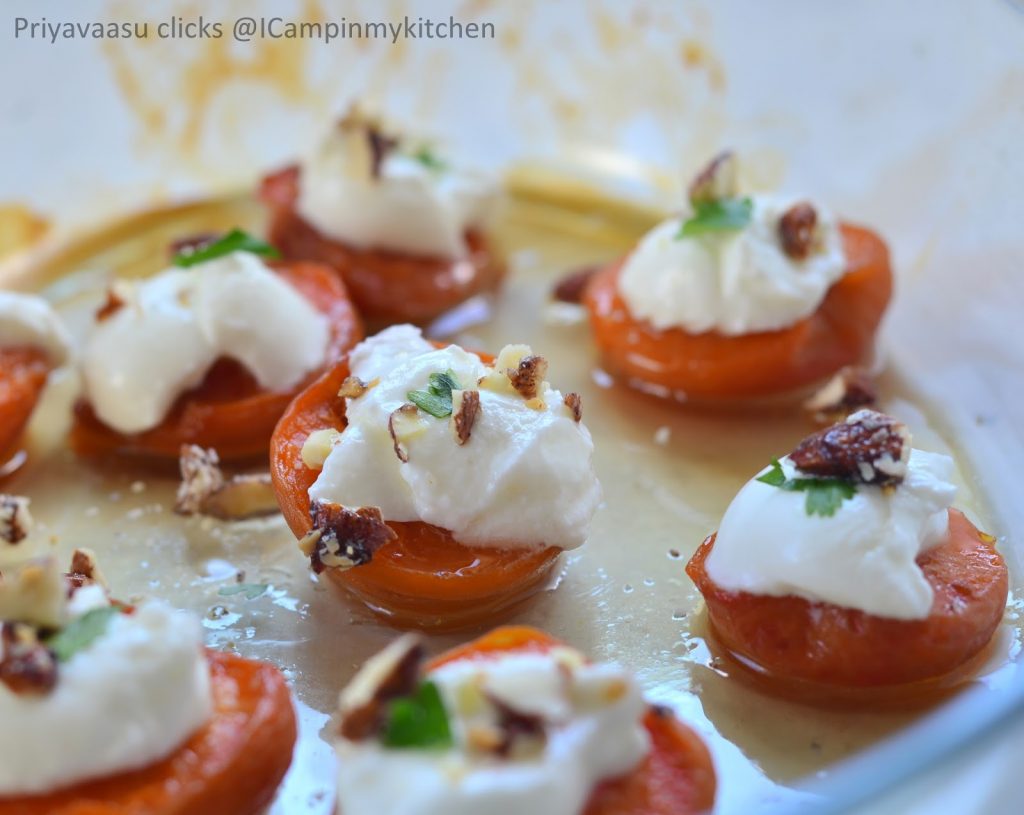 Remove the apricots from the oven, turn them again and let it come to manage-able heat.

Now to serve, scoop a melon-baller sized hung curd place it on the roasted apricot half, garnish with mint/coriander leaves and roasted almonds.
This is part of the Bake-a-thon 2015