The next post with potatoes is a fingerlicking side with them. Mathura ke Dubki wale aloo, i love the name, it sort of has a kick to it, Dubki wale, that itself says it floats in gravy. I bookmarked this from srivalli's post. My elder one is a big fan of potatoes, he loves them for his school dabba, one side that he never gets tired taking.
I made these for our lunch yesterday. But i couldn't save even a spoonful for the photo. They wiped it clean. So, i made it again today for the photograph. My elder one, came into the kitchen and asked me why am i not serving him this, i strictly told him not to touch it until i click it. Though traditionally served with Bedmi poori, this dish pairs well with roti's also, i even had it with rice today. Try it and let me know how much you loved it!!!
Ingredients
2 Large Potatoes or 8-10 baby potatoes
3 nos tomatoes or 1 cup tomato puree
1 teaspoon shredded ginger
¼ teaspoon turmeric powder
½ teaspoon red chili powder
1 teaspoon coriander powder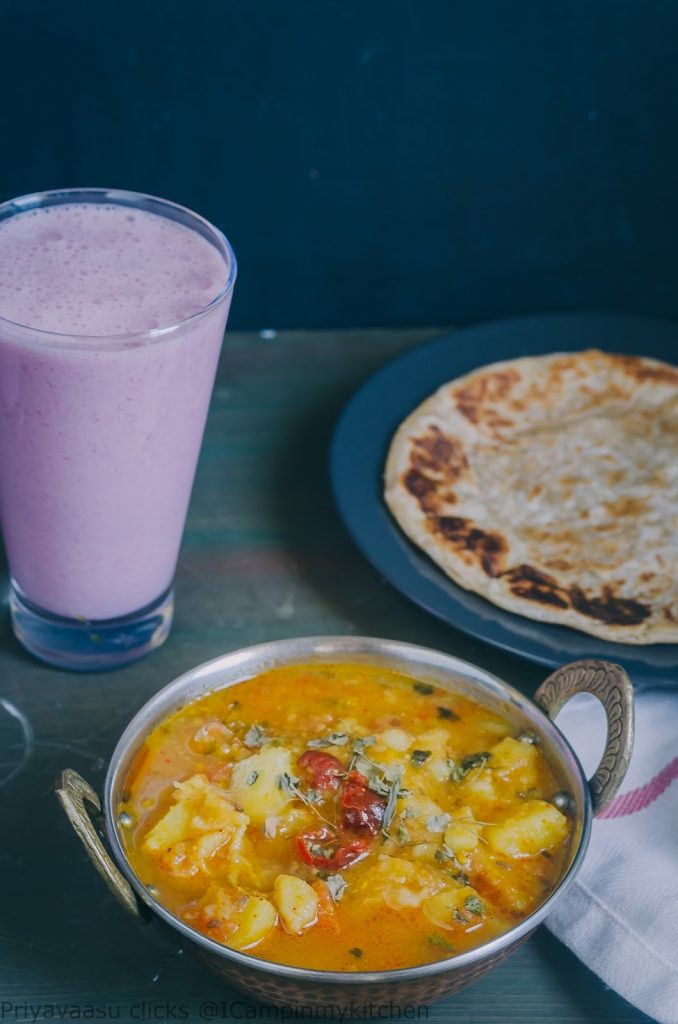 Tempering
Method
Wash, peel the potatoes, cut them into cubes and cook in microwave for 8 minutes. If cooking on stove top, cook them until they are soft.

I have used baby potatoes and the normal potatoes,both taste good. look wise, baby potatoes look appealing to your eyes, but taste-wise it is the same.

For making tomato puree, make small slashes on the tomato, take them in a microwave safe bowl, add water to immerse the tomatoes, microwave high for 3 minutes.

Remove, drain the water, peel the skin of the tomatoes, puree them with a hand blender until smooth.
To make the Aloo
Heat a pan, add oil, crackle cumin, add methi seeds, hing and broken red chilies. add grated ginger and saute this for a minute, add tomato puree, and ½ cup of water. Now add red chili powder, coriander powder, amchur powder, turmeric powder. Saute this for a minute. Now add potatoes to this, add 3 cups of water and salt.

Let this simmer for 10-12 minutes until the potatoes absorb the masala and the gravy thickens a bit.

The consistency of the gravy depends on how you like it. we want it neither thick nor thin. We love to dunk our roti's in that gravy well.

Before taking it off the stove, add kasuri methi and remove it from the heat. Serve it along Roti/Poori's. We loved it with our roti for our lunch yesterday.