When Cooking Bengali Sweets and not making Mishti Doi, I consider it awful!!!!  What is this Mishti Doi/Mitha Dahi? According to me, it is a quick to make Snack/Dessert and healthy too!!! 
Mitha Dahi or Mishti doi is a fermented sweet dahi or sweet yogurt. It is common in the states of West Bengal and Odisha in India, and also in Bangladesh. 
Earthenware is always used as the container for making Mitha Dahi because the gradual evaporation of water through its porous walls not only further thickens the yoghurt, but also produces the right temperature for the growth of the culture. Very often the yoghurt is delicately seasoned with a pinch of elaichi (cardamom) for fragrance. Baked yogurt is a similar preparation in the west. As Dahi (Curd) is also considered auspicious in Hindu religion , it is also prepared on festive occasions and celebrations like Durga Puja and Diwali.
While Looking for this recipe, i came across many methods but i went on with a Bong's Recipe, yup i followed Sudheshna's recipe from Cook like a Bong!!! She needs no introduction, she has a wonderful collection of Bengali recipes and also some great history weaved with that food. Good Food, comes with Great Memories!!!
Ingredients
⅓ Cup of Sugar (Make it ½ Cup, if you prefer more sweetness)
handful of pistachios and almond flakes, for garnishing
Method
Take milk in a thick bottom vessel and start heating it over low flame. I added 2 stainless steel spoons to it, to prevent burning of milk at the bottom of the pan. A Tip given by experienced Lataji of Flavors n Taste, which i follow till date while making Milk-based desserts.

As the milk, starts boiling add 4 tablespoons of sugar and keep on simmering till the volume is reduced to little less than half. Scrap down the sides and stir well frequently.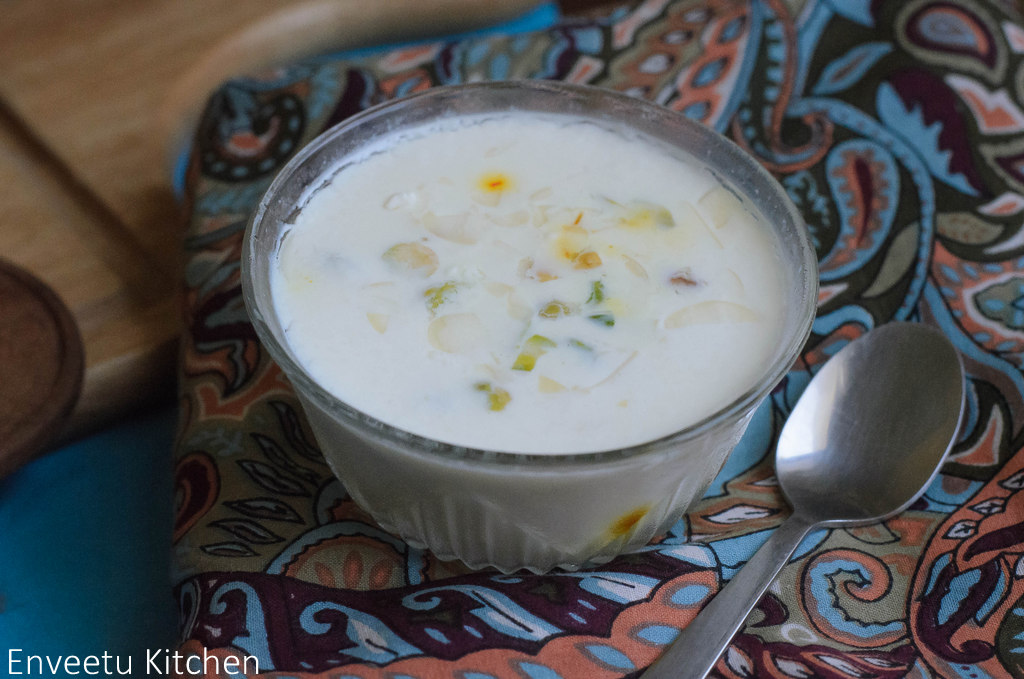 Take the remaining sugar with 2 tablespoons of water and heat till the sugar melts and attains a golden brown color

Gradually add the molten sugar over the milk and boil for another 15 minutes over low flame.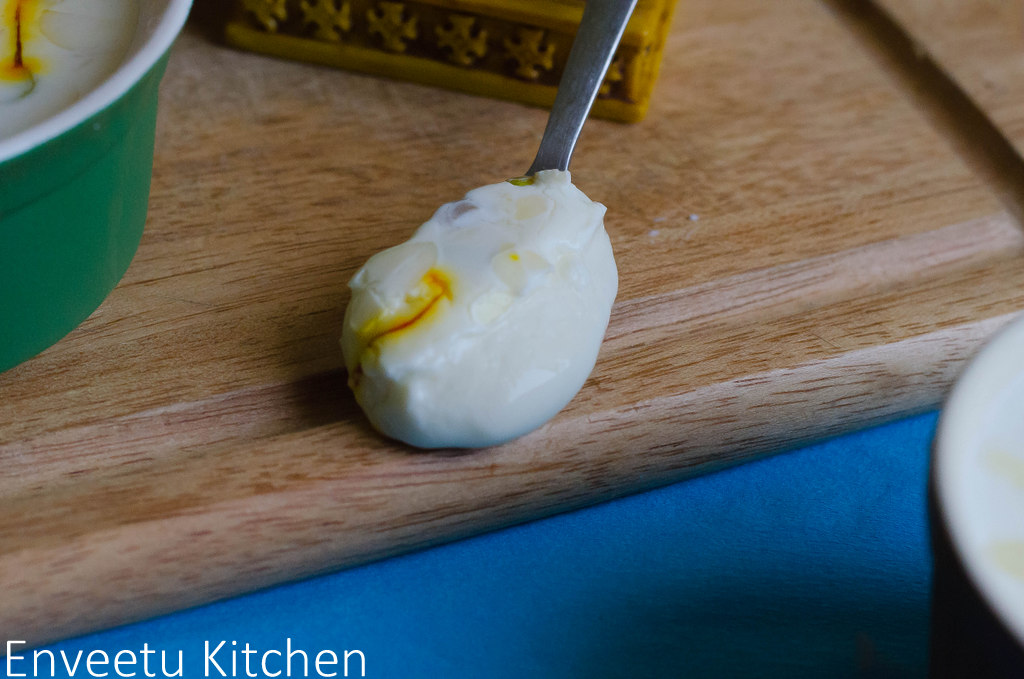 Take it out of flame and let it become lukewarm add Yogurt and saffron, whisk well and pour the mixture into small Earthen Pot/ramekins/bowls. Garnish with almonds and Pistachios.

Keep the bowls/ramekins/Earthern pot in a cool dry place, and let the yogurt set over night. 

Refrigerate the set the Mishti Doi and serve as a Chilled dessert.