Jelleye anar, also known as Pomegranate jelly a simple to make, easy dessert. All you need is good quality pomegranate juice and 4 hours, that's it, you have a beautiful and delicious dessert.
Jump to Recipe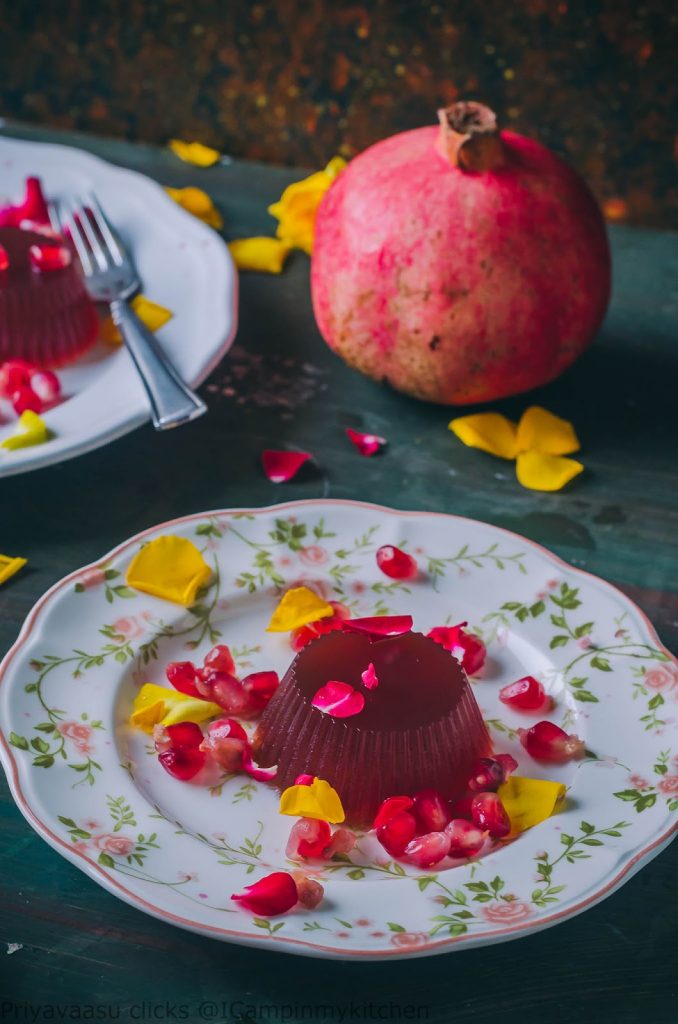 Pomegranate fun facts
Pomegranates, a fruit that is so pretty on the inside, tough on the outside, a little effort to score it open, it offers edible ruby reds, very Philosophical right!!! Every part of the fruit, right from the arils to its pith, is used for medicinal purposes. This ruby studded fruit is another fall season gift to this world.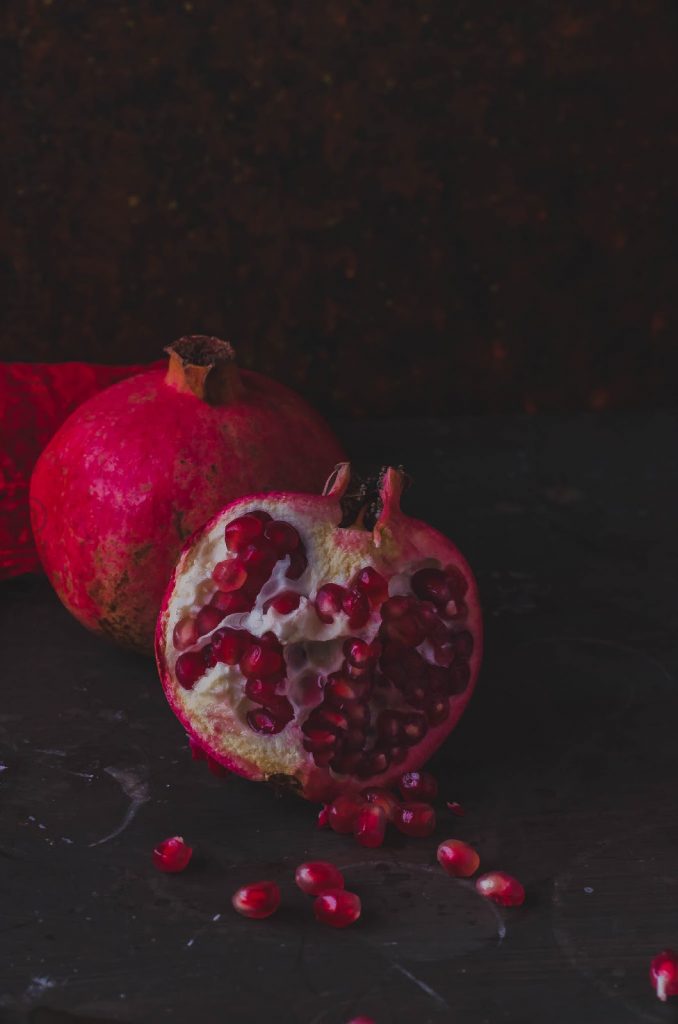 Pomegranate also has lot of fun facts in connection with mythology. It is believed to be a fruit from the paradise, and it is also believed that the fruit is a fertility enhancer and women of child bearing age should eat this fruit in abundance. This is because the fruit is full of healthy folates/folic acid that is much needed for a pregnant women.
The Inspiration
This recipe is from the book Pomegranates & roses by Ariana Bundy. I was lucky enough to borrow this book from my blogger buddy Huma Kalim of Gheza-e-shiriin. I love her blog name, it is so royal to pronounce na!
She is such a down-to-earth person, she has the habit of collecting regional specific cuisines. I loved this cook book by Ariana Bundy, and it identified me with my taste of cookbooks. I love cookbooks that weaves a story around the recipe, not just a page that has ingredients and procedure! What a realization!!
Thanks to huma for the book! I have so many recipes marked in that, happy I could do at least one now.
Pomegranate Jelly
Pomegranate jelly,a simple to make dessert. All you need is pomo juice and agar-agar/gelatin leaves. Since this is a vegetarian blog, i have used agar-agar powder for the jelly.
To make it more rich and royal, i have topped the jelly with white chocolate ganache garnished with some pomegranate arils. The ganache adds a great texture and richness to the otherwise simple jelly.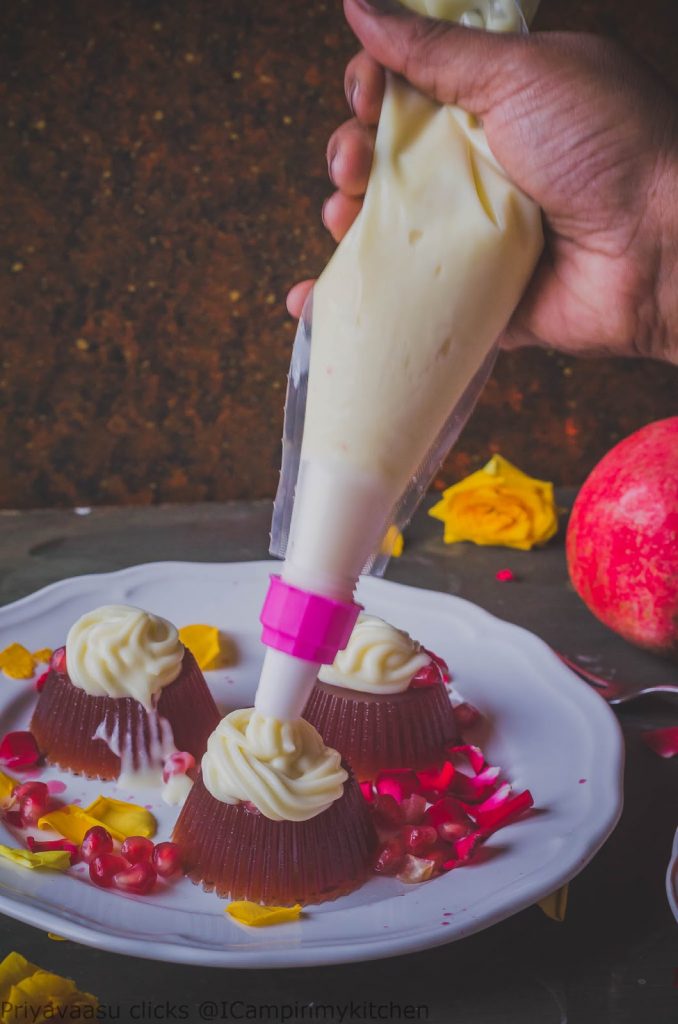 Who doesn't love wibbly, wobbly jelly. If you think jellies are only for kids, check this sensational Coffee jelly with whipped cream and chocolate. This refreshing Orange jelly and colorful cherry jelly are my favorites too.
The Ingredients
Pomegranate juice, I have used store bought fresh juice for making this pretty pomegranate jelly. If you are patient enough, you can make your own juice from fresh pomegranates and use it for the jellye anar.
Sweetener, if needed you can use white sugar/jaggery or honey to sweeten the jelly. Since i bought store bought juice, i found it to sweet enough, so haven't used any sweetener in this pomegranate jelly.
Agar Agar powder, since mine is a vegetarian blog, i have used agar agar powder to set the jelly. If you are sure about the measurements you can also use gelatin instead.
White chocolate , i have used lindt white chocolate and whipping cream for the white chocolate ganache topping for the pomegranate jelly.
If you have tried this recipe and like it, give it a star rating or let me know in the comments below. You could also share it with me on Instagram using #icampinmmykitchen and tagging me @priyasrinivasan. You could follow me and my recipes on Facebook | Instagram | Pinterest | twitter
Some Non-traditional Desserts
The Recipe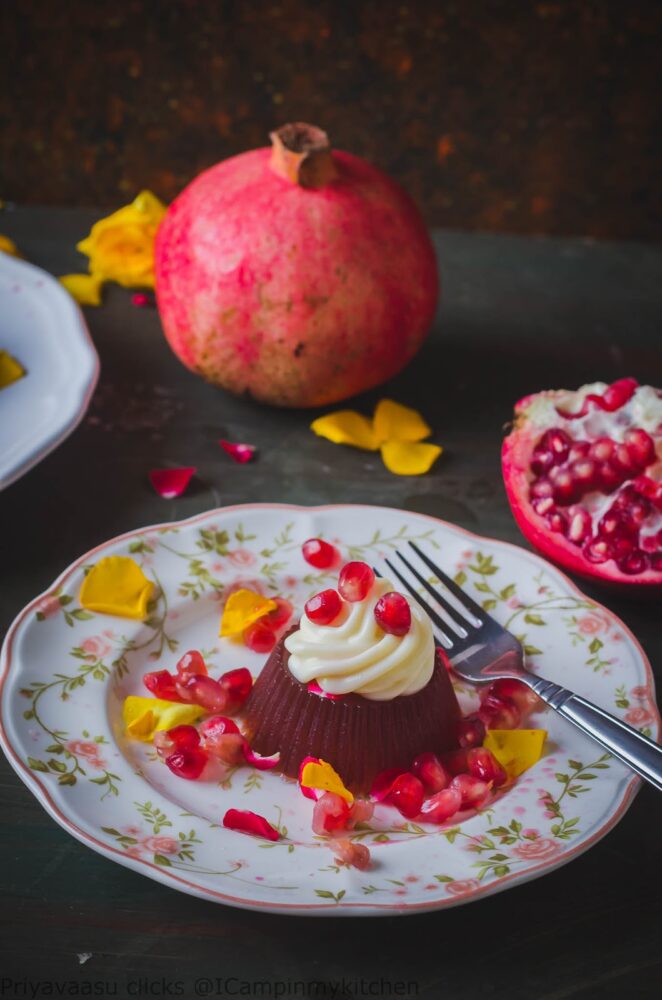 Jellye Anar | Pomegranate jelly | Vegan Recipe
Jelleye anar, also known as Pomegranate jelly a simple to make, easy dessert. All you need is good quality pomegranate juice and 4 hours, that's it, you have a beautiful and delicious dessert
Print
Pin
Rate
Ingredients
Ingredients for jelly (Fills 9 medium muffin moulds)
500

ml

Pomegrante juice

Fresh homemade or storebought

2

tablespoon

of jaggery syrup/honey/sugar

i didnt use, since mine is store bought juice, already sweetened

1

teaspoon

agar agar powder

silicon muffin moulds for setting the jelly
Ingredients for White chocolate ganache
100

grams

white chocolate

i used lindt

2

tablespoon

whipping cream
Instructions
Take the juice in a saucepan and heat it. Remove 2 tablespoon of juice from the sauce pan to a small bowl, dissolve the agar-agar powder in that juice.

When the juice in the saucepan, starts to boil, reduce the flame to simmer and add the agar-agar dissolved juice to it and whisk it well to combine.

Let it sit on the stove for another 10 minutes in a simmer flame. Take it off the stove. Arrange the silicon muffin moulds in a muffin pan. Slowly fill the muffin moulds till ¾ with the pomegranate juice.  Refrigerate until set, atleast a minimum of 3-4 hours. 

You can add some fresh pomo pearls in each of the muffin mould for some texture, since my kids might not like it, i skipped that idea.
To Make white chocolate ganache. 
Take white chocolate in a bowl, chop it into pieces. Heat cream in the microwave for 10-15 seconds, Pour the hot cream over the white chocolate. Let it sit for 5 minutes, then mix it well with a spatula. Let the ganache sit for 10 minutes before use.
To serve the jelly with ganache
Remove the jelly on to a serving plate. Since it is set in a silicon mould, it was very easy to transfer it to a serving plate. Just loosen the sides of the mould, invert it on a plate.

Pipe a blob of ganache on top of the jelly, garnishit with fresh pomegranate pearls and rose petals and serve immediately.
Disclaimer
I m not a Doctor or a Nutritionist The Nutrition information provided above comes from the plugin and is only an estimate.
Serve this beautiful looking pomegranate jelly cups for your next party or get together and enjoy the warm appreciation. If serving as a party dessert, do not miss the white chocolate ganache, they add the oomph factor.
These jelly cups can be a wonderful snack for the kids, with summer vacation approaching you need lot of such quick snacks to handle the hunger attack.
Do you like the recipe? PIN IT