Pomegranates, a fruit that is so pretty on the inside, tough on the outside, a little effort to score it open, it offers edible ruby reds, very Philosophical right!!! Every part of the fruit, right from the arils to its pith, is used for medicinal purposes. This ruby studded fruit is another fall season gift to this world.
Pomegranate also has lot of fun facts in connection with mythology. It is believed to be a fruit from the paradise, and it is also believed that the fruit is a fertility enhancer and women of child bearing age should eat this fruit in abundance. This is because the fruit is full of healthy folates/folic acid that is much needed for a pregnant women.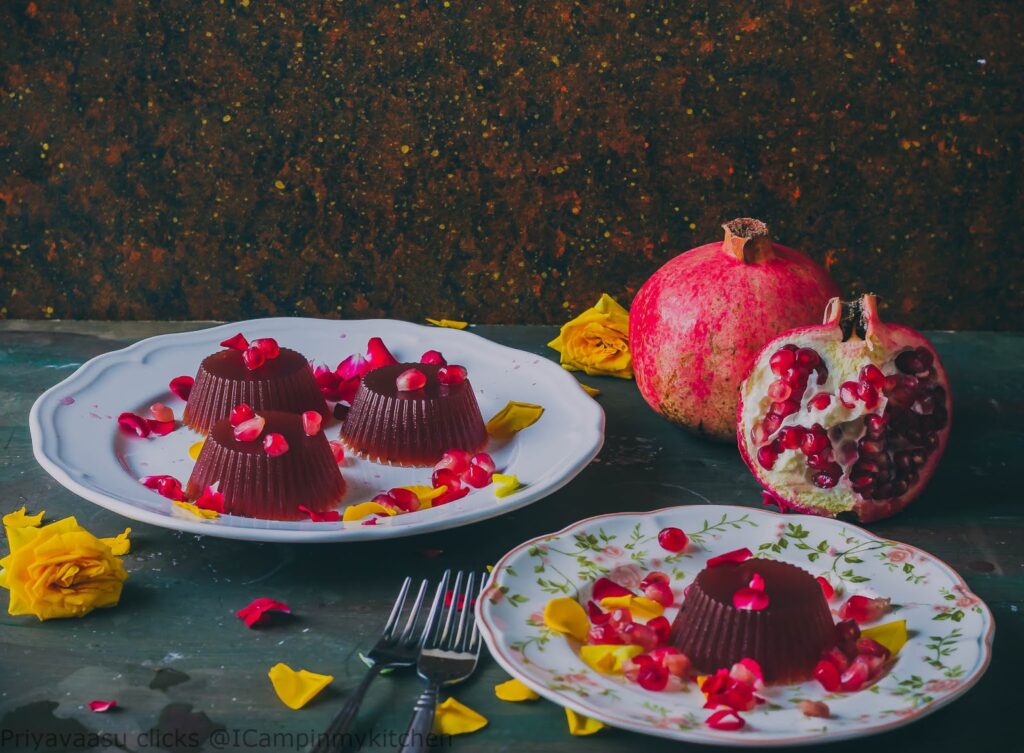 When i decided on the theme Fall fruit desserts for this BM, i knew i will making this jelly. This recipe is from the book Pomegrantes & roses by Ariana Bundy. I was lucky enough to borrow this book from my blogger buddy
Huma Kalim of
Gheza-e-shiriin
. I love her blog name, it is so royal to pronounce na!
She is such a down-to-earth person, she has the habit of collecting regional specific cuisines. I loved this cook book by Ariana Bundy, and it identified me and my taste of cookbooks. I love cookbooks that weaves a story around the recipe, not just a page that has ingredients and procedure! What a realization!!
Thanks to huma for the book! I have so many recipes marked in that, happy i could do atleast one now.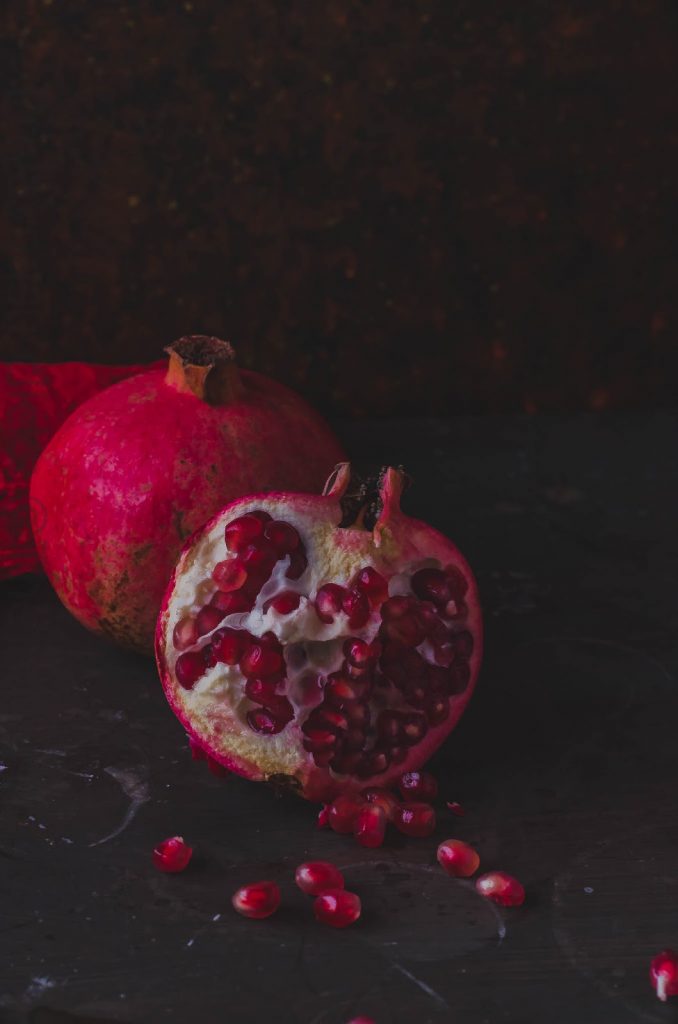 Pomegranate jelly,a simple to make dessert. All you need is pomo juice and agar-agar/gelatin leaves. Since this is a vegetarian blog, i have used agar-agar powder for the jelly.
To make it more rich and royal, i have topped the jelly with white chocolate ganache garnished with some pomo pearls. The ganache adds a great texture and richness to the otherwise simple jelly.
500 ml Pomegrante juice, Fresh homemade or storebought
2 tbsp of jaggery syrup/honey/sugar
silicon muffin moulds for setting the jelly
White chocolate ganache
100 grams white chocolate, i used lindt
Take the juice in a saucepan and heat it. Remove 2 tbsp of juice from the sauce pan to a small ball, dissolve the agar-agar powder in that juice.

When the juice in the saucepan, starts to boil, reduce the flame to simmer and add the agar-agar dissolved juice to it and whisk it well to combine.

Let it sit on the stove for another 10 minutes in a simmer flame. Take it off the stove. Arrange the silicon muffin moulds in a muffin pan. Slowly fill the muffin moulds till 3/4 with the pomegrante juice. Refrigerate until set, atleast a minimum of 3-4 hours.

You can add some fresh pomo pearls in each of the muffin mould for some texture, since my kids might not like it,i skipped that idea.
To Make white chocolate ganache.
Take white chocolate in a bowl, chop it into pieces. Heat cream in the microwave for 10-15 seconds, Pour the hot cream over the white chocolate. Let it sit for 5 minutes, then mix it well with a spatuala.

Let the ganache sit for 10 minutes before use.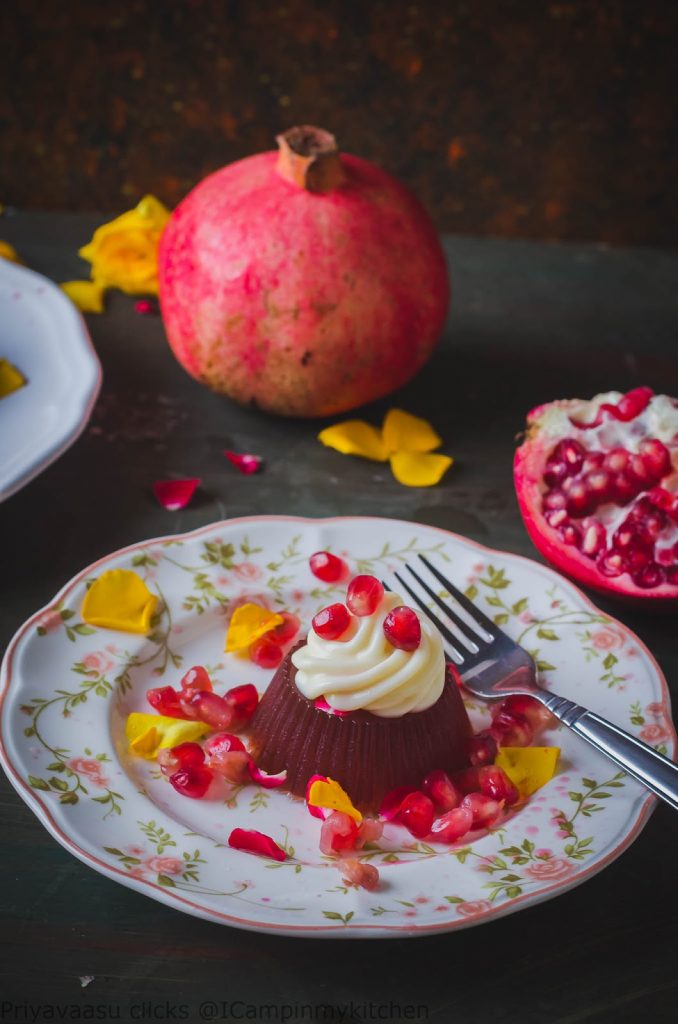 To serve the jelly with ganache
Remove the jelly on to a serving plate. Since it is set in a silicon mould, it was very easy to transfer it to a serving plate. Just loosen the sides of the mould,invert it on a plate.

Pipe a blob of ganache on top of the jelly, garnish it with fresh pomegranate pearls and rose petals and serve immediately.