Risalamande | Christmas Dessert | Traditional Christmas Dessert | Nordic Cooking | Nordic Cuisine | Nordic Dessert | Danish Cuisine | Danish Christmas Dessert | Scandinavian | Pudding Recipe | Rice Dessert | Gluten-Free Dessert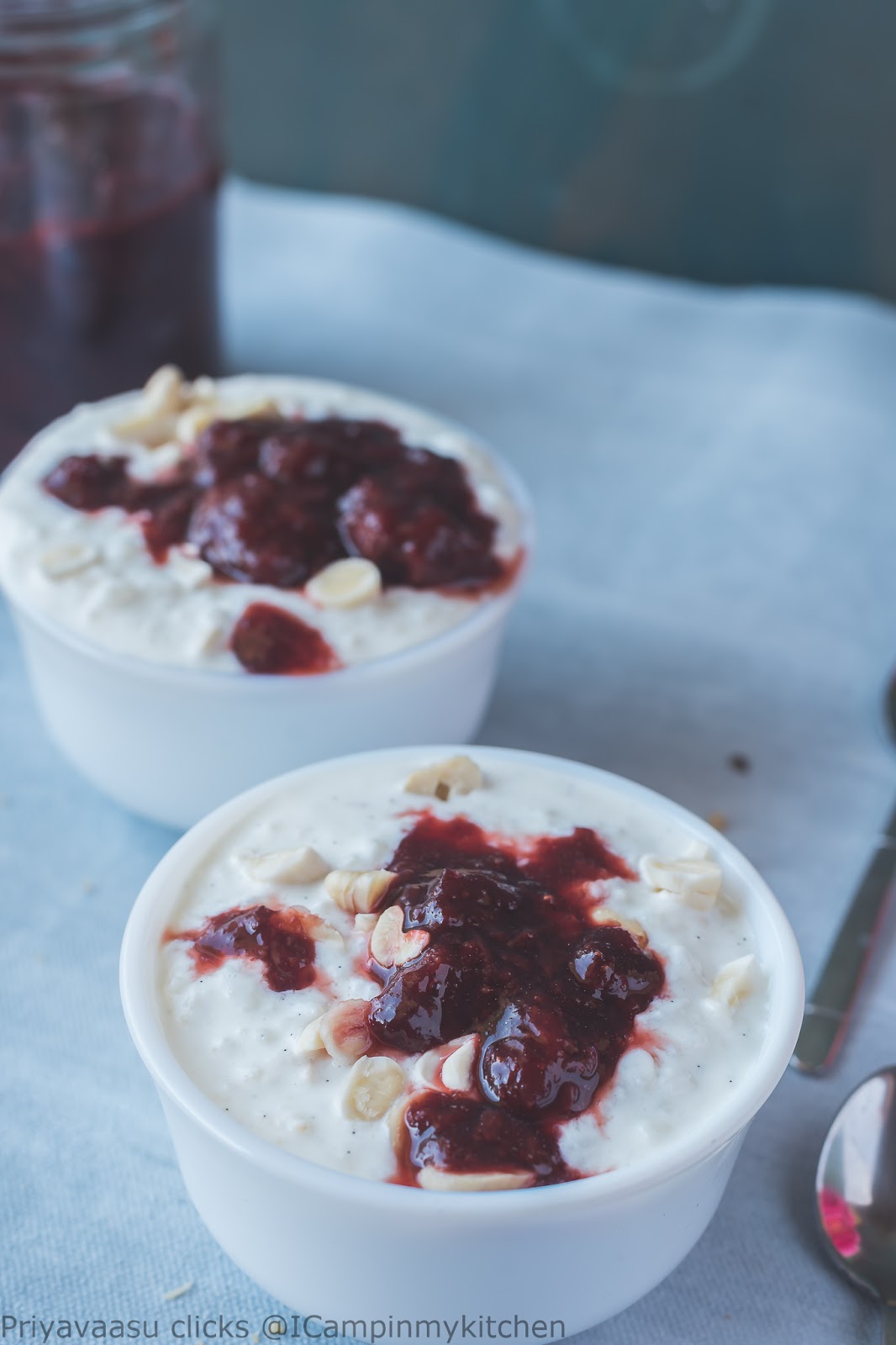 Risalamande, a traditional Danish Christmas Dessert. A rice pudding mixed with whipped cream, sugar, vanilla, and chopped almonds. It is served cold with either warm or cold cherry sauce.
Danish Christmas Tradition with Risalamande
What made me make this delicious rice pudding is the ritual behind it. This rice dessert is served after Christmas Dinner, while sitting around the Christmas tree, exchanging  gifts.
Although the recipe contains lot of chopped almonds, while serving this pudding, a whole almond is hidden in one of the bowls served. Whoever gets that whole almond gets a gift, mandelgave (almond gift).
I m trying to imagine the scene there, what fun it would be, keeping in mind the Christmas spirit,  I bet bowls of pudding would get finished hurriedly just to get that whole almond.
More Interesting Dessert Recipes
Why I made this Traditional Danish Christmas Rice Pudding?
This fun game is what made me do this beautiful dessert. We loved the pudding, my mom and dad loved the taste, they were surprised to that something similar to our paal payasam is made in the Nordic Culture. 
My hubby loved the warm sauce on top and the tangy taste the fruit sauce gives to this delicious pudding. A rich dessert, fit for the festivities and also for the fun.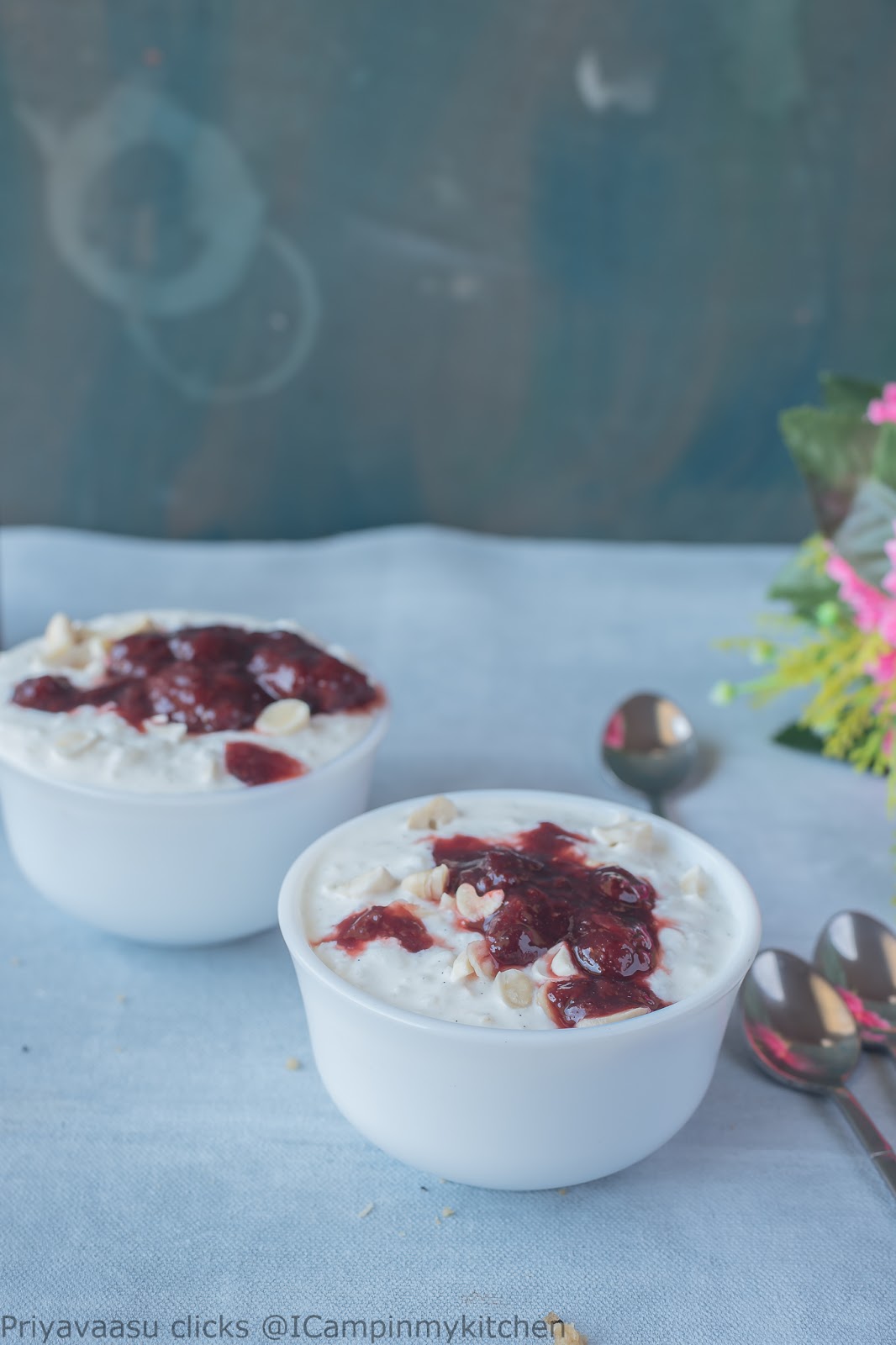 More Puddings To Try
Check this creamy muhallabia, Middle-eastern rice pudding, sweetly flavored with rose water, nutmeg and almonds. Samoan koko rice, a vegan chocolate rice pudding from teh
If you are like me, you would love these quick and easy chia puddings.
Recipe Card for Christmas Dessert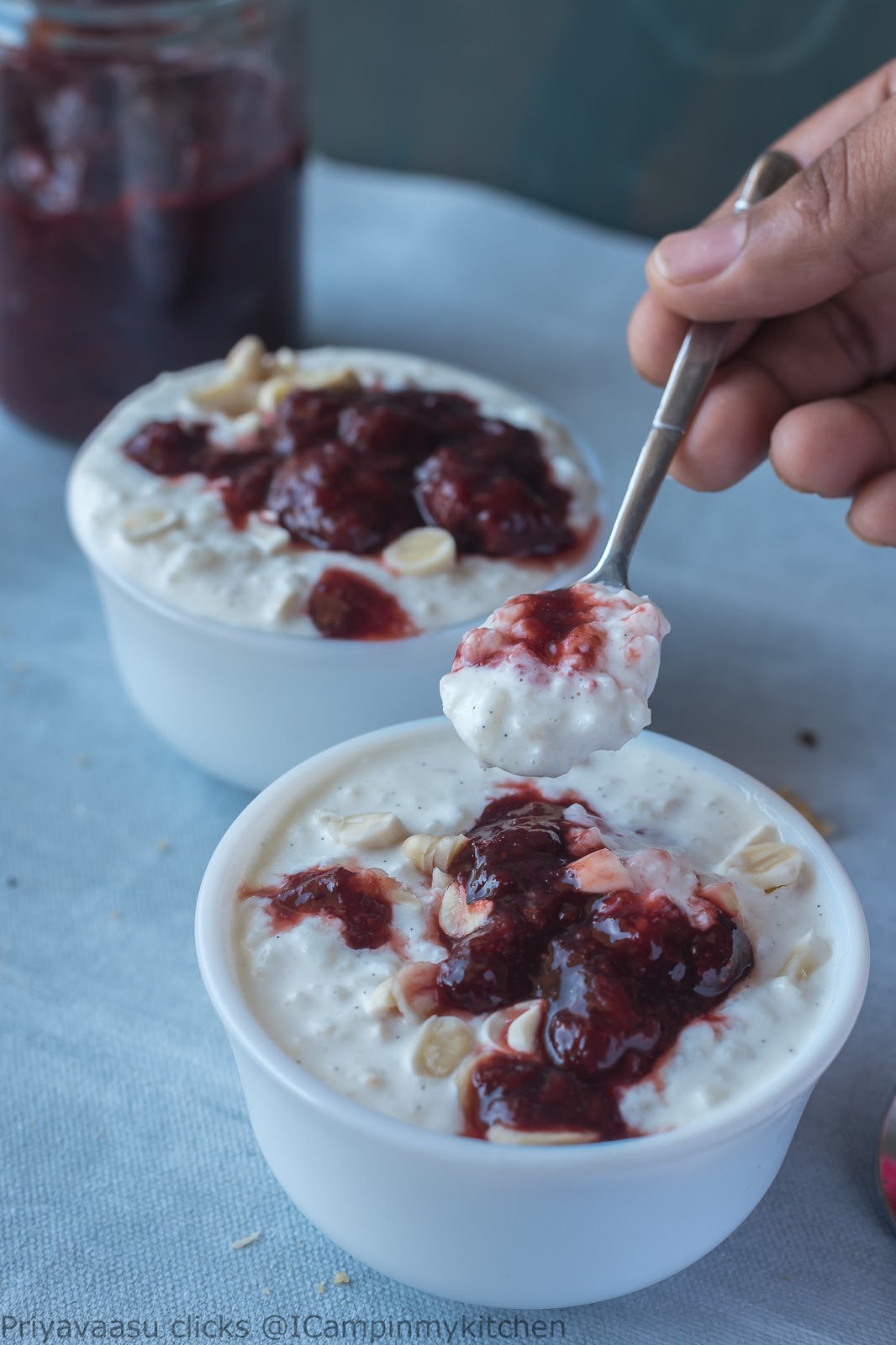 Risalamande | Danish Rice Dessert | Christmas Dessert
Risalamande, a traditional Danish Christmas Dessert. A rice pudding mixed with whipped cream, sugar, vanilla, and chopped almonds. It is served cold with either warm or cold cherry sauce.
Print
Pin
Rate
Ingredients
For the Rice pudding
½

cup

short grain rice

1

Litre

full fat milk

1

pod

vanilla
For serving Risalamande (Makes 4-5 serving)
20

nos

almonds

blanched

125

ml

heavy cream

2-3

tablespoon

sugar

Cherry sauce/I have used strawberry sauce
For the Sauce
10

nos

Strawberries/Pitted cherries

4

tablespoon

sugar

2

nos

clove

1

no

cinnamon stick
Instructions
Let us make the Rice Pudding first. 
Wash the rice once or twice. Take it in a heavy bottom pan, add milk to it and let it cook in a medium flame until rice cooks well. 

While the rice is cooking, cut open the vanilla pod, scrape the seeds and add to it. You can also add the scrapped pods to it, this will give a nice aroma to the pudding.

Cover and cook, this will speed up the process. Keep stirring often, as the rice might stick to the bottom and burn.

Once the rice turns soft. Take it off the flame. It will be like a thick porridge, this will thicken even more as it cools.  Refrigerate until serve
To make the cherry/strawberry sauce 
I didnt have cherries, so made a strawberry sauce. Add 10 strawberries and 4 tablespoon sugar along with  2 cloves, and a cinnamon stick to a sauce pan.

Let it cook in its own juices for 10-12 minutes, once the berries/cherries lose their shape and turn all mushy, take it off the stove. 
Blanching the almonds.
I usually soak the almonds for  4-5 hours and then remove the peel. If making in a hurry, add almonds to boiling water, take it off the stove. Let it sit for 2 minutes. Drain the almonds, rinse it once with cold water, they can be easily skinned.
To serve Risalamande
Chop the blanced almonds roughly. Whip the cream and add it to the pudding, along with sugar and almonds. Serve thepudding in individual bowls topped with more almonds and warm cherry sauce.
Disclaimer
I m not a Doctor or a Nutritionist The Nutrition information provided above comes from the plugin and is only an estimate.
Love the simplicity of the dessert. The pudding doesn't have any added sugar, it is served with warm cherry sauce . Every spoon of this pudding is filled with chunky almonds and aromatic vanilla, it is a flavor explosion in your mouth.
Definitely try this rich and luscious Nordic rice pudding this holiday season. A great crowd pleaser and can be made in bulk, easy to store and serve.
Do you like the Recipe? PIN IT