When life gives you tomatoes turn them into variety of sauces😆. I bring you yet another italian sauce with tomatoes. I must say, that i m trying this neapolitan sauce, for the very first time. They are slightly different from the pizza sauce i made 2 days back. The tomatoes are blanched first, skin removed, and then cooked in their own juices along with little garlic and basil.
A simple sauce, i bet they would taste amazing with pasta. I tossed this sauce with rice noodles today, which was our dinner. Both the mint pesto and this sauce tossed with simple rice noodles vanished in minutes, the flavors were awesome. Do try this and let me know how you liked it.
Ingredients
1 fat clove of garlic, chopped fine
½ teaspoon dried basil or few fresh basil leaves, torn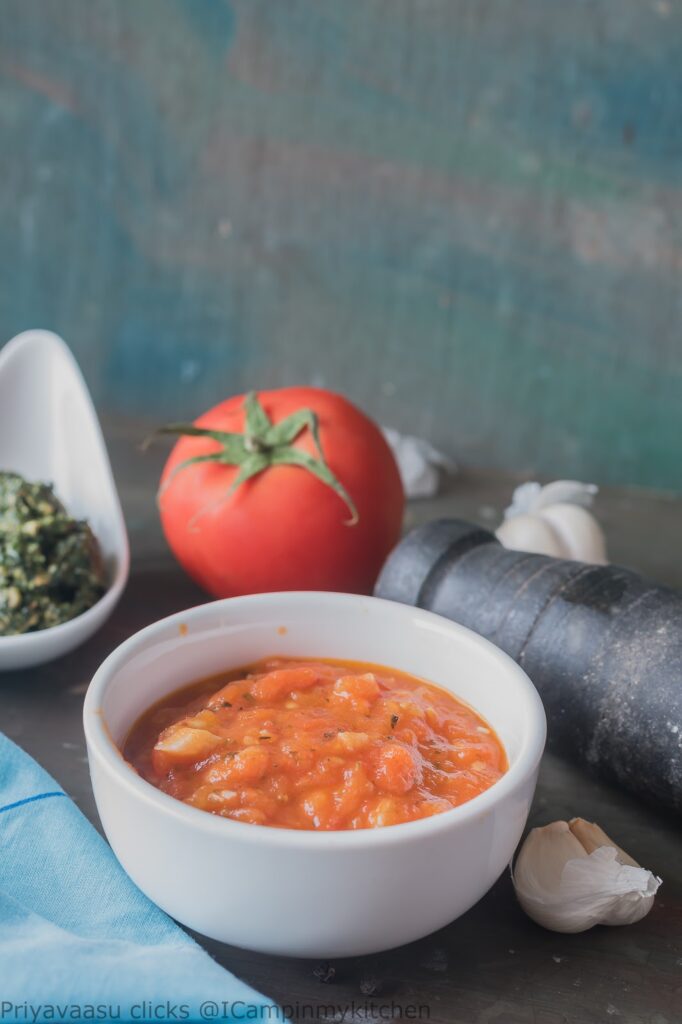 Method
In large pot bring water to rolling boil, make small slits on top of the tomatoes and let them sit in the hot water for 10 minutes for their skin to blister. After 10 minutes, carefully remove the tomtoes using tongs, and place them on a flat plate, take care they will be super hot.

Let it sit for 2 minutes, then carefully peel the skin , mash the tomatoes roughly. Heat a sauce pan with olive oil, add chopped garlic to the oil, let it cook for a minute.
Now add the roughly chopped tomatoes to the garlic and let it cook in simmer flame in its own juices.

The sauce would reduce to a thicker consistency, add salt, sugar and herbs to it. Let it sit for 5 minutes more. Take it off the stove.

The sauce can be blended smooth or can be left chunky.i used my potato masher and mashed the tomates roughly, i got a sauce that is neither too smooth nor chunky.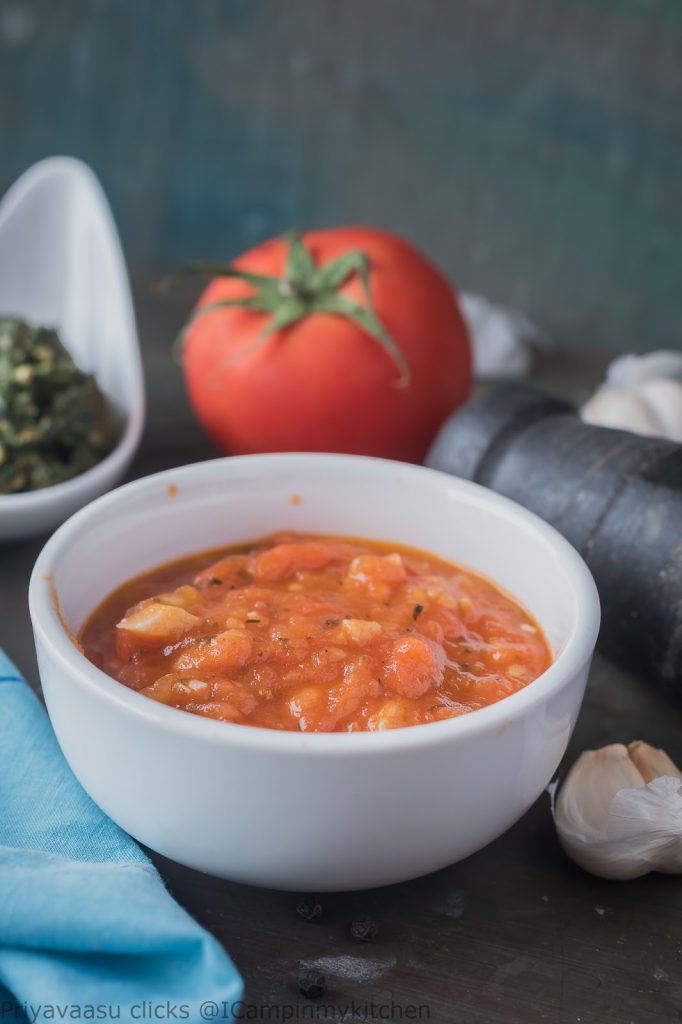 Let the sauce cool completely, store it in an air-tight container in refrigerator. Use it with your favorite pizza/pasta/sphagetti. I used it today to flavor our rice noodles and we loved the flavor.