The last in the series of Ice-creams, is this flavorful, citrus-y Orange ice-cream. 2 days before, while idling in FB, i saw this post in a group, I totally fell in love with the way it was served, when checked the you tube link, it is similar to the pomegranate ice-cream.
I was bit
hesitant to try orange and cream, was scared whether the cream will curdle or people might not love that taste. But to my surprise, it is a super hit. The small change i made to the original recipe, is the saffron and liquid glucose. Do try adding saffron, it gives you a mild taste in between the orange creaminess.
Everybody at home loved it and they had this for breakfast, can you believe?? yes, after i finished clicking the photos, both my hubby and my kiddo sat together and finished the glasses, clean!!!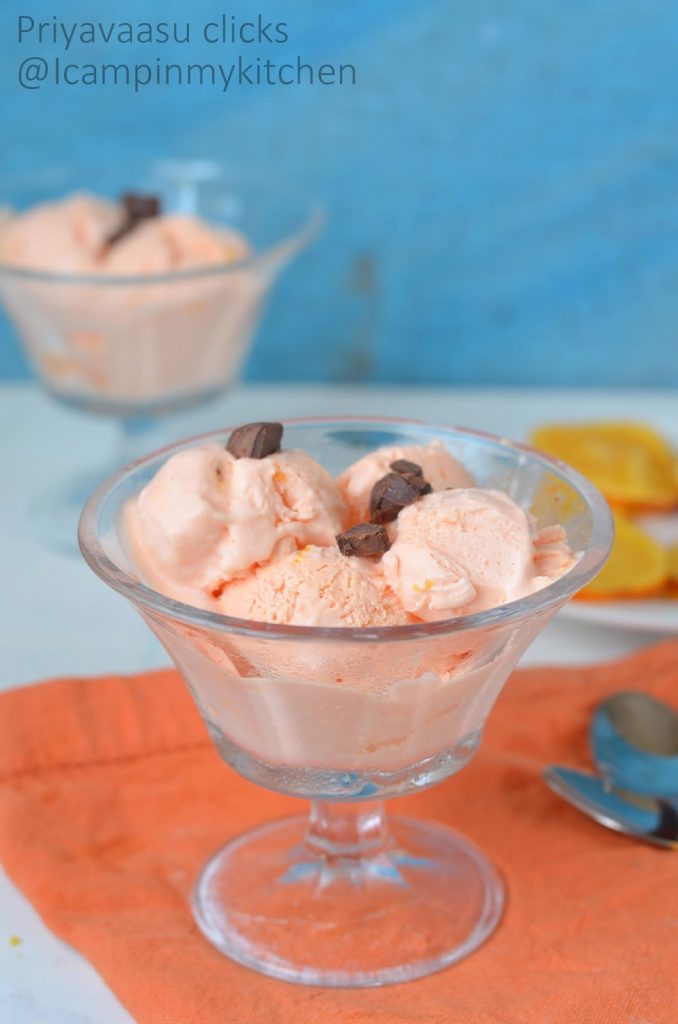 Ingredients
2 generous pinches of saffron
1 cup whipping cream (fat content 35%)
1 tablespoon liquid glucose
a drop of red color, i used gel color (if you have orange, use it)
Method
Juice the oranges first. I first tried to cut the top of the orange like a shell and scoop out the flesh of it using spoon. But the skin was very delicate, it started tearing apart. So, i simply cut them into two halves and extracted the juice using the old orange squeeze juicer. Try to use the juice along with that pulp, it gives a nice citrus burst in your mouth.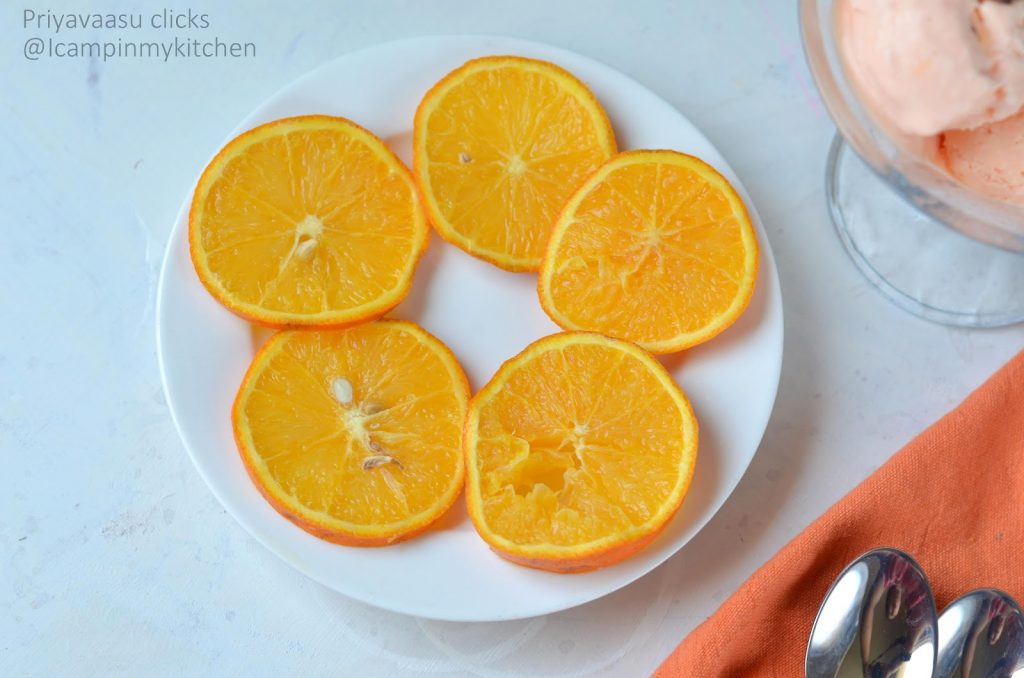 Add sugar and lemon juice to the extracted orange juice,stir well and set aside until use. I used normal sugar, so i stirred well with a spoon for it to dissolve well. you can also use powdered sugar, to skip that stirring.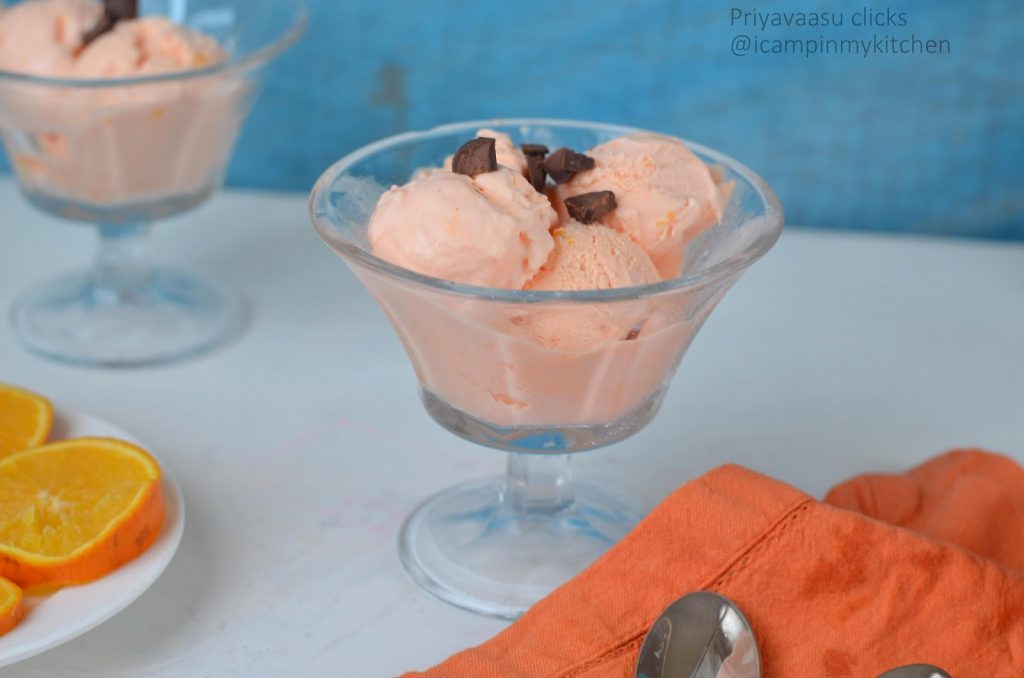 In another large bowl, take the whipping cream, whisk using an electric blender until soft peaks form. Add saffron and whip again for a minute. Now add the orange juice, liquid glucose and food color to it and whip again, for it to blend well.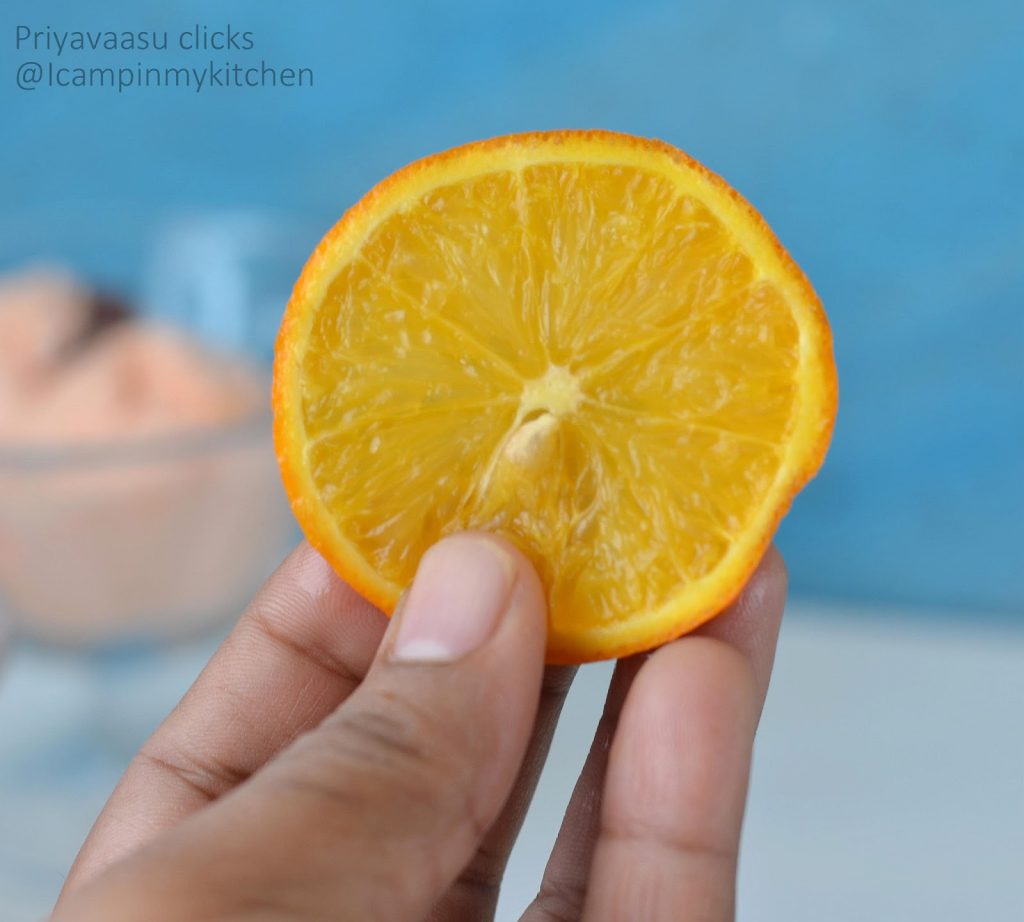 Pour the blended cream into a freezer-safe plastic box with lid. Freeze atleast 6-8 hours or overnight.
While serving, take out the ice-cream and leave it on the counter for 10 minutes. Use an ice-cream scoop spoon for easy handling, scoop and top it with your favorite toppings and serve.