I restrict myself from buying Nutella. yes, you heard it right. While shopping, i never go near the aisle where these bottles of addiction are stacked. Its been almost a year, since we tasted them. I got a small bottle during holidays, as both the kiddos were at home, thinking it might help me in a quick snack to satiate any sudden hunger pangs. To my surprise, it was not opened at all.
Now this little bottle of temptation was sitting in my pantry, waiting for someone to open and make its life fruitful. Finally, last weekend i made some puffs for our evening snack. The chocolaty inside with a crispy puff on the outer, was loved by kids. To give it a rich look, i drizzled some dark chocolate sauce on top. I loved the way it looked, rich and classy.  Nothing goes wrong with Nutella right? The puffs vanished as they came out of the oven. Any leftover can be cling-wrapped and refrigerated. Warm them in a microwave for 20 seconds, before serving. 


Ingredients
4 nos puff pastry sheets (approximately 4 inch squares)
½ cup Nutella
2 tablespoon butter to brush the pastries
100 grams dark chocolate for drizzling the puffs
Method
Remove the puff pastry sheets from the freezer  and thaw 30 minutes prior to baking them. 

I  divided each square it into two for the ease of eating it, call it portion control :).

Line a baking tray with alu-oil or parchment paper, place 8 divided squares on the tray. Place a tablespoon of nutella in the center of each sheet. Close with another sheet of pastry. Press the sides together to seal well. 

Brush the tops with butter or water.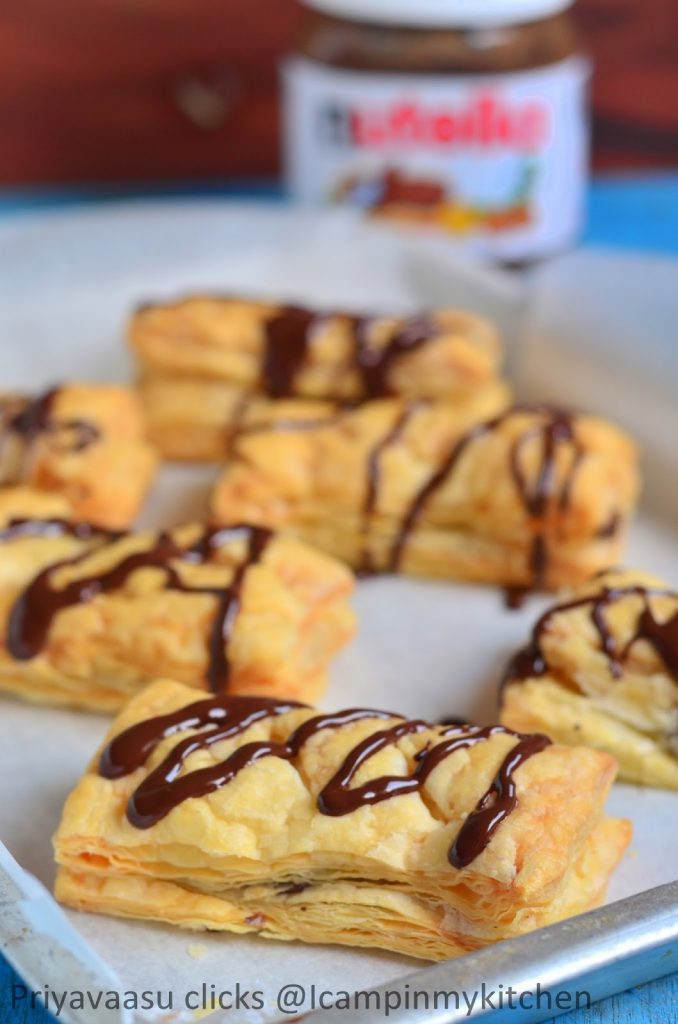 Preheat the oven to 200C. Bake the puffs for 35-40 minutes or until the puffs brown  well.  Remove the puffs from the oven. let it cool for 5 minutes. 

While it is cooling, take the chocolate in a microwave safe mug. Microwave high for a minute for the chocolate to melt. Whisk well to a smooth sauce.