On the day 3, i bring you a fun bread. A beautifully shaped bread that can be a center of attraction on a party table. I would definitely say it will be great hit in a Kid's party. Coz it is Nutella and it is shaped to look like a star. The dough is an amazingly soft dough, you would love to work with such a soft dough. The only process is rolling it, rolling, rolling and rolling. Since i made 2 star's, i rolled out 8 portions of dough!!!
When i bookmarked to make this bread, i first thought of make my own Hazelnut spread or a chocolate peanut butter, but then couldn't find time to make, though i had roasted hazelnuts right in front of me in the kitchen, i kept popping one or two nuts whenever the thought crosses my mind, so it eventually reduced in quantity and i had to use it as topping in some other cake!!!
Nevertheless, i bought a jar of Nutella after a very long time, just to make this bread and i didn't regret it!! It was an awesome bake, loved it totally. Any leftover bread can be refrigerated for a 3-4 days, if storing more better freeze (a month or two) it. If serving from refrigerator, warm it for 20 seconds and serve, if from freezer, Wrap it in an aluminium foil, bake
@ 180 C for 10 minutes and serve warm.


Source : The bread kitchen
Ingredients
500 grams bread flour (approximately 3.5 cups to 4 cups)
190 ml lukewarm milk
3 tablespoon sugar
4 tablespoon melted butter
½ cup yogurt + a generous pinch of baking soda
Grated zest of a lemon
1 teaspoon salt
1 teaspoon instant yeast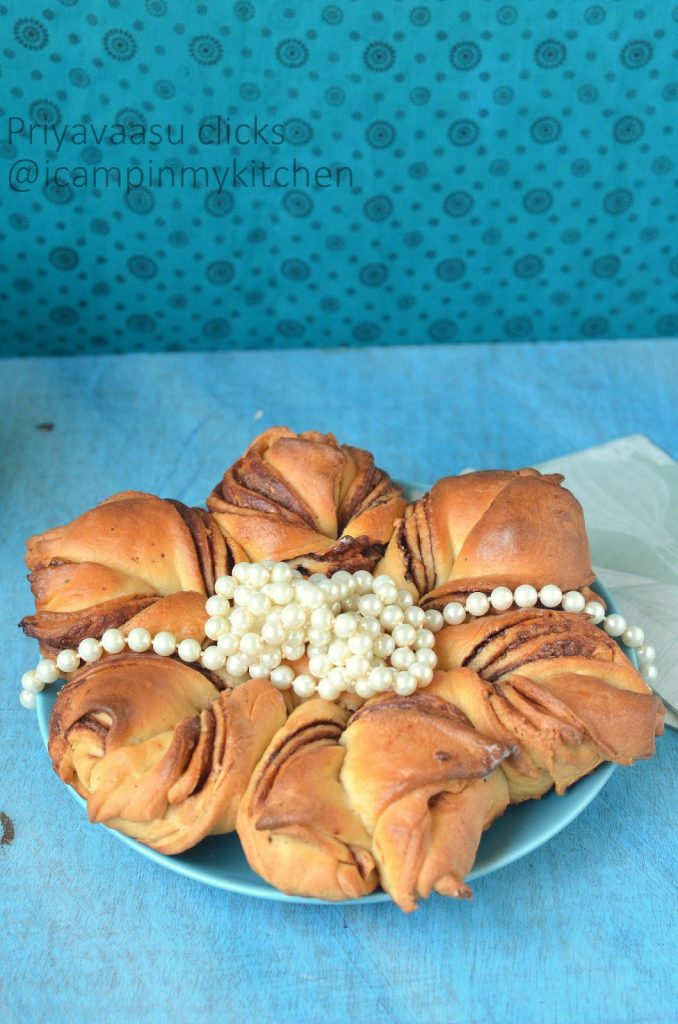 For the filling
200 grams Nutella
2 tablespoon milk + 1 tablespoon oil for a glaze
Icing sugar (Optional, i didn't use)
Method

I used my food processor to make the dough, the dough can be hand kneaded also. Take the yogurt in a separate bowl, add baking soda and keep aside for it become a bit bubbly. The warm milk, add butter, let it melt a bit. Though it won't melt altogether. 

Take flour, yeast, sugar, salt, lemon zest together in the food processor bowl. Run in slow speed for a minute for all the ingredients to mix well. Add the soda+curd to the flour mix and slowly add butter& milk mixture and start kneading the dough. Knead around 4-5 minutes to get a smooth, soft dough. Itis an easy to make dough, will be amazingly soft. If kneading by hands, knead around 10 minutes to get a soft dough. Keep the dough in a well-oiled bowl, cover it with a kitchen towel and leave it a warm place to rise for an hour or until it doubles in size.

Once it doubles in size, punch it down to release the excess air, knead for a minute, divide the dough into two parts. See you can either make one big flower or make 2 cute flowers(not very small). I decided to make two. After dividing the dough into two. Keep one portion covered. Work with one part at a time. Divide that portion into 4 portions.

I used a rolling mat, if using the kitchen surface, dust it with flour. Take one portion roll it into circle of about 20-22 cm in diameter. you have to roll all the 4 portions of the dough to this size. Keep them covered with a kitchen towel, and work fast, don't go check what is happening in FB!!!

Once rolled, Take a baking tray, lay it with parchment paper, Place one rolled out dough on the tray, spread nutella generously on it, cover it with another circle of dough, spread nutella again. Top it with another circle of dough, spread nutella again on it and now cover it with the last circle of dough.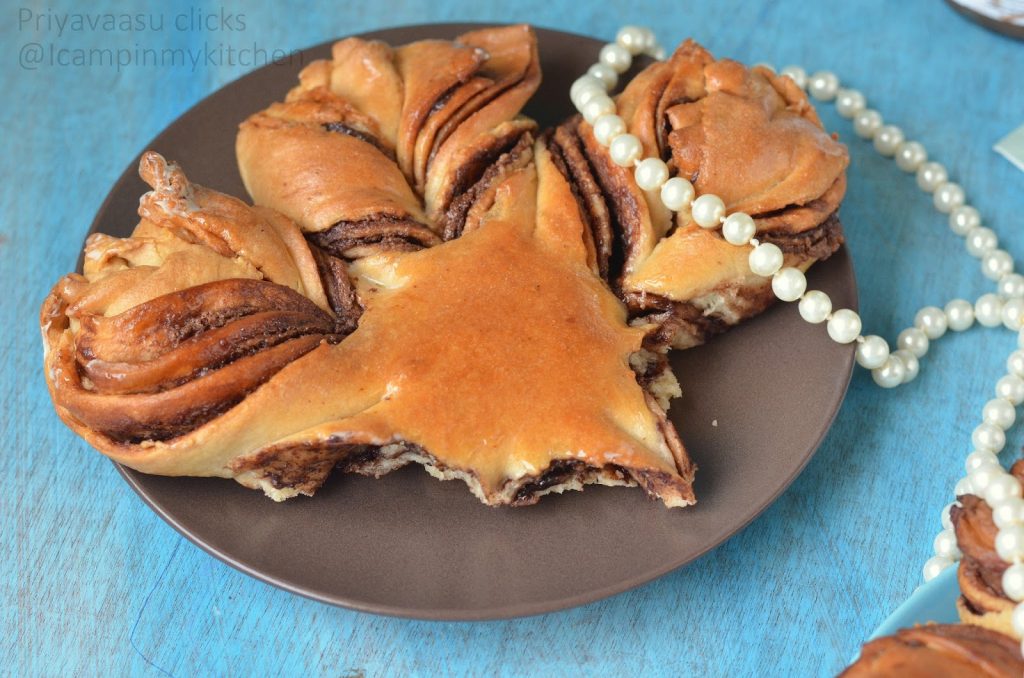 Now comes the fun part. Take a sharp, serrated knife, keep a round bowl and keep it in the center I used 3 cm bowl in the center, it keeps teh center intact while cut and fold the rest of the dough. Watch this video for shaping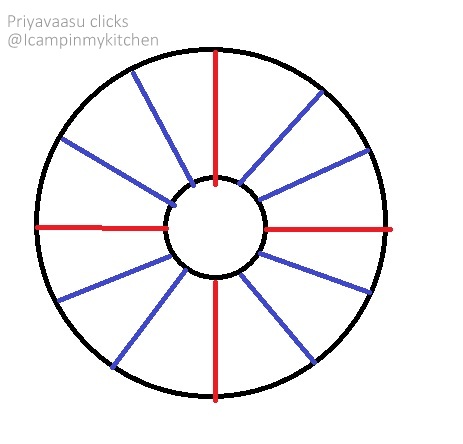 Now cut the dough as shown in the picture above. First into 4 (like a plus), Do not touch the center/bowl portion. Now make two more cuts in each quarter. Hope the picture helps.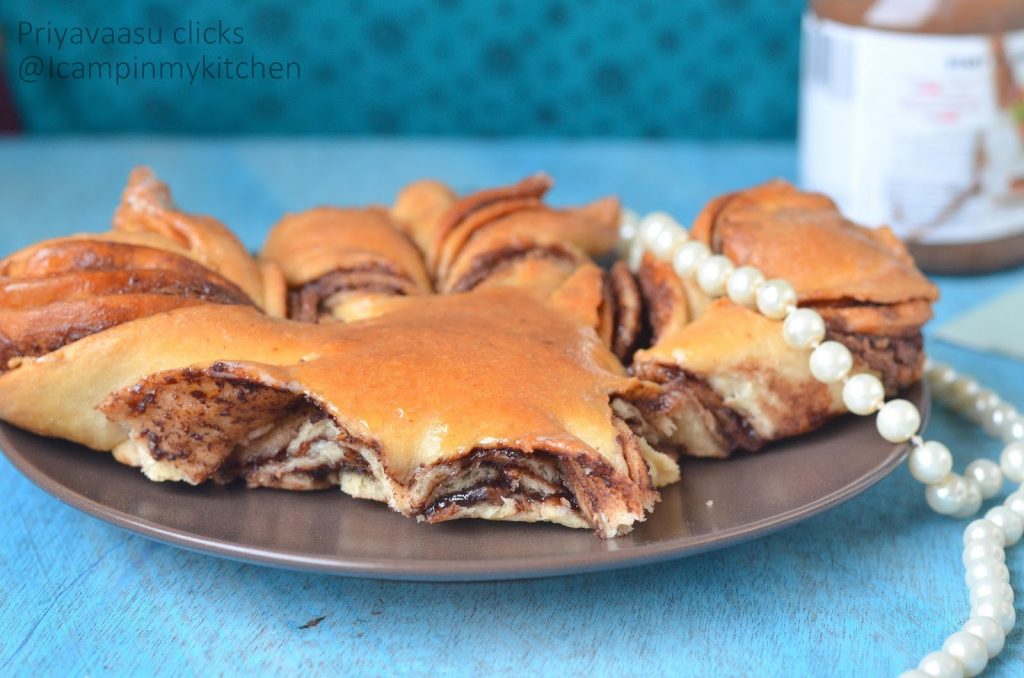 Now take two adjacent portions and twist and roll for the layers to show up and seal the edges to form a petal.Repeat this process for all the segments.

Do not forget the second portion of the dough kept covered. REepat the same with that poriton too. Let the flowers rest for an hour. Preheat the oven to 180C. Brush the flowers generously with milk-oil mix. ake it for around 20-25 minutes or until golden brown on top.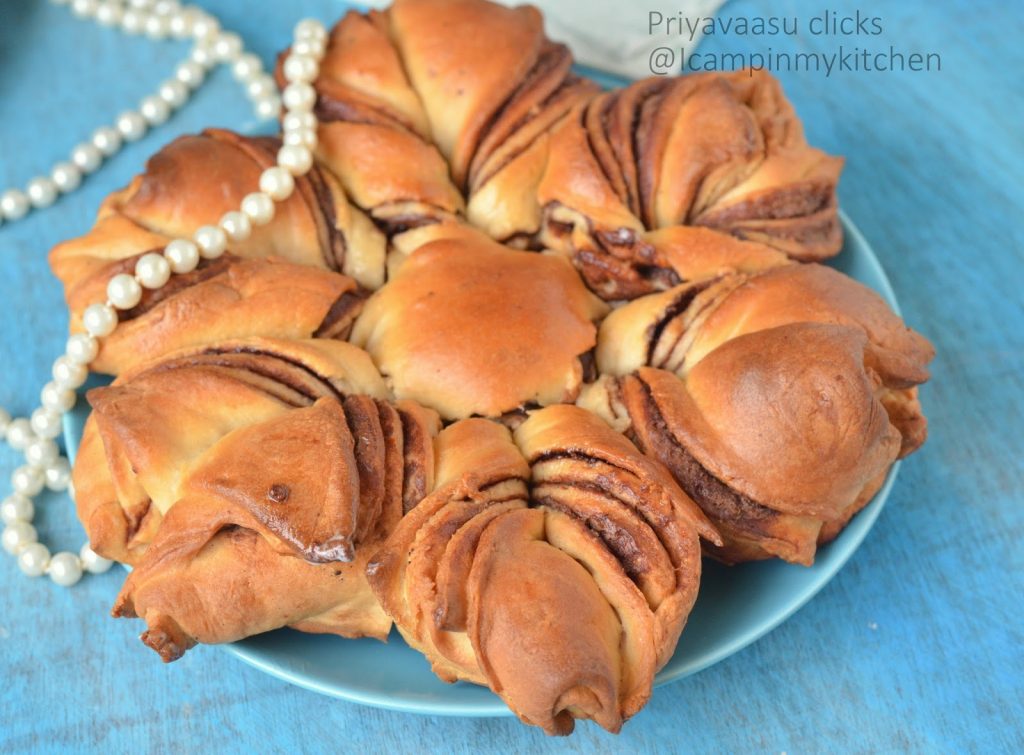 Once done, remove from oven to a wire rack, brush generously with butter. Let it cool slightly, dust with powdered sugar(optional) and ask you friends/family to dive in!!!