Its been long since i made something sweet for myself. When i say sweet, it is not one of those sugar-laden desserts, i prefer less sugar in my cup, not only me everybody in my family, prefer less sugar. While thinking what to make, i remembered my Mango-musk melon chia pudding, with mango season arriving, this will definitely make appearance in our menu.
In fact i have few Badami Mangoes ripening in my rice pot, i just smell them everyday to feel that energizing aroma of ripened mangoes!!
While going through my bookmarks folder for some inspiration, i landed here. Once i ticked all the ingredients in the list, I got to work immediately. It takes absolutely no time to make this pudding. Just dump everything, shake and refrigerate. After few hours, you have something sweet, delicious to snack on.
I made this pudding vegan with coconut milk, and haven't added any sugar at all, we prefer it this way. Coconut milk itself, gives a sweet taste to the dish, and the orange segments added to it.
Vanilla is what flavors this pudding and I would definitely recommend using a vanilla bean, it gives an amazing feel to the dish, if you don't have one, go on and use extract or flavor it some other spice you prefer.
This recipe makes one single serving pudding for breakfast or 2 servings if served as a snack or dessert.
Ingredients (serves 1 for breakfast, 2 for snack/dessert)
1 vanilla pod or 1 teaspoon of vanilla extract
2 tablespoon of honey/agave nectar/sugar/date syrup (i didn't use any)
½ teaspoon orange zest for garnish
2-3 tablespoon of chopped walnuts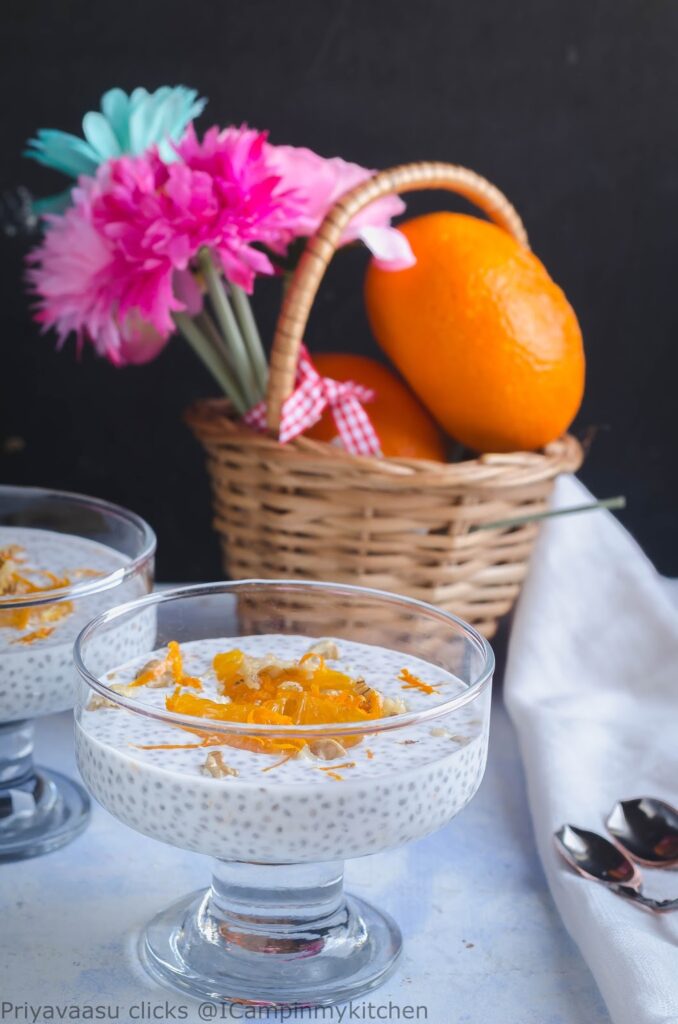 Method
I used a bottle to soak up the chia seeds in coconut milk. Why bottle? it is easy to shake, to break the gelled chia seeds, i feel it is a bit messy in a bowl. So, use a bottle with lid, so you can give a nice shake, shake before serving.

Take chia seeds in a bottle, i used 200grams empty nutella bottle. Add coconut milk and orange zest to it.
If using vanilla pod, cut open it vertically, scrap the seeds using a sharp knife, add that black gold to chia seeds. If using vanilla extract, add it now. I prefer vanilla pod, i used the last pod from my stash for making this pudding!

Now give the bottle a good shake.using a spoon stir well for the ingredients to mix well or else the chia seeds will settle at the bottom and not gel well.

Close the lid and let it sit in the fridge for a good 4-5 hours, overnight will be even better, the flavors will marry and mingle so well.

Before serving, get the garnishes ready, spoon the pudding in 2 serve bowls, top it with fresh orange segments, zest and chopped walnuts. Serve immediately.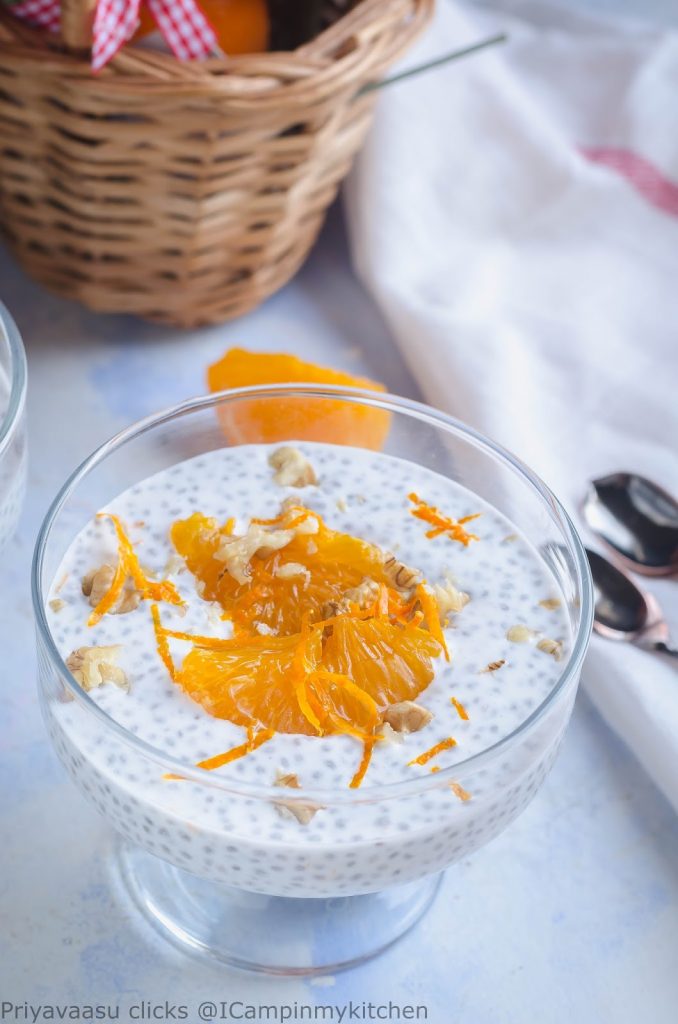 If serving for breakfast, just add all the toppings to the bottle and enjoy. It serves 2 if served as dessert or snack and one if served as breakfast.
If you want to try Mango-Musk Melon Chia pudding, you can find it here