We love fresh orange juice at home. Though my lil one, gets a little bit nosy after drinking it, he gets too excited when he sees them, i too cannot say no to him, after all he is loving something fresh and healthy, so allow him to take ¼ cup of it. 
Last week, i was cleaning up the fridge after navrathri. We always end up with loads of fruits, when i say, loads i mean it. I had around 1.5 dozens of oranges, apples countless and pears. I warned my hubby not to buy any fruits for another 2 weeks. How many apples can we eat? I made some banana cake with bananas, chopped some fruits and froze them for smoothies in the future. Now with oranges,after drinking half the juice, i made jelly with the rest.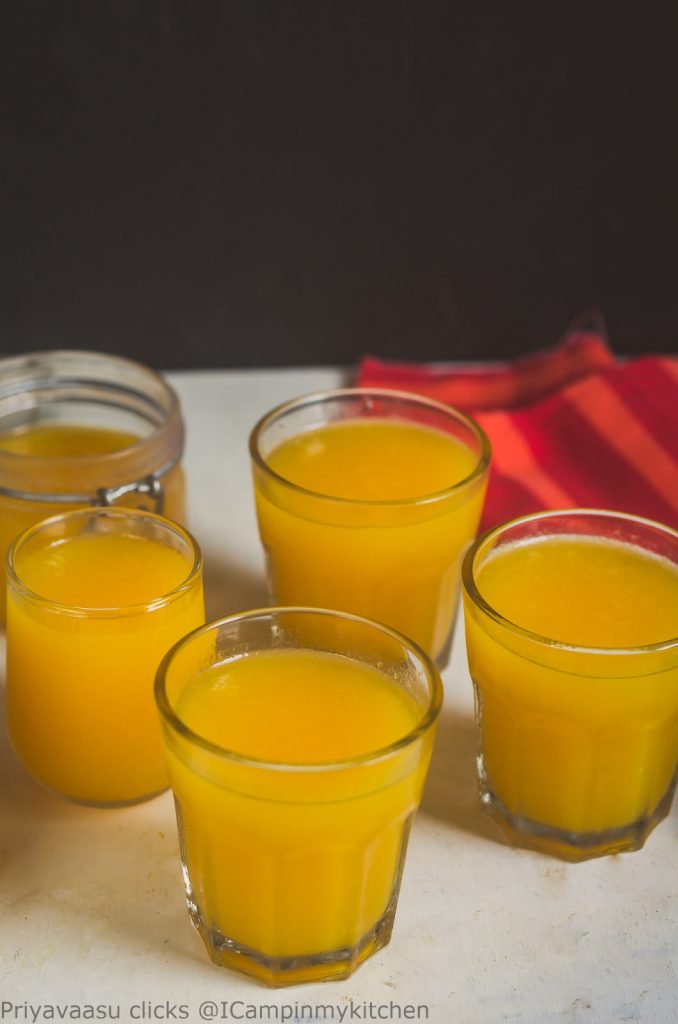 A quick to make recipe with just 2 or 3 ingredients. If you are ok with using gelatin, then use it instead of agar-agar/china grass. A definite crowd pleaser and a make ahead recipe.
Ingredients (Makes 6 chai glasses)
750 ml/3 cups of Freshly squeezed Orange Juice
¼ cup China grass strands
½ cup warm water for soaking the strands
3-4 tablespoon of sugar (optional. adjust according to the taste of orange juice
For the caramalized oranges (make it before serving)
1 orange, cut into wedges or roundels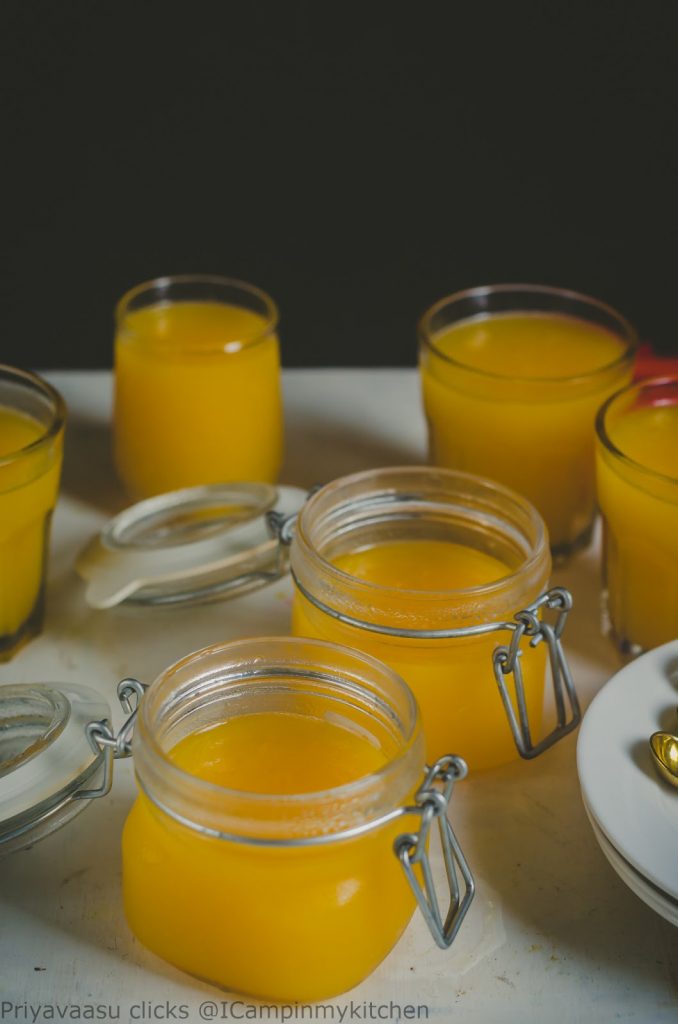 Method 
Squeeze orange juice and refrigerate until use. I had about 1.5 dozens of oranges and got around 1 litre of juice. 

Soak the china grass strands for 30 minutes in warm water. Take the soaked china grass strands in a sauce pan, and heat in simmer flame. Do not allow the liquid to boil. Keep stirring frequently. Once the strands dissolve, Strain the liquid and add it to the orange juice.
Heat the orange juice in a simmer flame, until it is slightly warm. Stir well. Take it off the heat, pour it in small glasses/moulds. Let it sit on the counter for 10 minutes. Then refrigerate for 5-6 hours for the jelly to set.

Just before serving the jelly, make the caramelized oranges, Take the cut oranges, sugar and butter in a small sauce pan, let it simmer. The sugar will melt and start caramelizing after 15-20 minutes. Take it off the stove, let it cool a bit.
After the 6 hours, take the jelly out of  the refrigerator and serve.it garnished with a tablespoon of carmalized oranges and enjoy!!