The last dish for theme Summer cooler, Roasted plum ice-cream, tadaaaa! I was planning to do a Beverage again, got the ingredients ready too. Then remembered some plums waiting for some attention in the fridge. Had about 10-12 ripened plums, and i already have a stash of frozen plums, even if i eat one plum a day, it is too much for me. So, i changed plans and made this ice-cream.
We totally loved it, the saucy plums mixed with fluffy cream, it was just like store-bought jar of ice-cream.  I served it plum sauce and toasted pistachios and some chocolate drizzle. Absolutely out of the world. Do try and let me know how you liked it.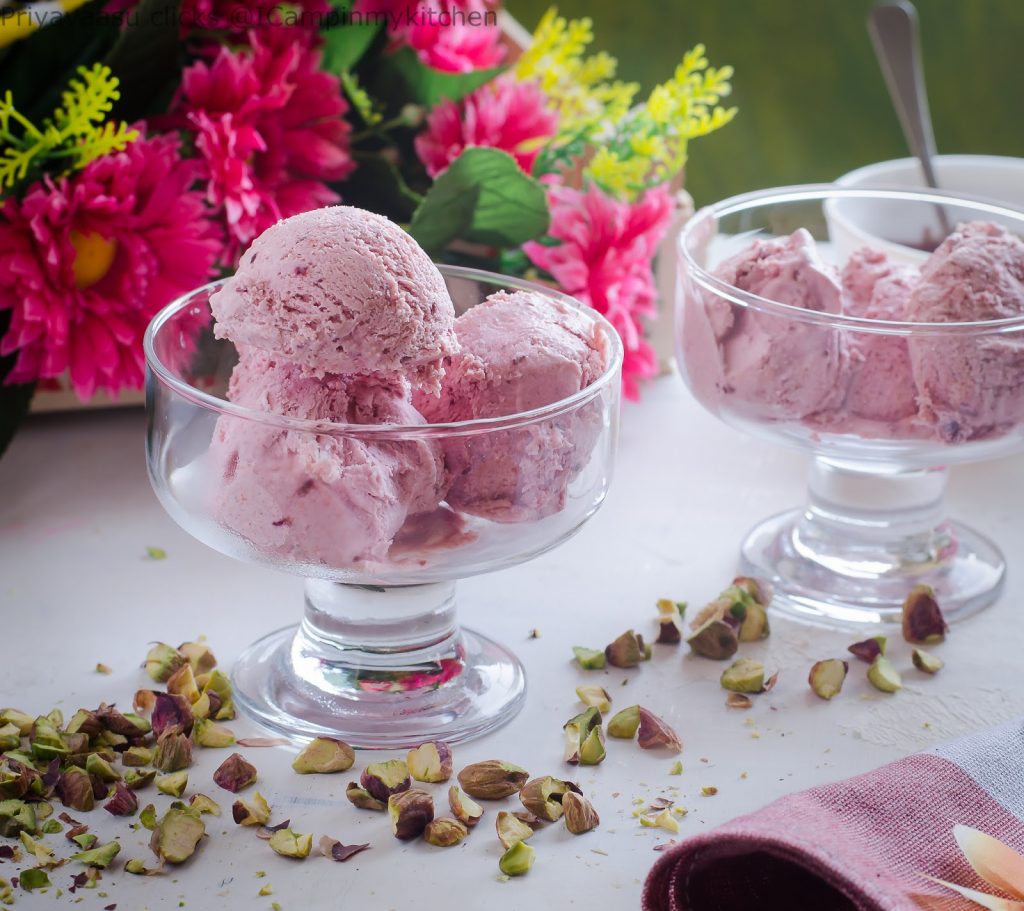 Ingredients
5 nos plums (i used black amber plums)
a tablespoon of butter (optional)
For chocolate sauce
½ cup of dark chocolate, melted
Let us first roast the plums, wash and cut the plums into quarters, remove the pit. Place the quartered plums in a baking tray.

Sprinkle sugar and salt over, toss to mix. Add butter. Preheat the oven to 180C and bake the plums for 35-40 minutes or until the fruit look little shriveled and oozes juice.

Remove it from the oven, let it cool completely. Puree the fruit and refrigerate until use. I got about ¾ cup of thick sauce.
For the plum sauce
a teaspoon of vanilla extract
¼ cup of water
Wash, remove the pit, chop the plums into thin slices. In a sauce pan, take the chopped plums, add 2-3 tablespoon of sugar and water, cook in a simmer flame, until the fruit is soft and cooked, and saucier. Add vanilla extract and remove it from flame. Set aside until use.
To Make the IceCream
Take cream in a chilled glass bowl. using a Electric beater, beat the cream until stiff peaks form.

To this cream add the pureed plum sauce in batches and mix gently using a spatula. 

Be genteel, it will be like mixing up a color cloud. Once done, pour the ice-cream in a freezer safe container and freezer for 8-10 hours.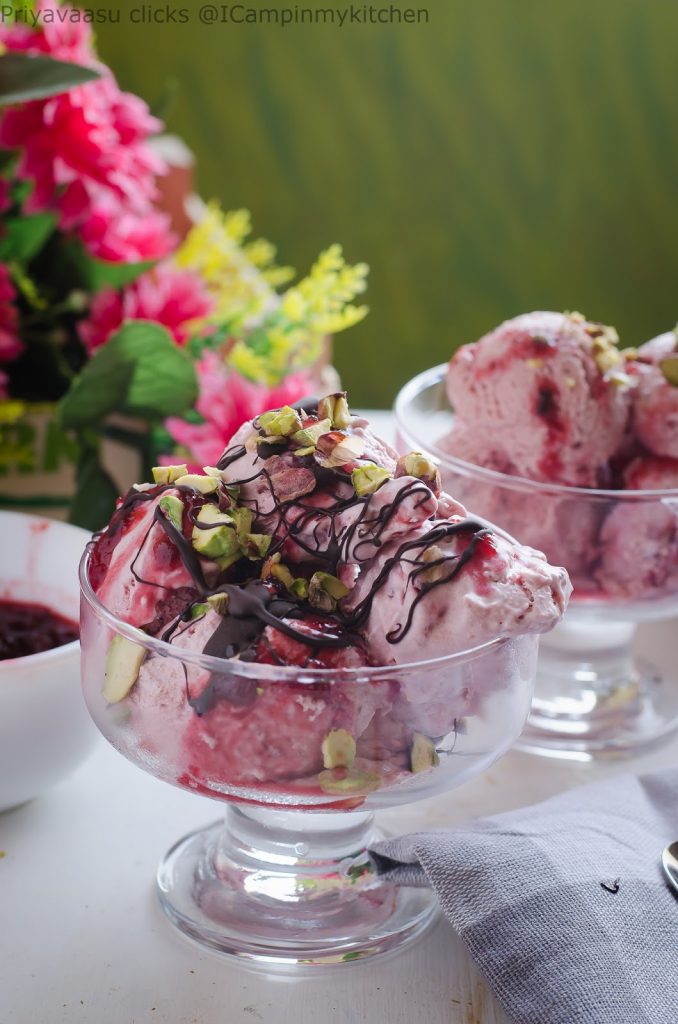 To Serve
Remove the ice-cream container 10 minutes before serving, Scoop the ice-cream into bowls, drizzle plum sauce and chocolate sauce and serve.

You can omit the plum sauce and just use chocolate sauce alone and top it with some toasted pecans and serve.
Check out the Blogging Marathon page for the other Blogging Marathoners doing BM#64