After Trying Cauliflower-Peas Milky Curry, Kuttu started liking gravies that are light in color, yeah, you read it right, according to him, if it is light in color it is mild in Spice!!! So now-a-days i try to cook his type of Side-dish for the weekends, so he can relish it relaxed. If your kiddo too enjoys a lesser spice dish, try this out, he/she will definitely enjoy and you will be making this often like me.
Ingredients
1 Large Tomato or 2 teaspoon Tomato (optional)
½ or ¾ teaspoon Red Chili powder
1 teaspoon Coriander Powder
¼ teaspoon turmeric powder
Fresh Coriander leaves for garnishing
Tempering
To Grind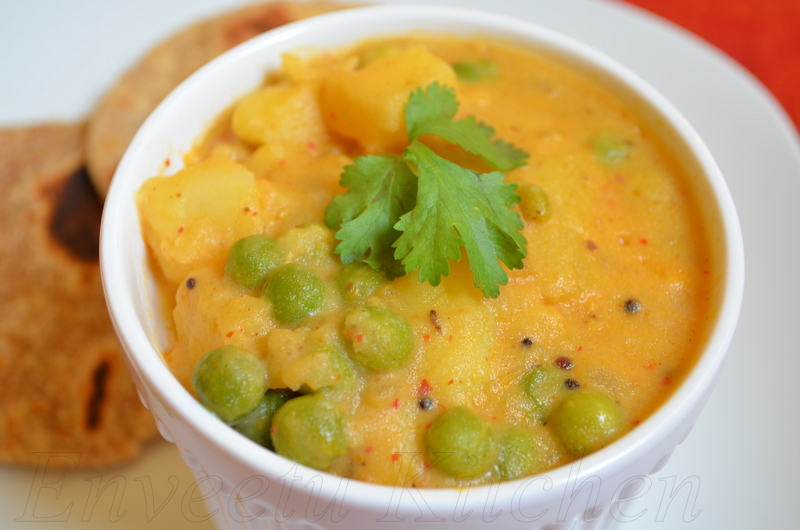 Method
Soak Almonds in hot water for 10 minutes, peel the skin and Grind it to a smooth paste with rest of the ingredients, under '

To Grind'

.

Peel the Potates and Cut them into 1 inch cubes. Take the cubes in a Microwave Safe Bowl with the required amount of water and Cook them @ high for 8 minutes.

If Cooking on the Stove-top, Keep them on the Stove-top till the water starts boiling. When the water boils, Simmer for 2 minutes and then switch off the stove and keep it covered for 5 minutes. Drain and Keep Aside.
Heat 2 teaspoon of oil in a Non-Stick Pan, add mustard seeds and cumin seeds, when it crackles, add onions, hing and saute till translucent.

Add tomato puree and ½ Cup of Water. Add Red Chili powder, Coriander powder, turmeric powder and Garam Masala. Let this cook until tomatoes turn mushy and oil separates.

Next add almond-oats ground paste. Add Potatoes, peas and another ½ Cup of Milk and ¼ Cup. Add Salt and Mix well. Cover and Cook in simmer flame for 10-12 minutes or until the mixture thickens.

Garnish with Coriander leaves and Serve Warm with Roti's or Puri's.