Baked Vegetables, is the theme i chose to blog for this December BM. I checked with valli, to confirm whether the veggies can be converted to something after being baked. Thank God,she said yes. Coz, i know if i bake plain veggies even with spices, it will be only me and my hubby who is going to eat. Even then, i have 2 recipes of only veggies with spices coming up next. But this dip is something which even my elder one enjoyed with his regular idly/dosa. Being a south-indian where idly/dosa is like God of breakfasts, finding a chutney is tough job,kids at home get bored pretty easily with regular sides, so it is like finding a new chutney every week. I must say, that i m doing great with the new task.
This Vegetable dip goes great with idly/dosa, or as a nice spread on your sandwiches and perfect dip with bread sticks/chips.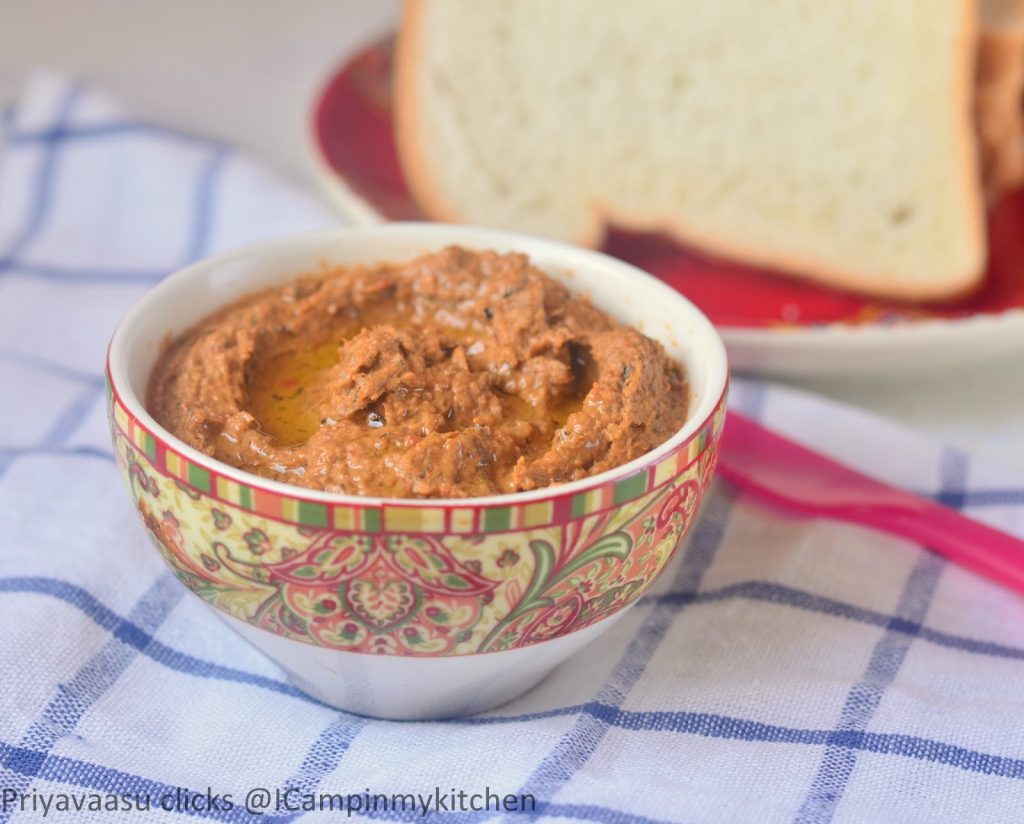 Source here
Ingredients
¼ cup toasted white sesame seeds
1 teaspoon red chili powder (add another ½ teaspoon for a spicccy version)
½ teaspoon freshly pounded black pepper
Wash all the veggies. Mix red chili powder and pepper powder with olive oil and let it sit for 10 minutes before using it.

Chop the veggies into cubes. Toss them together in a baking tray. Pour ½ the oil on the veggies and mix it well with your hands. 

Preheat the oven to 200C and bake/roast the veggies for 45 minutes or until the veggies are soft and browned on top.

To Toast the sesame seeds, just spread them on a microwave safe tray, microwave high for 5 minutes. Remove and let it cool completely.

Take them out of the oven, let it cool completely. Take the veggies along with toasted sesame seeds in a blender, add the remaining spice oil and salt. Blend until smooth. 
Remove the contents to a bowl, serve it along with chips, sandwich, bread or anything that requires a spicy dip.
Check out the Blogging Marathon page for the other Blogging Marathoners doing BM#59