Today we are visiting Yemen to taste their Saluf bread. Though it is Lahoh/Laxoox, the spongy pancake that is famous around, this Pita like Saluf bread is also from traditional Yemenite cuisine. The only difference i found in this and the arabic pita is the addition of Fenugreek powder to the dough. The aroma of fenugreek in the baked bread is mesmerizing!! 
Saluf/Saloof bread is traditional baked in a taboun oven. The dough is usually wet and it is slapped against the walls of the oven and baked to perfection. I have here used my regular cast iron pan and cooked on both sides to get those brown spots on my bread. You can even bake this bread in an oven just like the pita.
¼ teaspoon fenugreek powder
Take flour, yeast, salt and fenugreek powder in a bowl. whisk well to combine. Now slowly add water to this and start kneading to get a smooth dough.

Knead the dough on a flat kneading surface for about 3-5 minutes to get a smooth dough. Let the dough sit about 30-45 minutes or until double in its size.
Punch down the dough. Divide into 4 equal pieces. Roll it out about 4-5 inches in diameter. Heat a flat tava, when it is hot enough, reduce the flame to medium and place a rolled out bread on the tava.

Let it cook in a medium flame for abut 2 minutes. flip and cook teh other side for another 2 minutes. 

Transfer it to a serving plate, serve along with any favorite dip or side.

Any unused bread can be stored in a ziploc cover to keep the bread soft and moist. The dough can also be refrigerated to make the bread later.

I served this bread today morning for breakfast, along with thin dal tadka. Just reheated the bread, tore them into few pieces and poured the dal on top. It was yum, totally yumm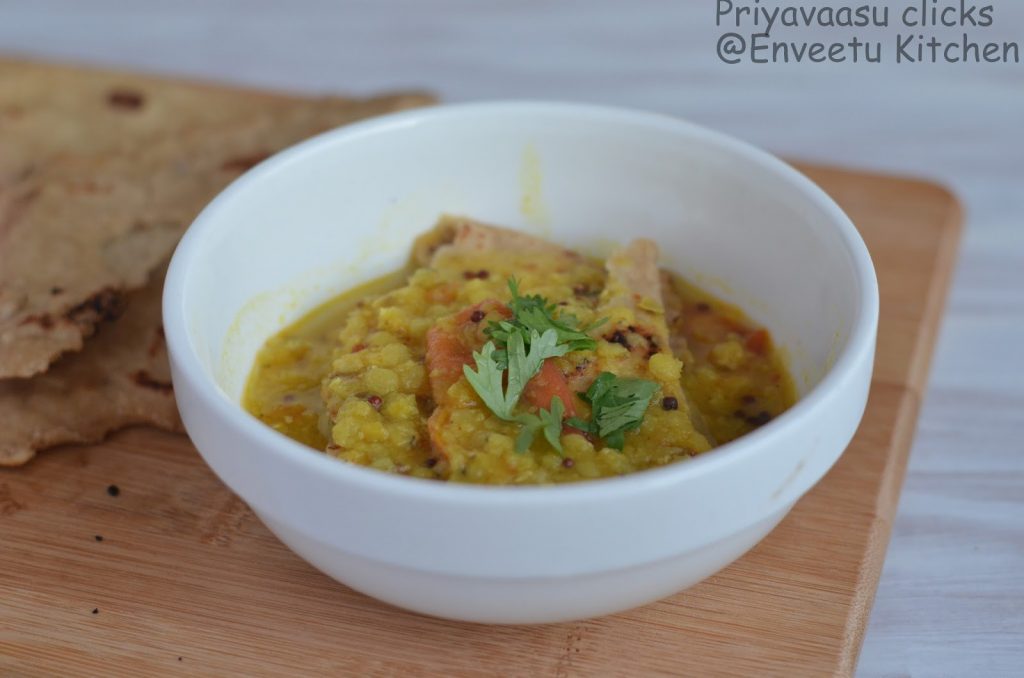 Sending this to Come,join us for breakfast, happening @ +srivalli jetti's space.
Notes
The original recipe used All Purpose Flour, since i ran out of APF, i used whole wheat flour

And also there are 2 methods in doing this bread, one is using wet dough and the other method is what i have done here.

If you prefer doing it as wet dough, then feel free to add another ¼ cup of water while kneading and make it like a gooey batter. 

When cooking the batter, smear the pan with oil, and drop a blob of batter in the hot pan, wet your hands and pat the batter to spread. Cover and cook to get a soft and fluffy saluf.
Check out the Blogging Marathon page for the other Blogging Marathoners doing BM# 44