We are visiting Samoa to taste their delicious koko rice. My original plan today was to make Portuguese Sweet rolls. But when i started i realized the bread takes quite a bit of time and i will not be able to do the post today. So, i decided to this simple, yet out of the world tasting chocolate rice pudding.
You might think, why am i using superlative terms to describe it, like my friend valli says, anything that involves chocolate is always superlative, don't you agree with me?
Another reason for this superlative description is my kid, he just took one spoon hot straight from the stove and he just went ga-ga over it, kids opinion should be taken seriously, as they come straight from the heart, they don't need to please anybody!
The recipe has minimal ingredients, all of them are mostly available in all the house-hold. The original recipe uses orange leaf to flavor the rice, if you can find one, please use and let me know the taste of it.
Coconut milk gives a beautfiful flavor and a mild sweetness to the rice, so i have added the minimal sugar, that is required to balance the taste of cocoa in the pudding, feel free to increase the amount of sugar to your personal taste.
The cocoa in the recipe can be replaced with chocolate(milk/dark), it will again might change the consistency to more creamy pudding.
As such the recipe is so versatile, you can substitute the coconut milk to normal milk and the cocoa to chocolate. So, there is nothing stopping you to try this uber delicious pudding!
Ok now, have you ever waited to do something for a long time, and one day suddenly with no preparation, what soever, you just jump into it? I did that today, after waiting and proscrastinating for a lonngg time, i did my first ever video recipe. It is my first recipe, there is lot of hitches here and there, so please take a look and let me know how you liked it.
Ingredients
½ cup rice, short grain rice is preferred
1.5 cups of water, for cooking the rice
½ cup thick cococnut milk
6 tablespoon sugar
¼ cup cocoa powder
Zest of an orange
a small orange peel for flavoring the rice


Method
Wash rice with water, until it runs clear. Take it in a sauce pan, add 3 measures of water, in my case i used ½ cup of rice, so used 1.5 cups of water. Let the water boil, add orange peel to it. Cover and cook until the rice is done, in a simmer flame. It took around 10-12 minutes for the rice to cook.

Once the rice is cooked, remove the orange peel from it, now slowly add coconut milk to the cooked rice, mix well.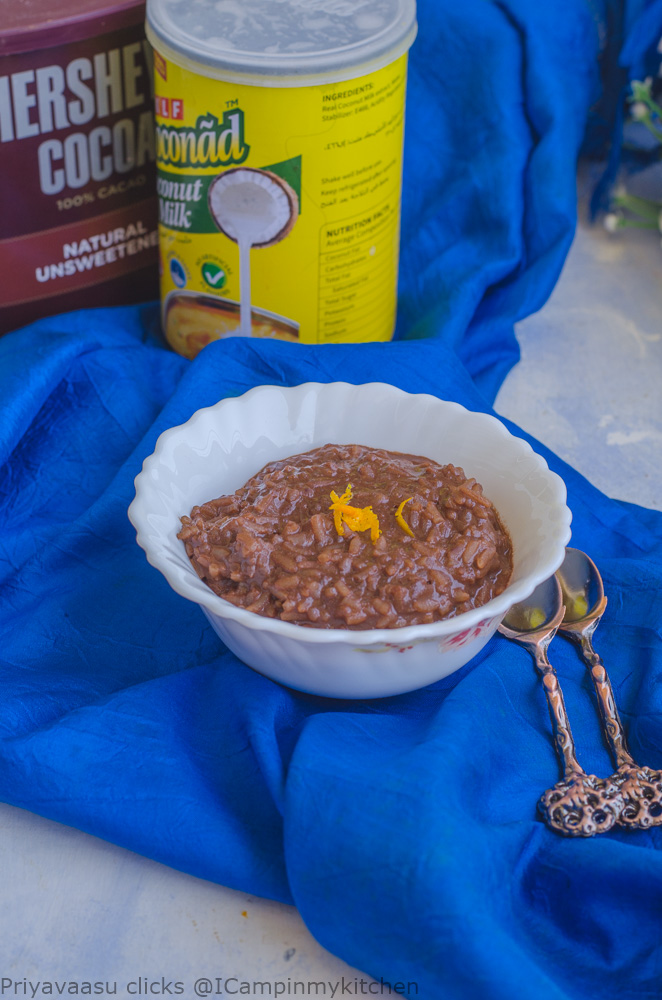 Next add cocoa powder to it and mix well to combine, finally add sugar and mix well. After adding everything, let it sit on the stove for 2 minutes. Then take it off the heat, serve it warm or cold with a garnish of orange zest.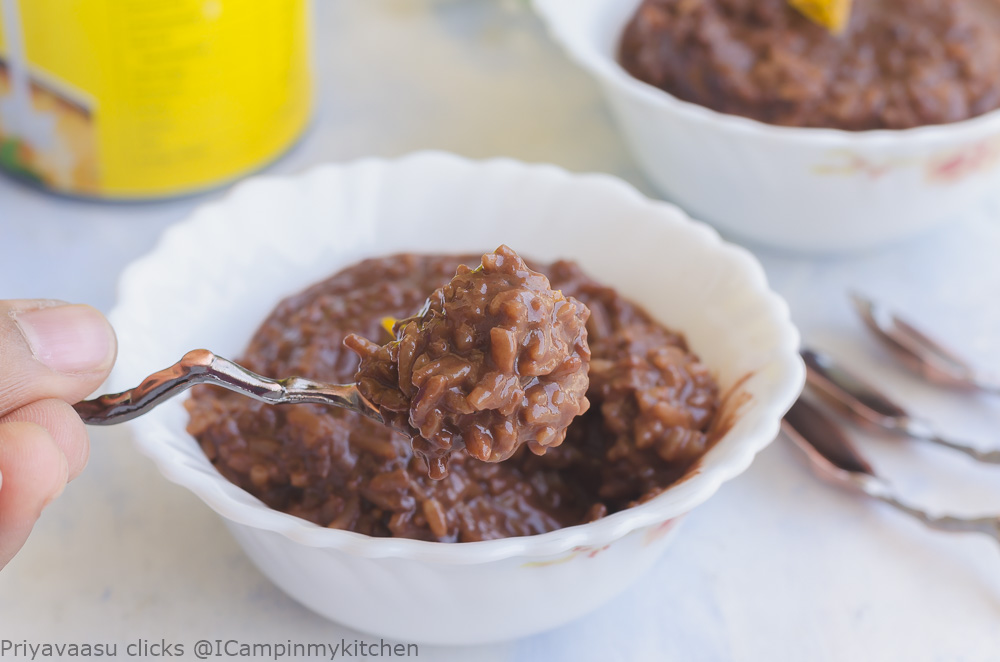 Check out the Blogging Marathon page for the other Blogging Marathoners doing this BM