Soy chunks or Meal Maker, i knew it with the later name and was introduced to this by my friend Chitra. She add this to the Vegetable Fried Rice and almost immediately fell in love with the first bite, the chewy and spongy texture with all the spices blended in it!!!! My First time cooking with Soy Chunks was not that tasty but later i learnt how it should be pre-cooked in hot water and used in curries. Now, we enjoy this Nutritious and Delicious Curry often with Roti's and Sometimes as such as a meal.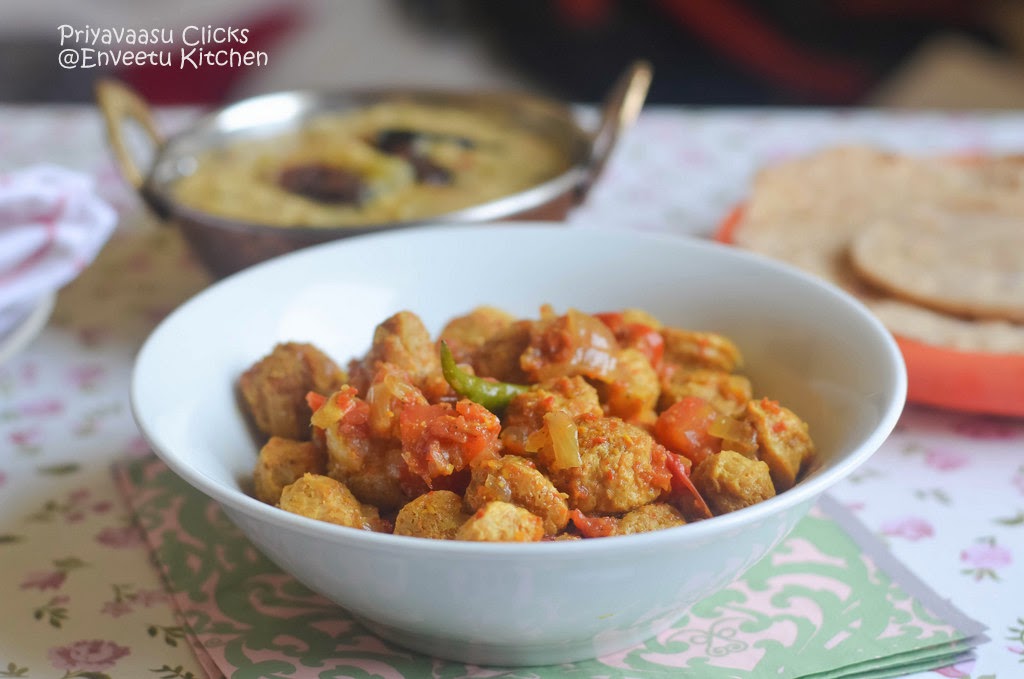 Ingredients
1 Cup Soy Chunks/Nutrela/TVP
1 teaspoon shredded ginger
½ teaspoon Red Chili Powder
1 teaspoon Coriander Powder
¼ teaspoon Turmeric Powder
½ teaspoon Garam Masala Powder
Fresh Coriander for Garnish
Method
Soak Soy Chunks in Boiling water mixed with little salt. Let it sit for 10 minutes or until it doubles up in size.

Drain, wash under cold running water and squeeze out the extra water from them. Keep Aside until use.

Chop Onion and Tomatoes thinly. Chop the garlic cloves and slit green chili vertically. Heat 2 teaspoon of oil in a Kadai, crackle jeera/cumin.

Add Chopped onions, chopped garlic, shredded ginger and slited green chili. Saute until onions turn translucent.
Next add the chopped tomatoes, followed by red chili powder, coriander powder, turmeric powder and garam masala powder and ½ Cup of water. since we have already added Salt to the soy chunks in the hot water, so now add little salt for the onion-tomato mixture.

Let it cook until tomatoes turn mushy and release oil. Now add the soy chunks this mix well. Cover and cook for 10 minutes, in a medium flame for the flavors to mingle.
Remove the cover, Let it sit for 5 more minutes on the stove. Garnish with Fresh coriander leaves and serve hot with roti's.