Spooky witch finger cookies, are crunchy, buttery shortbreads baked for halloween. These spooky looking cookies are a fun halloween treat to bake with kids and family.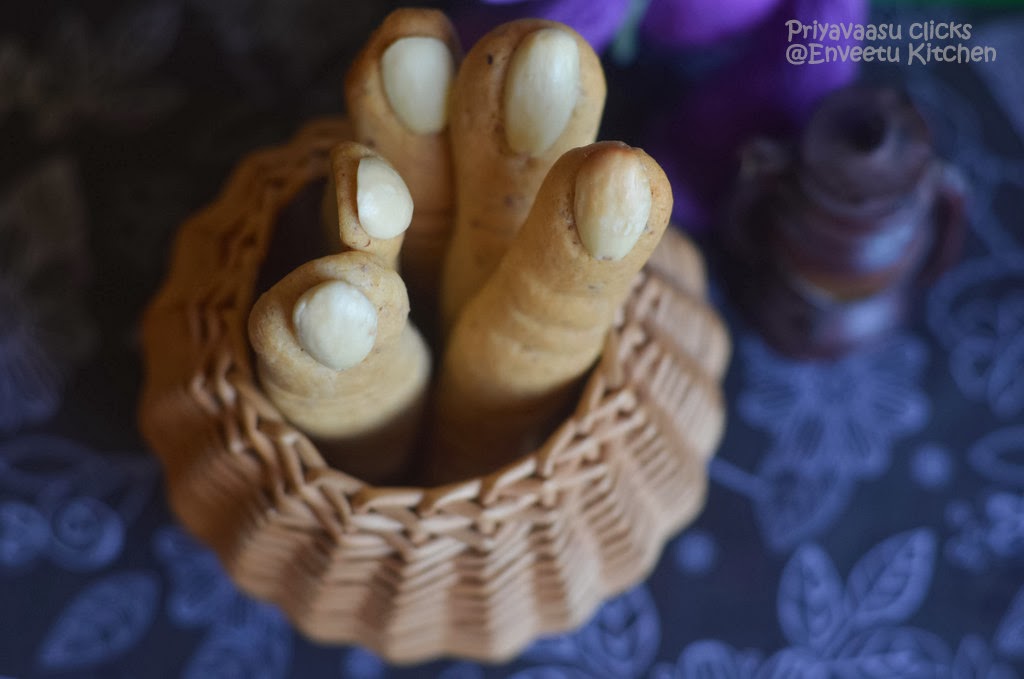 Shortbread recipes
My kiddos love shortbreads, the buttery melt-in mouth cookies are their first choice when i ask them to pick a cookie recipe. Here are some of our favorite shortbreads
Kuttu wanted me to bake something spooky for halloween. I don't know where does he learn the term halloween. He wanted me to make Vampire Cupcakes or Ghost cakes. Luckily this month's Home Baker's Challenge too was Halloween themed and Nalini suggested Spooky Witch fingers recipe. When i showed him that, he asked me to bake it for him. But had his conditions.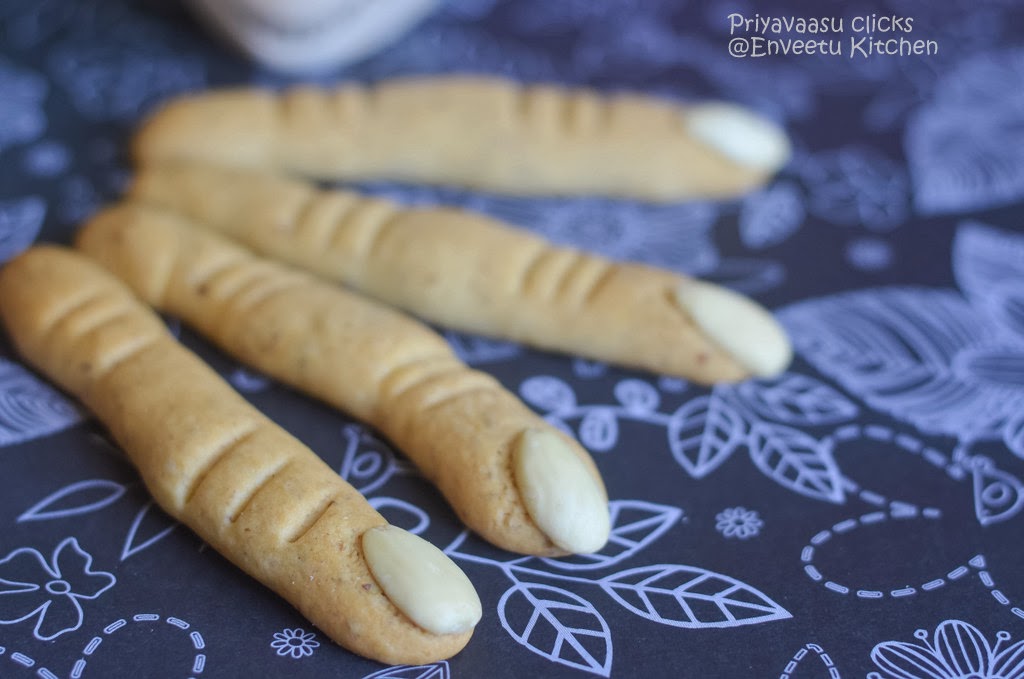 The almonds must be peeled and it should be only half almond in a finger, coz that will only look like a nail it seems. He also wanted me to color the fingers green, since i was against using artificial colors, i said "No" to that alone.
Steps : Spooky Witch Fingers Cookies
Spooky witch finger cookies are pretty simple to make. The recipe shared as part of the group contained egg, since i bake eggless, i simply replaced the 1 egg in the recipe using Flax-seed meal.
Gather all the ingredients needed for the cookies, see to that it is all at room temperature. Soak and peel the almonds and divide them into halves. You can also use whole almond, but since my kiddo insisted on using half almonds, i halved them.
Cream butter and sugar, until light and fluffy, add the flax egg to it and beat again. Now to this fluffy mix add the sieved flour and baking powder and make a soft, pliable dough. Refrigerating the dough for 20 minutes.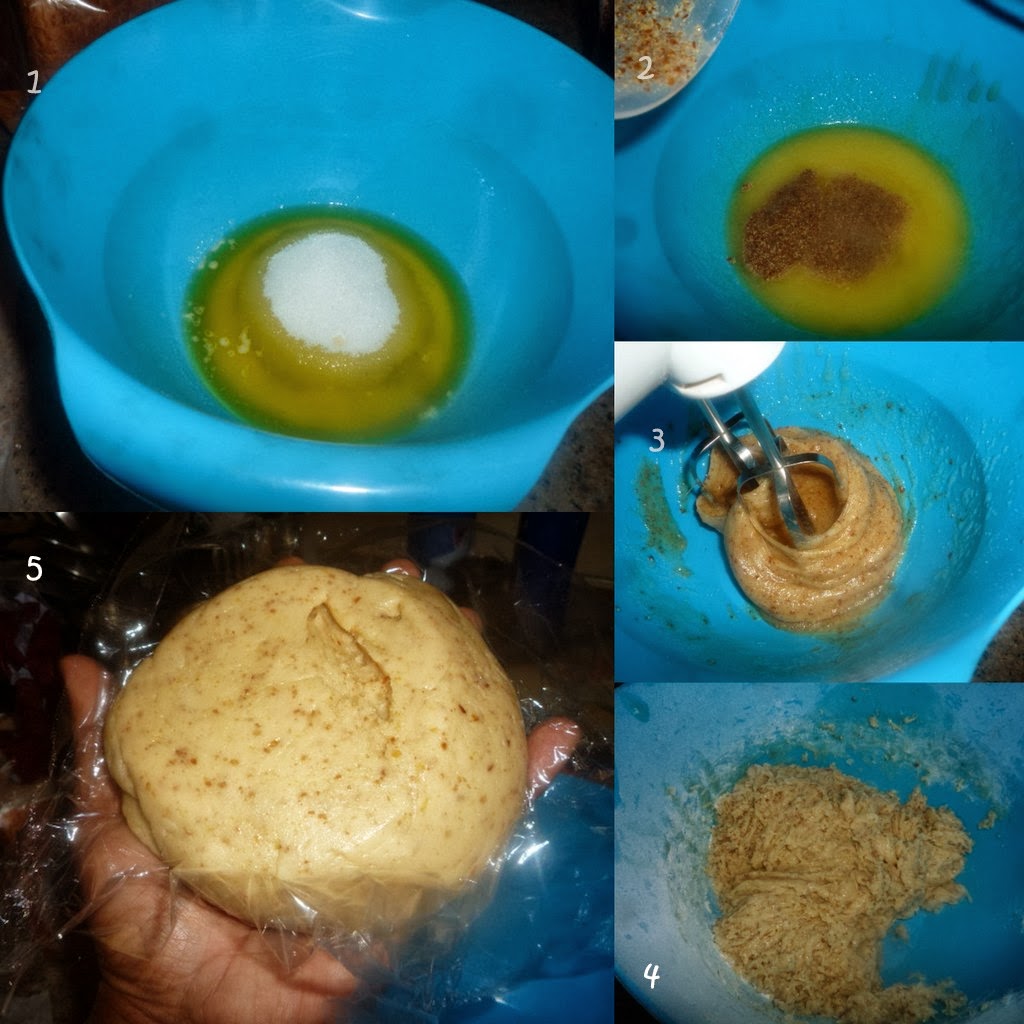 Divide the dough into individual portions, shape them into fingers and make markings for knuckles. Bake in a preheated oven at 170c until done.
The bake timings differ from Oven to oven, i use a microwave-convection oven and it took me 17 minutes to bake these spooky treats. The cookies might look a bit soft while removing, but they turn crisp after resting.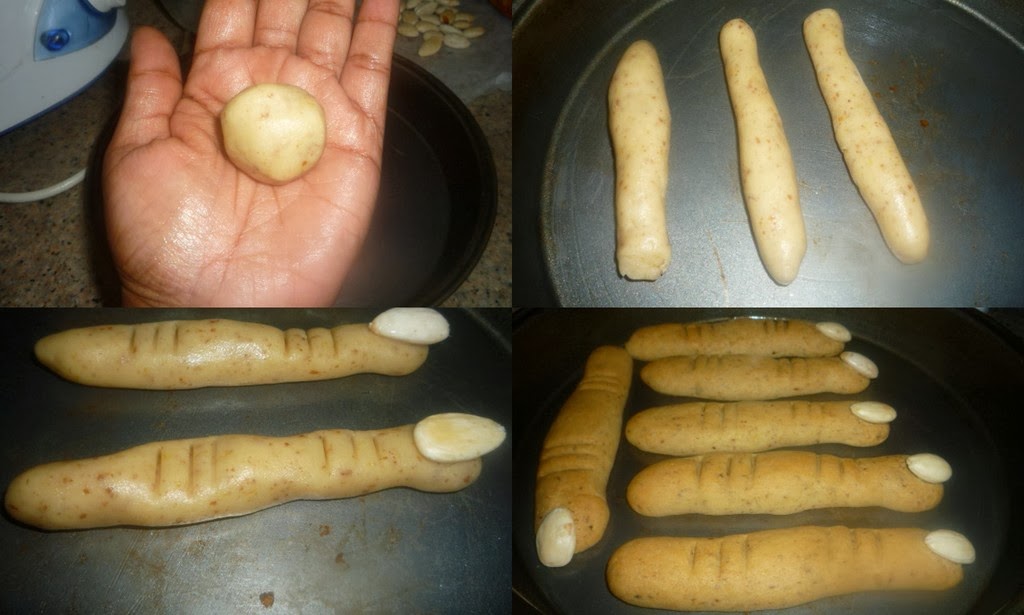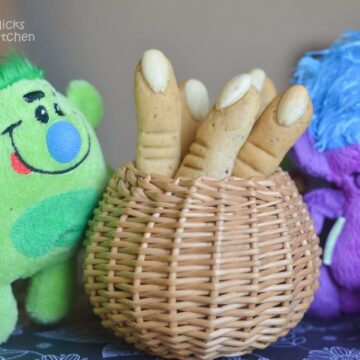 Spooky Witch Fingers, Eggless Cookies
Spooky witch fingers are crunchy, buttery shortbreads baked for halloween. These spooky looking cookies are a fun halloween treat to bake with kids and family.
Print
Pin
Rate
Ingredients
½

cup

Butter @ Room temperature

½

cup

powdered sugar

1

tablespoon

flaxseed meal mixed with 3 tablespoon hot water

replacing 1 Egg

½

teaspoon

vanilla extract

1&½

cups

All purpose flour/maida

½

teaspoon

baking powder

½

teaspoon

salt

30

nos

whole almonds
Instructions
Mix flaxseed meal and hot water together and keep aside until use. Soak almonds in hot water for 30 minutes. Remove the peel, half them and keep aside until use.

In a bowl, sieve together all purpose flour, baking powder and salt.

In another large bowl, using a Electric beater, cream butter and sugar until creamy, light and fluffy. Add the Flaxseed water to it and beat well to mix.

To this wet ingredient mix , add sieved flour, vanilla extract and mix well using your hands. The dough will be very soft and will come together very easily

At this stage, cling-wrap the dough and refrigerated for 20 minutes. Preheat the oven to 170C.

Remove the cookie dough from the refrigerator. Pinch a gooseberry size balls out of the dough and roll it into a 3.5 inch rope. Place it on the baking tray. Using the blunt side of the knife make markings on the dough for knuckles. You can also pinch on the sides of the markings to make it little bulge and look like knuckle. Stick an almond for the nail.

Repeat the same with the rest of the dough. I made fingers out of the entire dough and baked them in batches. i baked 8 @ time and Kept the rest of the fingers in the fridge until use.

Bake for 16-20 minutes depending on your oven settings. Keep an eye after 16 minutes. Mine were done after 17 minutes. 

Take it out when it starts browning on top. It will be little soft while taking out, it will turn crisp once cooled. let itcool on the wire rack completely,

Store the cookies in an air-tight container. Makes an excellent evening snack for kids
Disclaimer
I m not a Doctor or a Nutritionist The Nutrition information provided above comes from the plugin and is only an estimate.
These cute spooky witch finger cookies make a great evening snack for the kids. They are also a fun bake along with friends and family.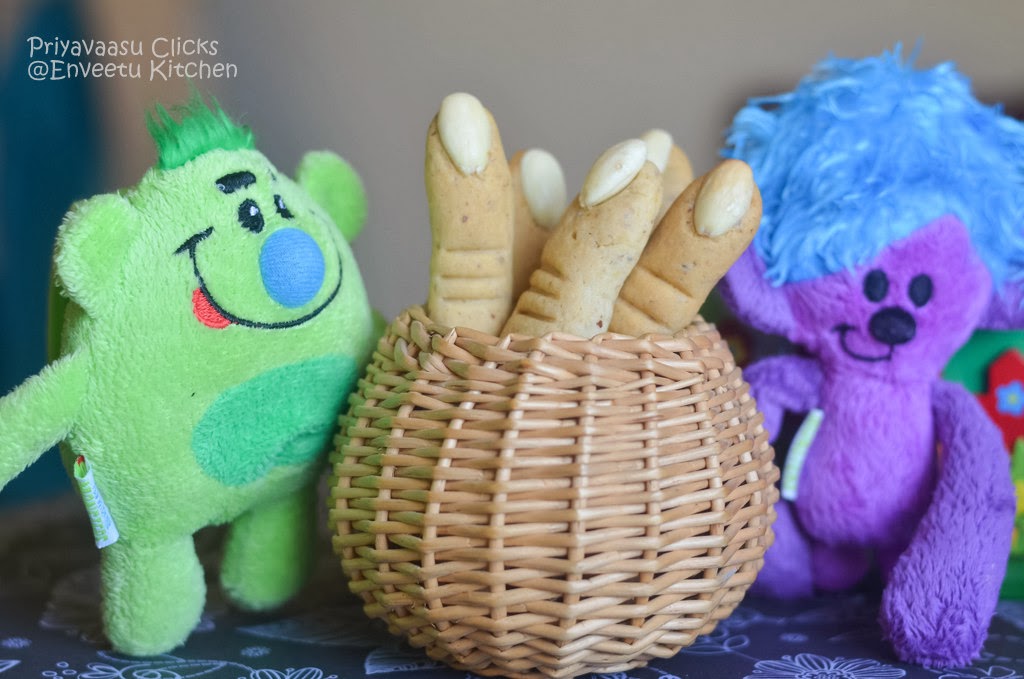 If you want them to be little more gore, add some jam to the nails to look like blood, i didn't add as i couldn't stand that much gore to my food. These cookies are a great edible gift during festive season. If you are into gift hampers, do add them into your list this year.
Some interesting cookie recipes
If you have tried this recipe and like it, give it a star rating or let me know in the comments below. You could also share it with me on Instagram using #icampinmmykitchen and tagging me @priyasrinivasan.
You could follow me and my recipes on  Facebook |  Instagram  | Pinterest  | twitter
Do you like the recipe, PIN IT