For the final day of Dinner Ideas, theme week i present you a very simple and easy to make Stuffed peppers. The filling again can be anything, i once did stuffed peppers with paruppu usli(lentil and veggie stuffing). I used freshly cooked brown rice, for this recipe, if you have leftovers then this is one easy, breezy recipe that can be made in flat 30 minutes.
The chili-salt oil mentioned in the recipe, i didn't use it while doing mine. So, the peppers were a bit bland. I strongly recommend in using it to brush the peppers.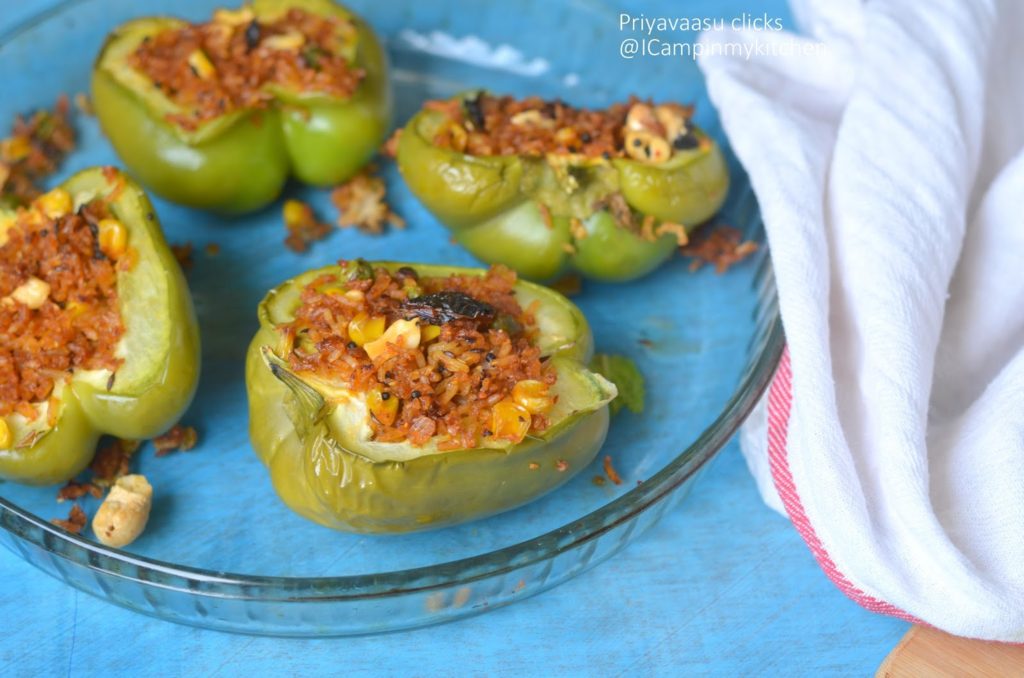 Ingredients
3 nos green peppers/capsicums - you can use any color, i had only green, so used it.
1-2 teaspoon of oil + ¼ teaspoon of chilli powder + ¼ teaspoon of salt mixed for brushing the capsicums


For the filling
1 cup cooked brown rice
1 large onion, chopped fine
1 tablespoon tomato puree
½ teaspoon red chili powder
½ teaspoon coriander powder
¼ teaspoon garam masala powder
¼ cup green frozen peas
¼ cup frozen corn
3 tablespoon chopped cashew-nuts
2-3 tablespoon chopped mint leaves
1-2 teaspoon oil
¼ teaspoon cumin seeds/jeera seeds
Salt to taste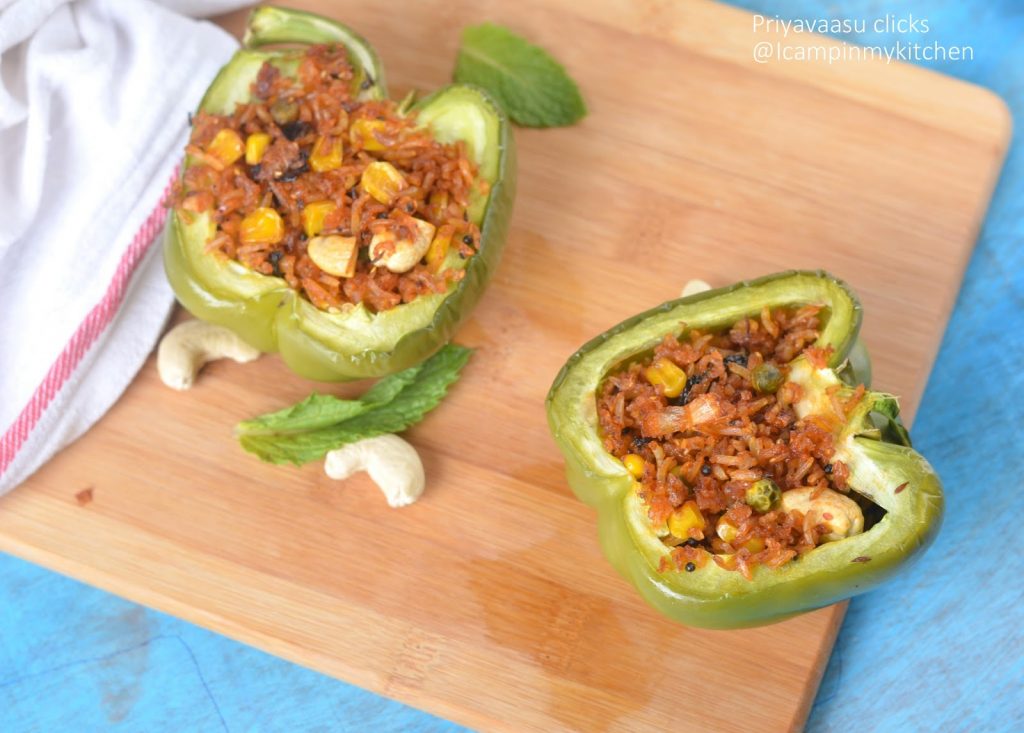 Method
First prepare the filling,

Chop onion thinly, Heat oil in a pan, crackle cumin, next add the chopped onion and saute until translucent.

Next add tomato puree, followed by red chili powder, coriander powder, garam masala powder and mix well. Add green peas and corn and ¼ of water. Add salt to this, mix well. Let it cook for the masala to mingle well.

Once half the liquid is absorbed, add the cooked rice and mix. Let it sit for another 6-8 minutes, for it to become dry. Take it off the stove, add chopped mint and cashew-nuts and mix well. Set aside until use.
Wash the green peppers well, and cut them vertically into two. Keep the stems intact remove the seeds and the inside white membrane, carefully without tearing up the pepper.

Now brush the capsicums well with the chili-salt oil inside out. I used my pie-pan to bake the peppers. Use a wide-pan that will accommodate the peppers well. These are not going to rise while baking, so they can fit snugly touching each other.
Grease the pie pan/baking tray or line it with parchment. Place the peppers inside the pan. Spoon the filling into each pepper , about 2-3 tablespoon in each.

Preheat the oven to 200C. Cover the baking dish with aluminium foil and bake for around 15 minutes.

Remove the aluminium foil, and bake it again for another 15 minutes. If you like you can top the peppers with some grated mozzarella at this time and bake for a gooey, pepper.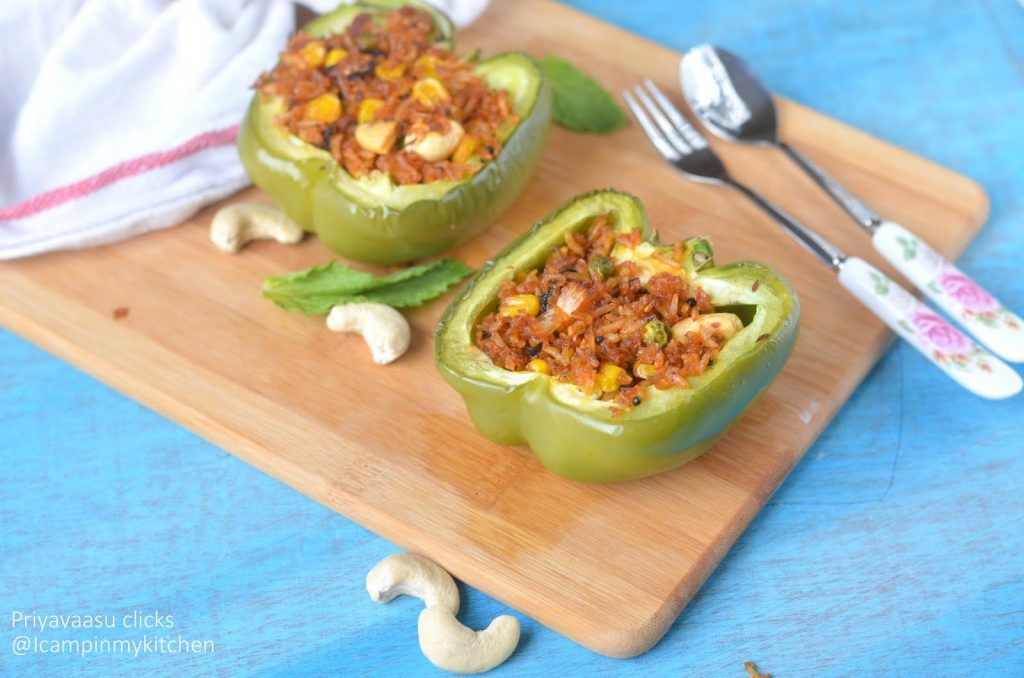 Once done, remove the peppers from the oven, let it come down to eatable hot, and hog!!!