Mango pachadi, a traditional southindian style sweet pachadi, which a must do recipe for tamil varusha pirappu/Tamil new year. This pachadi/relish is a mix of sweet, spicy, sour and bitter taste, signifying that life is a mixed bag of all these emotions and no taste lasts too long, so enjoy every moment of it.
Like the flavors of this relish, life too has many emotions and no emotions last longer, so enjoy the moment.
The pachadi is quite simple to make, you need good quality raw, tangy mangoes and some jaggery. Amma used to make neem flowers relish separately, but i usually add it to the same pachadi for the nice flavor. The cardamom and clove added to this optional, but adds a nice touch to the relish.
The color of the pachadi depends on the jaggery you use to make the relish. Usually i use the pale colored jaggery for making the pachadi, but this time around i bought the darker variety, so my pachadi looks dark.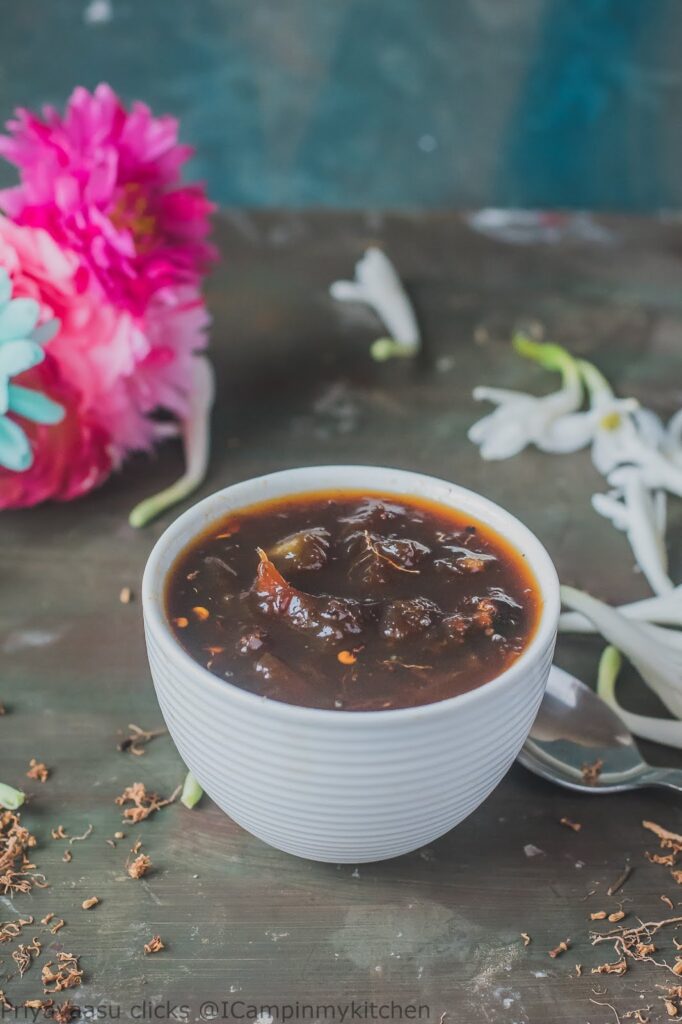 But whatever be the color, the taste of it remains the same, with tadka of chilies and neem flowers, this is a wonderful dish with lots of life values.
Apart from being a traditional dish, this can also be used as a relish and enjoyed with roti's and bread. We love it to have it roti's as it resembles the taste of mango chundo.


Do watch this video on how to make Mango Pachadi/Sweet Mango Relish

Do try and let me know how you liked this dish, if make this relish, don't forget to take a picture and send it across, would love to see your dishes. Tag #icampinmykitchen in your social media share.


Ingredients
2 medium sized Raw Mangoes or 125 grams raw mangoes
100 grams or equal amount of jaggery
2 nos cardamom
1 clove
Salt a pinch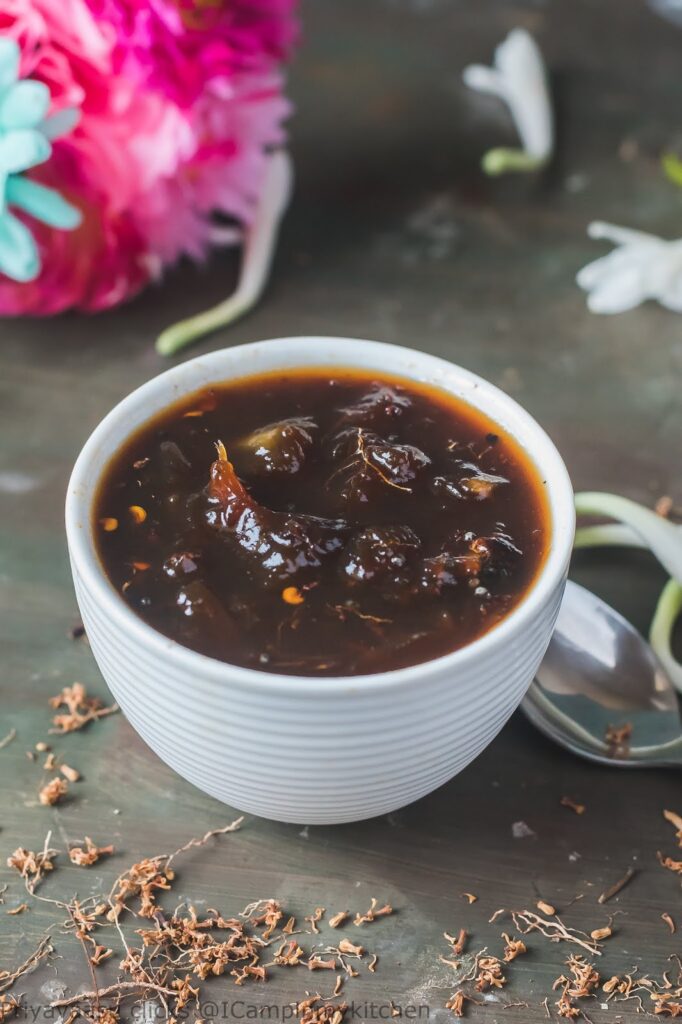 Seasoning
1-2 tsp oil
1/4 tsp mustard seeds
1-2 tbsp dried neem flower
Method
Wash, peel and cube the mangoes. Take the mangoes in a small bowl, place it inside a pressure cooker. Do not add any water to the mangoes.

Pressure cook it for 2-3 whistles. Let the pressure release naturally. Remove the mangoes and set it aside until use.

Let us make the jaggery syrup. In a heavy bottom vessel, add water and crushed jaggery to it. Let this boil and jaggery melt completely. Once the jaggery melts, strain it into another vessel and remove the impurities.

Now let this strained jaggery syrup, come to rolling boil. Add the cooked mango pieces to this and let this syrup boil and thicken.
While it is boiling, add crushed cardamom and clove powder to this. After 8-10 minutes, the syrup will be almost thick. Check the consistency,this pachadi/relish thickens as it rests.

Take it off the stove, heat a small tadka pan with oil given under 'Tempering', splutter mustard seeds and add crushed red chilies to this.

Next add dried neem flowers to this and saute until the neem flowers turn crisp. Add this sizzling tadka to the pachadi.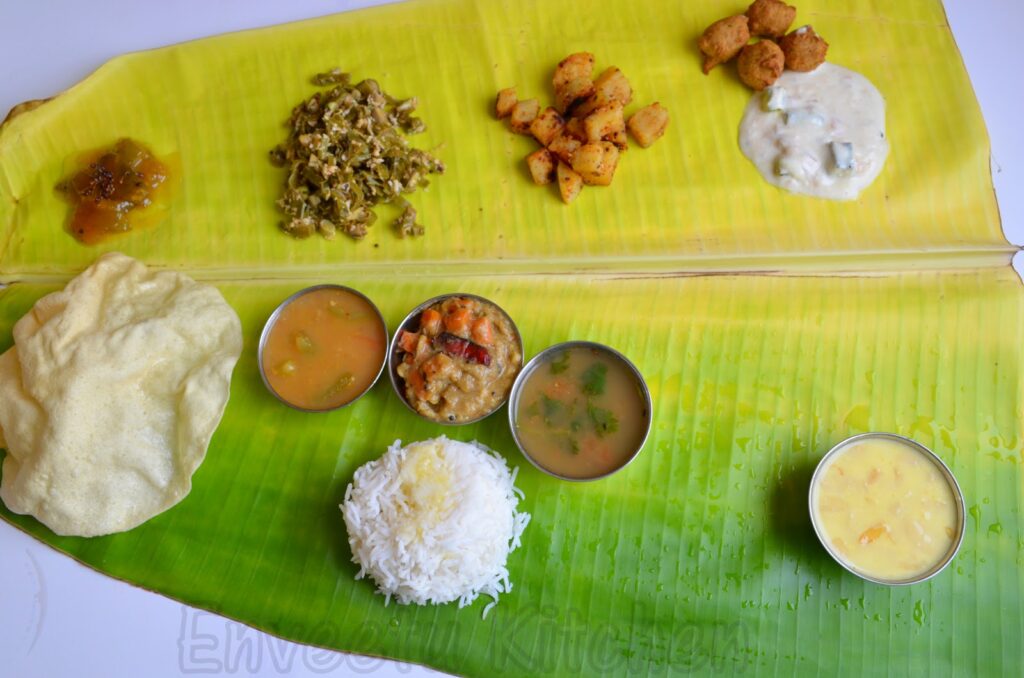 Pachadi is now ready to be served, serve it along with the new year spread.