We are Pannacotta fanatic. So, here is another pannacotta rcipe with aromatic Vanilla. Got some good quality vanilla extract, so decided to try Vanilla Pannacotta with Rosy Raspberry Sauce,ohho, it was a Match Made in Heaven!!!
Only Complaint from Kuttu was the Color of the Raspberries, why is it pink amma? Pink is for Girls, give me without that Pink on top!!! grrrrr, boys-na, i don't even remember when did he started this color coding?? Even for his brother, nothing should be in pink, not even his rattle!!!!
Neverthless, he enjoyed the pannacotta less sauce!!! But the sauce definitely takes it to another level. This goes to Kid's Delight – 5 ingredients Fix, hosted by Pavani, Event by Srivalli.


Ingredients
2 Cups Whipping Cream (35% Fat)
1/4 Cup Agar-Agar/China Grass
For Raspberry Coulis
1/2 Cup Raspberries (i used Frozen)
Method
To Make Raspberry Coulis
Take the Raspberries and Sugar together in a Saucepan, Cook it in a simmer flame. The berries will turn saucy with the sugar and water. Turn it off. Let it cool. Keep it refrigerated until use.

Since i used Frozen Raspberries, i didnt add water to it, if using fresh raspberries, add a tbsp of water.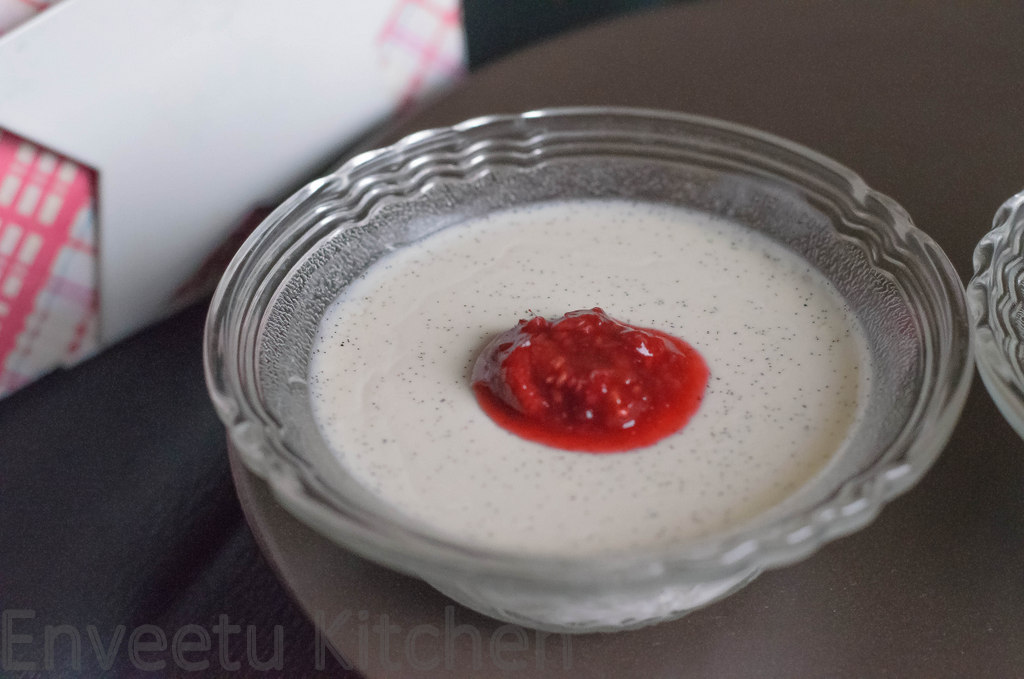 To Make Vanilla Pannacotta
Soak Agar-Agar in 1/2 Cup Hot Water for 10 minutes. I get Agar-Agar/China grass stalks. Whenever i make Pannacotta, i break them into small pieces and Soak them in Hot Water to ease the process of melting while cooking them.

Take the Agar-Agar Soaked Water to stove, Cook it in a Very low flame, Do not allow the liquid to boil. Keep it low and Stir to combine and melt. It will start melting after 10 minutes on the low flame.

When the Agar-Agar starts melting, Heat the Whipping Cream in another sauce pan in a simmer flame, Do not allow it boil. Add Vanilla Extract to it and Stir to combine.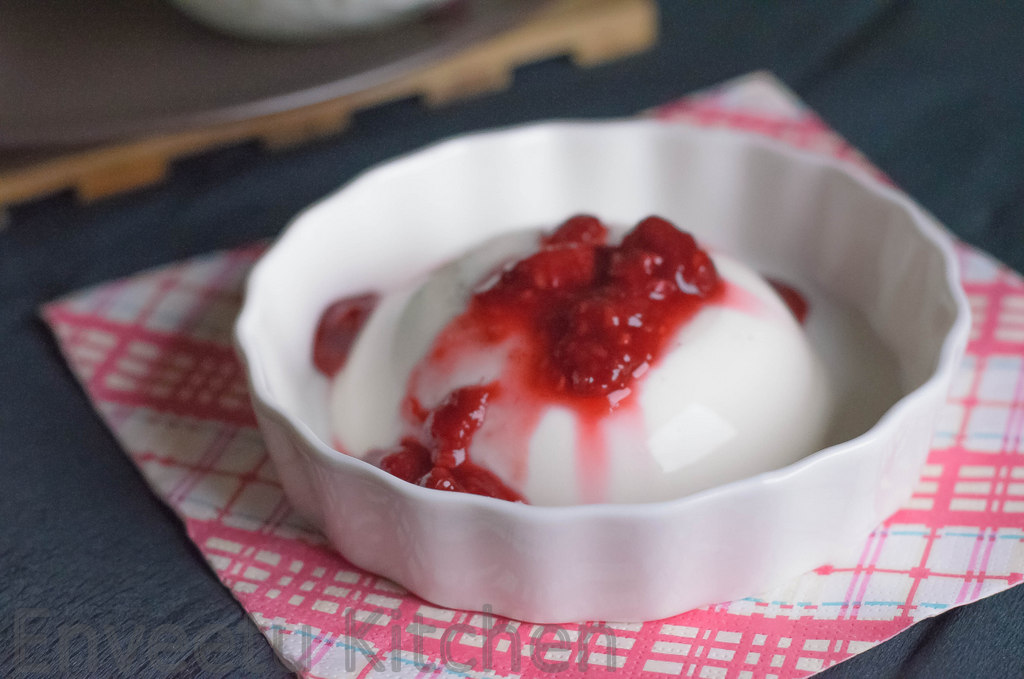 Now Strain the Agar-Agar liquid into the Whipping Cream and Mix well. Let it sit on the stove for 2 more minutes. Then Take it off the stove, Let it cool for 10 minutes on the Kitchen Counter.

Pour the Vanilla Cream liquid into smaller bowls and Refrigerate for 4-5 hours for it to set.

While Serving, add a tsp or 2 of Raspberry Coulis to the Pannacotta and Serve.