On the second day of Parsi special, i bring you the traditional dhansak. Dhansak is a stew made out of meat and vegetables. This is served with caramelised brown rice, which is rice cooked in caramel water to give it a typical taste and colour. The dal cooked with mutton and vegetables served with brown rice,this together is called dhansak.
In Parsi homes, dhansak is traditionally made on Sundays as it is a heavy dish to digest and owing to the long preparation time. 
Dhansak is also always had on the fourth day after the death of a near one. No Meat is cooked until 3rd day after a death in a family, so 4th day dhansak is cooked to break that abstinence. That is also one of the reasons, why it is not cooked during weddings or any auspicious day.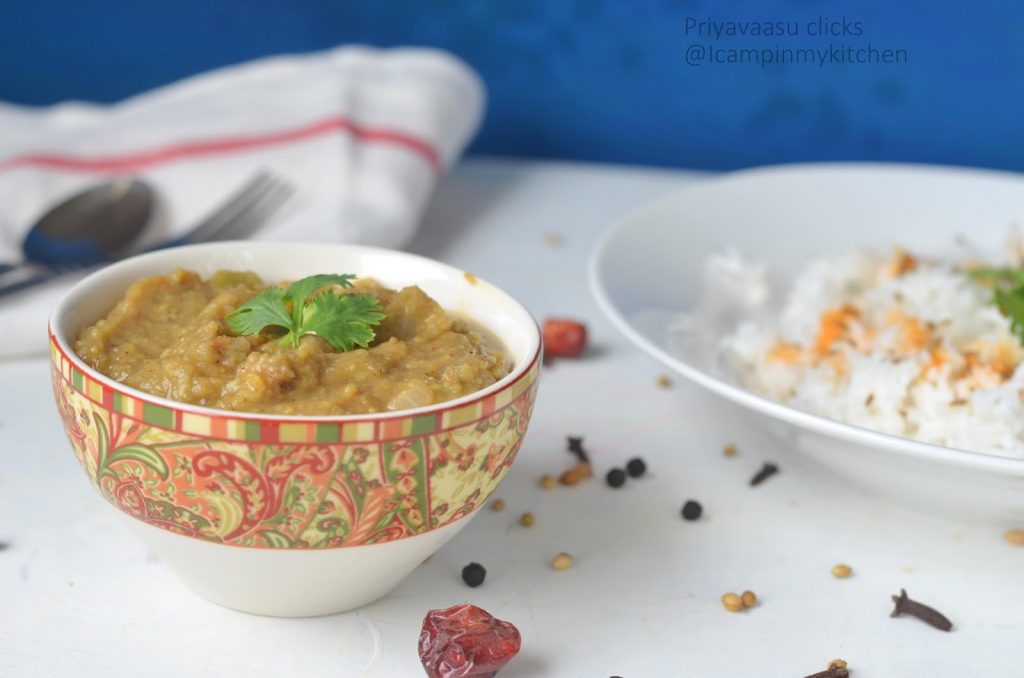 I m happy today, that i took this theme, my frustration of not finding any  traditional recipe of this cuisine other than dhansak, dhandaar, chapat, mithoo dhai,etc, made me spend some more time digging the World Wide Web!! Happy for the frustation, i came across this gold, an e-book called Eat, Live and Pray a book by FEZANA, Federation of Zoroastrian Associations of North America.
This e-book, is such a treasure-house of parsi cuisine and culture. This book gave a detailed inset on their culture and every meal cooked in a parsi house-hold during every occasion. Some more extra information on Dhansak from that E-book!
This tradition of no meat harks back to the time when Zarathushtis lived in an agricultural society and communal consideration fueled traditions. Mourners would come from far flung villages, and it would have bankrupted families to sacrifice their livestock to feed the mourners. Vegetables were not only more abundant, but quicker to cook and easier to digest. It was also more considerate to neighbors who sent meals to the grieving household. In some areas, it was common for mourners to bring an egg each when they came to the funeral. The eggs would be collected and scrambled to feed the congregation after the rituals.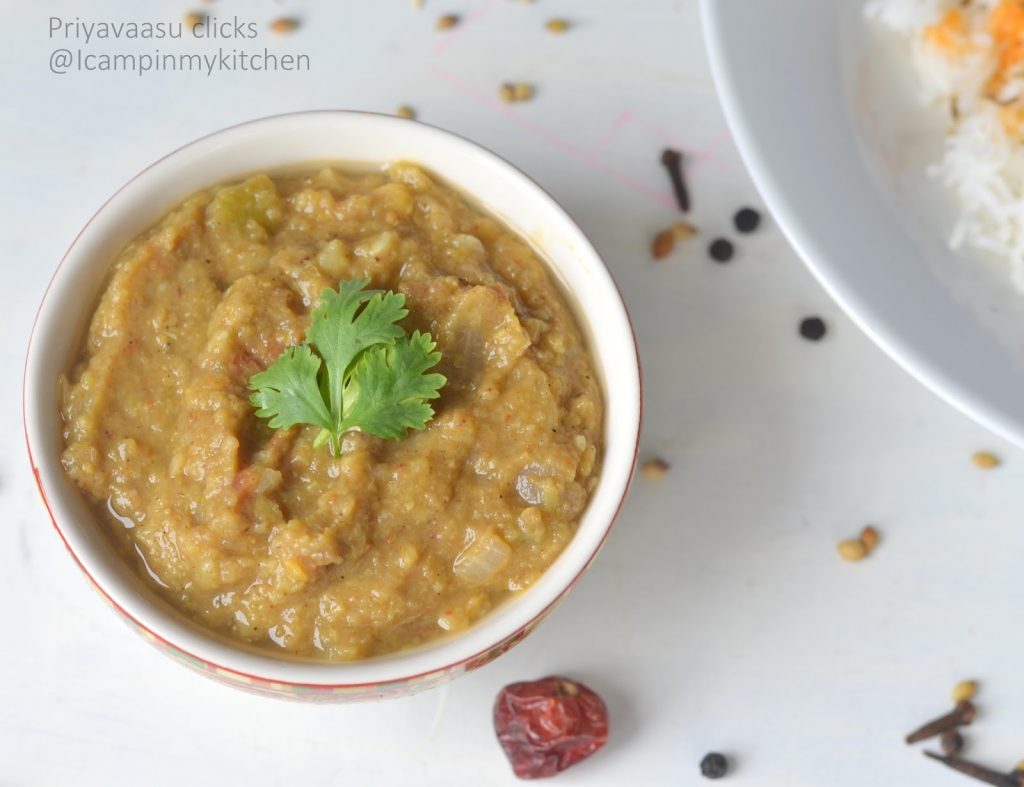 This spirit of practical consideration is also the reason dhansak is served on the fourth, and last, day of mourning. Traditionally, neighbors would pool in their resources of vegetables, grains and meat to make a hearty stew that would be filling for the mourners who were making a trek back to their own villages. The addition of meat also clearly demarcated the end of the mourning period. Mourning for extended periods is not encouraged in Zarathushti doctrine as it is believed that the soul is disturbed and cannot complete its journey to the afterlife if it is held back by the grief of the people left behind.
Source : My diverse Kitchen

Ingredients
2 tablespoon chana dal
2 tablespoon moong dal
2 tablespoon tuvar dal
2 tablespoon masoor dal
4 nos small brinjal
handful of yellow pumpkin cubes
handful of lauki/bottle-gourd cubes
a small gooseberry sized tamarind soaked in half cup of water 
1 large onion, chopped
1 large tomato, chopped
1 tablespoon kasuri methi
fistful of fresh coriander leaves
1-2 tablespoon oil
salt to taste


Dhansak masala
2 cloves of garlic
½ inch piece of ginger
2 nos cloves
½ inch piece of cinnamon
1 teaspoon coriander seeds
½ teaspoon cumin seeds
4-5 peppercorns
2 nos red chilies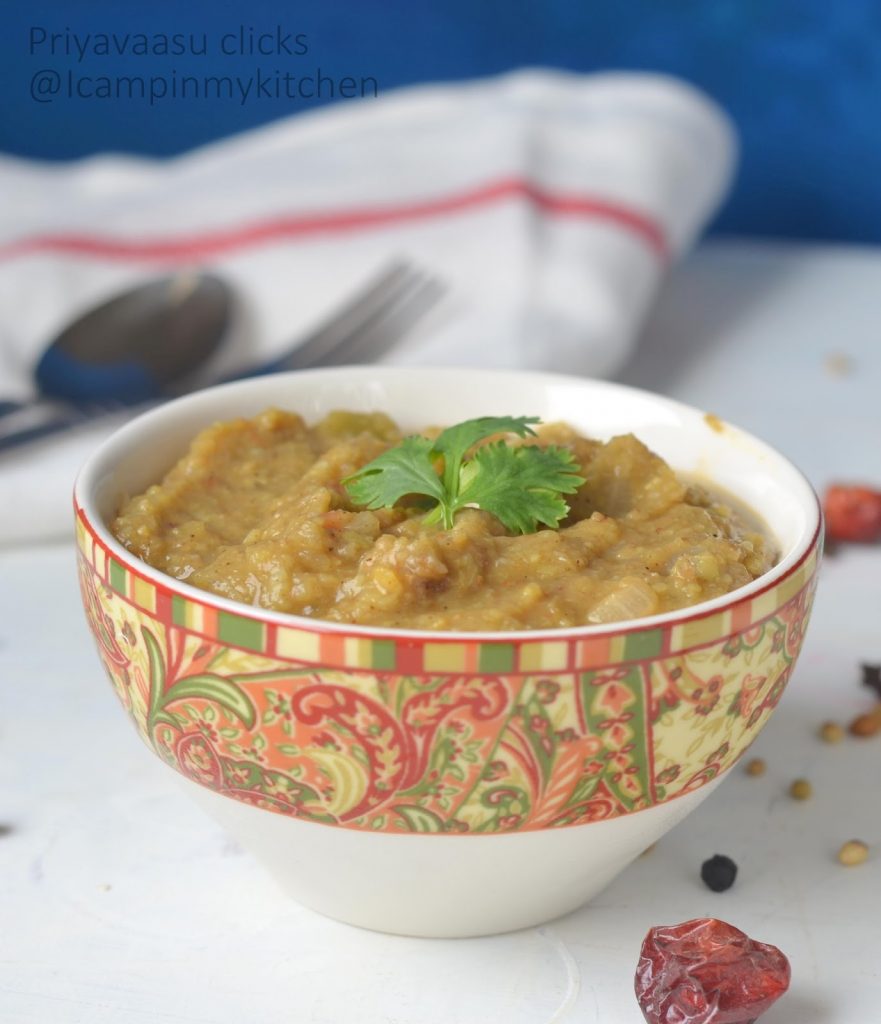 Method
Take all the dals, in a bowl, wash them twice and then add chopped brinjals, pumpkin cubes, lauki cubes, add required amount of water. I added water little above the veggies. Pressure cook this veggies and lentils mix for about 4- 5 hisses or until soft. Once done, remove from heat and let it cool. Once cooled, take it off the cooker and mash them well. 

While the veggies are cooling down, let us prepare the masala. Take the ingreidents given under the masala in a mixer and grind it to a fine paste with little water.Extract thick tamarind juice and set aside.

Heat a pan with oil, add the ground masala paste and saute for about 1 or 2 minutes or the oil separates. The aroma of sauting masala was so awesome, couldn't take my senses anywhere else!!!

Once done, add chopped onions and saute until translucent, followed tomatoes, cook until they turn soft. 

Once the tomateos are done, add the mashed vegetable and lentil mix, add tamarind extract, kasuri methi and salt.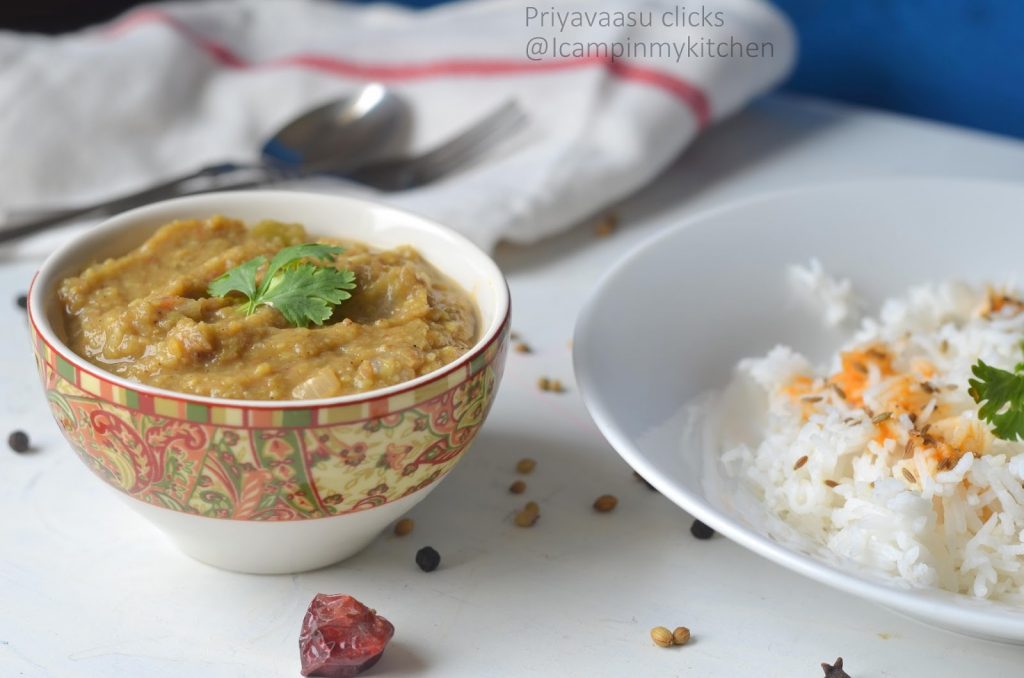 Let this cook in a simmer flame for about 10 minutes, for the flavors tomingle well. If you feel the gravy is getting thicker fast, just add ½ cup of water and let it simmer again.

Dhansak must be little thick and all mashed up and full of flavors,once done, remove it from heat, add coriander leaves and serve warm with preferably with Brown rice, white rice would also do good. Enjoy a perfect homey meal!!!
Check out the Blogging Marathon page for the other Blogging Marathoners doing BM#52