The last week of BM, valli gave us an interesting theme – Ingredients thru mail. Valli paired 2 bloggers and we need exchange 1 or 3 main ingredients amongst us and we need to cook something interesting from those ingredients. 
Sounds easy na, now comes the twist, we should not tell what ingredients we are sending. Why, what is so tough? you might ask, if it is something which we use regularly like rice/pulses/cereals it is ok. What if it is a flour or some ingredient which we have never cooked or even seen? There it becomes interesting!!!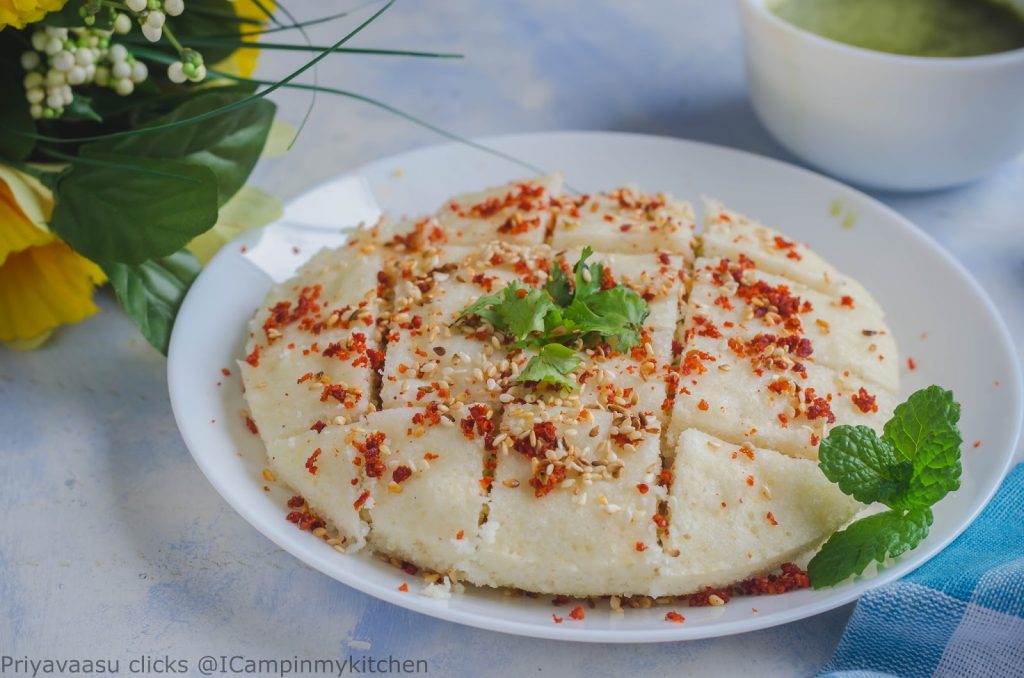 For this theme i was paired with +Vaishali Sabnani. She is in India and i m here, thank god, we both had somebody travelling to our respective places, so it was easy to send the package through them.
She sent me a packet, with methia masala, beautiful stencil,chopsticks and 3 packets of coarse-looking flours. I was able to identity methia masala immeidately, but couldn't identify the flours. I could taste rice in them, nothing else😟. Finally Vaishali helped me to identify them. It was fun, receiving the packets, being a kid again and guessing what ingredient it would be, it was great fun!!
The first recipe with her ingredients is this yummilicious safed dhokla/white dhokla. It is super easy to make with readymade flour. just mix and keep in the morning, let it sit till late inthe afternoon, make it for evening snack. 
Ingredients (serves 3-4 people)
2 green chili + 1/2 tsp ginger, minced together
For garnish
roasted white sesame seeds
you can also use red chili powder and black pepper powder
Green chutney
handful of coriander leaves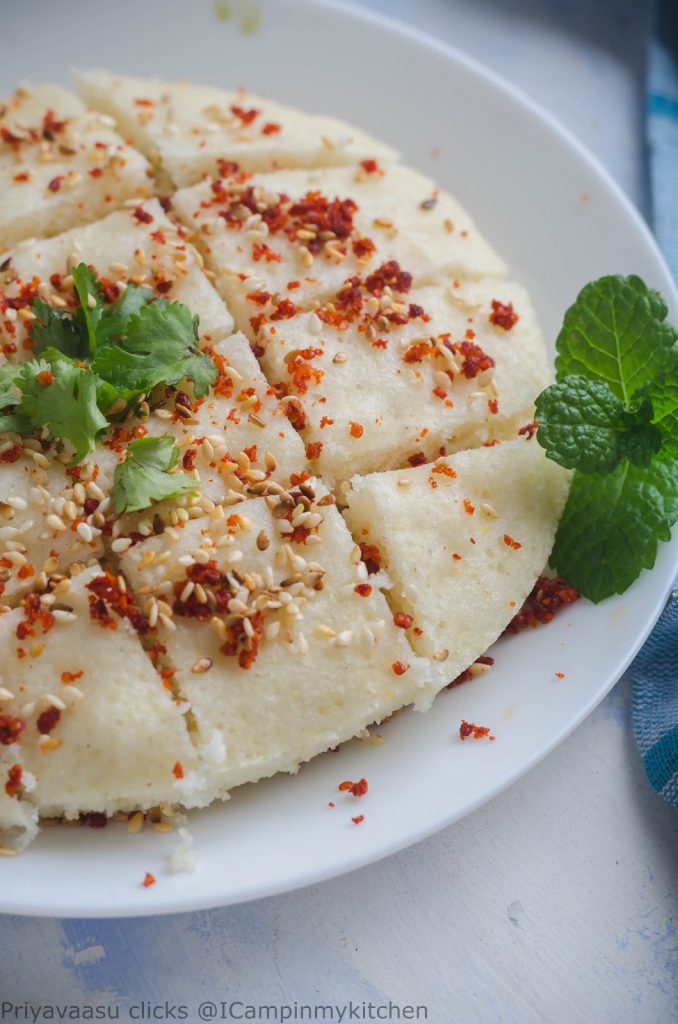 Method
Take flour, butter milk and water in a big bowl. Mix well to make a thick batter and let this sit for 4-5 hours on the kitchen counter to ferment.

After the said, add ginger and green chili paste, salt and give it a good stir. Add baking soda and stir well.

I used 2 small round thali/plates to steam the dhokla, it can be done in idly plates, silicon moulds or any shape of your choice.

Grease the plates well, divide the batter amongst the two thali;s and steam cook for 10-15 minutes in a medium flame.  When a tooth-pick inserted inthe center comes out clean,it is done. 

While the dhokla is cooking, let us make the green chutney. Take all the ingredients in a small blender and blend it smooth with 2-3 tbsp of water

Remove from the steamer, unmould it on to a serving plate, sprinkle methia masala, roasted sesame seeds and fresh coriander on top.

Serve it warm along with green chutney for a yummilicious snack!