Another tempting snack for this Diwali. Ompodi/Omapodi, a gram flour snack made with ajwain/omam. It is a must-have snack back home for Diwali, as it is my Dad's Favorite snack. Appa likes Mysurpa and this Omapodi. So, his loving wife, my Mom makes both for Diwali. This is the first time, i making omapodi the traditional way. First when amma told that i have to soak atleast ¼ Cup of ajwain for 2 cups of besan, i was thinking, what old lady, crazy? i don't want to make some medicine for indigestion, i making a diwali snack!!! But she told me to follow the recipe to the T, which i did. The result was a crunchy, munchy Omapodi which just vanished as i was making. Had a hard time controlling bala not to touch it anymore. I called her to tell that is a super-hit, she gave her traditional laugh at the other end.
 Ingredients
¼ cup Ajwain/Omam/Oregano
½ teaspoon hing/asafoetida
Method
Soak Ajwain in ½ cup water for an hour. Grind the soaked ajwain with 1 cup of water and strain. I used half cup of water first, grinded, strained and again added another ½ cup of water to the ajwain pulp and grind again, strain. Throw away the remaining pulp.

Take both the flours, salt, hing in a wide bowl and whisk well to get a uniform mix. Rub butter into the flour. Now add the ajwain/omam water to the flour and make a soft dough.

You will be needing a Murukku press with idiyappam/Omapodi Mould. Divide the dough into 4 to 5 portion.

Heat oil in a heavy-bottom pan/kadai.To check, whether the oil is ready to fry, add a drop of dough to the hot oil, if it sizzles up immediately, then it is ready to fry.

Take a portion of dough into the press, press it directly onto the hot oil. Make concentric circles in the oil. Try not to overlap.

Let it cook on both sides until sizzle seizes. It takes very less time to cook. While it is cooking, keep the press ready with next set of dough.

The dough might turn a bit dry and difficult press in the process of making this. So, always keep ½ cup warm water by your side. Everytime you fill the press, sprinkle 2-3 tablespoon of water to the dough portion and knead it a bit, make it soft and put it in the press, this way it will be easy to press it in the hot oil.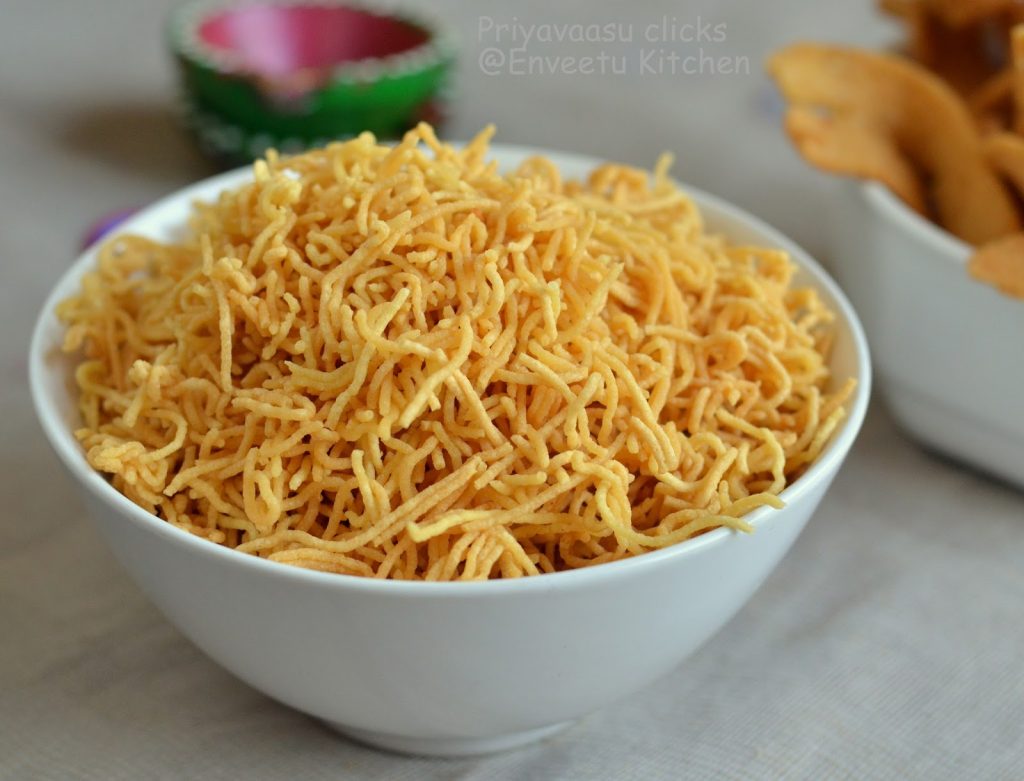 Remove the omapodi using a slotted spoon from the oil, drain it on a kitchen towel. Let it cool completely, then store it in an air-tight container.  Stays good for 2 weeks, but i assure you it is such an irresistible snack and won't stay for such long time!!! 🙂