There was once a time, when i used to by ready-made dhokla mixes. But, after trying Khaman Dhokla once, i just think how silly of me to buy ready-made stuff, when it is so very easy to make it at home. Now, i m trying different variations in dhokla.Since I m blogging on oil free/less-oil (just 2 tsp)  breakfast for this week's BM, I thought dhokla would be a better option to make. The other day, while watching Foodfood channel, I saw this spinach dhokla on a breakfast show, I immediately wanted to give it a try. The original recipe has some methi leaves too, but I was a bit hesitant to add worrying  the final dish might taste a  bit bitter. Loved the color it gave to the dhokla.  When i opened the cooker to remove the dhokla, I was so happy see the cracks on top and the fluffy dhokla smiling! !! 
A great way to sneak greens into your kiddo's meal. I made it a little spicy and paired with some yogurt, oh yum,  it was one filling breakfast.
Inspired from FOODFOOD Channel
Ingredients
1 cup Besan/Bengal gram flour/Kadalai Maavu
2 Fistfuls of chopped spinach/Palak leaves,washed
1 ½ tablespoon semolina/Sooji/rava
1 teaspoon shredded ginger
¼ teaspoon oil for greasing
½ teaspoon white sesame seeds 
a pinch of asafoetida (hing)
Take green chilies and ginger along spinach/palak in a mixer and grind it to a fine paste, without adding water. 

Take this in a bowl, add  rest of the ingredient, except the baking soda ,and mix well adding water to make a thick batter.Just before steaming, add the baking soda. Give it a brisk stir.

Pour the batter immediately into a greased thali.I used my stainless steel coffee bowls for steaming, wanted to have a shape like cake for the dhokla. You can also use flat plates. Steam for 12 to 15 minutes or till the dhoklas are cooked. Keep aside.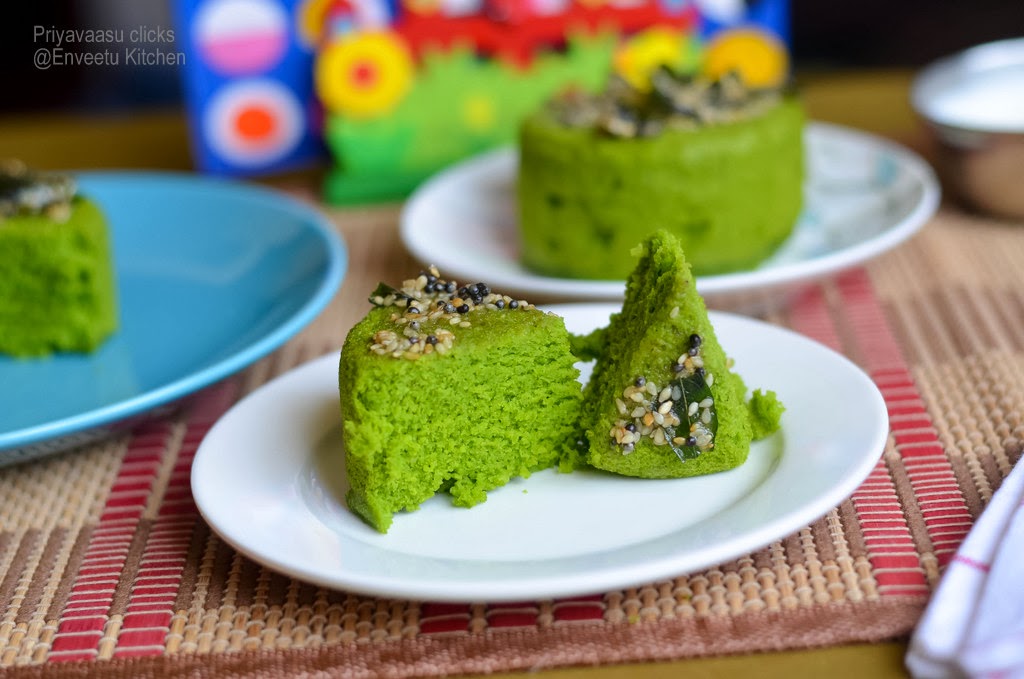 Heat the oil in small pan and add the mustard seeds.When the seeds crackle, add the sesame seeds, and asafoetida, mix well and sauté on a medium flame for a second, while stirring continuously.

Remove from the flame, add 2 tablespoon of water and mix well. Pour the tempering over the dhoklas.Cool slightly and cut into equal pieces. 
Serve immediately with a bowl of curd. If serving late, heat it in a microwave for 20 seconds and serve warm.