The second day of festive recipes, i bring you a savory and irresistible snack, Murukku. We are a big fan of murukku, during this time, we normally be in Chennai, enjoying amma's delicious cooking. Appa would bring both Mullu Murukku and Thenkuzhal from Grand sweets for both the kids. Both the kiddos, enjoy this crunchy snack with their evening tiffen, or sometimes they nibble whenever they feel like eating something.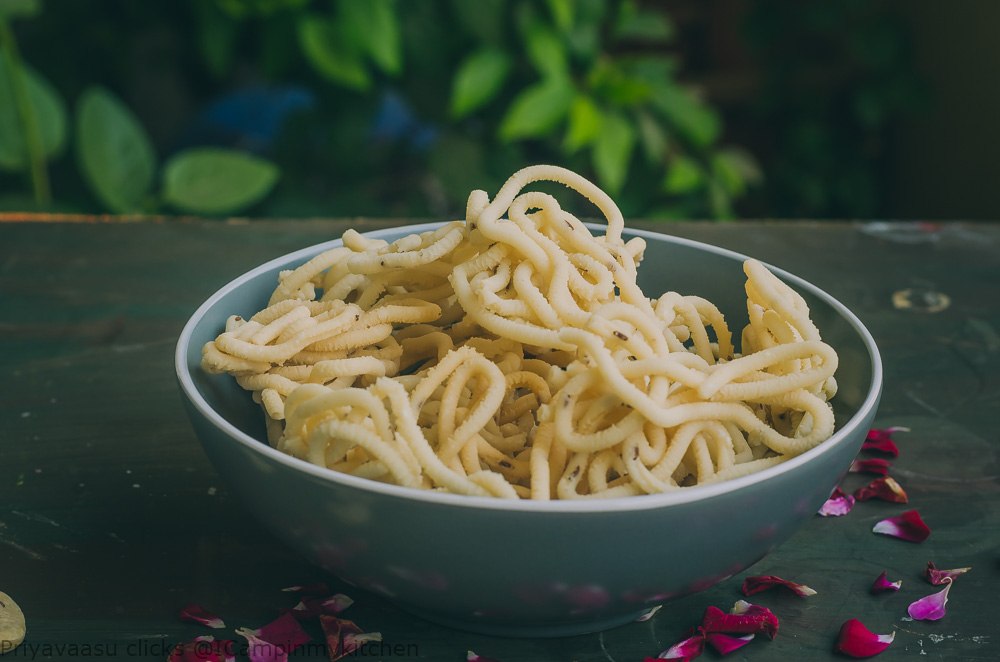 So, today when i made a small batch, both the kiddos were excited, especially my elder one. I had hard time, keeping him away from the plate until i finish clicking.  This cashewnut murukku, is pretty easy to make as it needs just rice flour and cashew paste and no other dal powder to make it.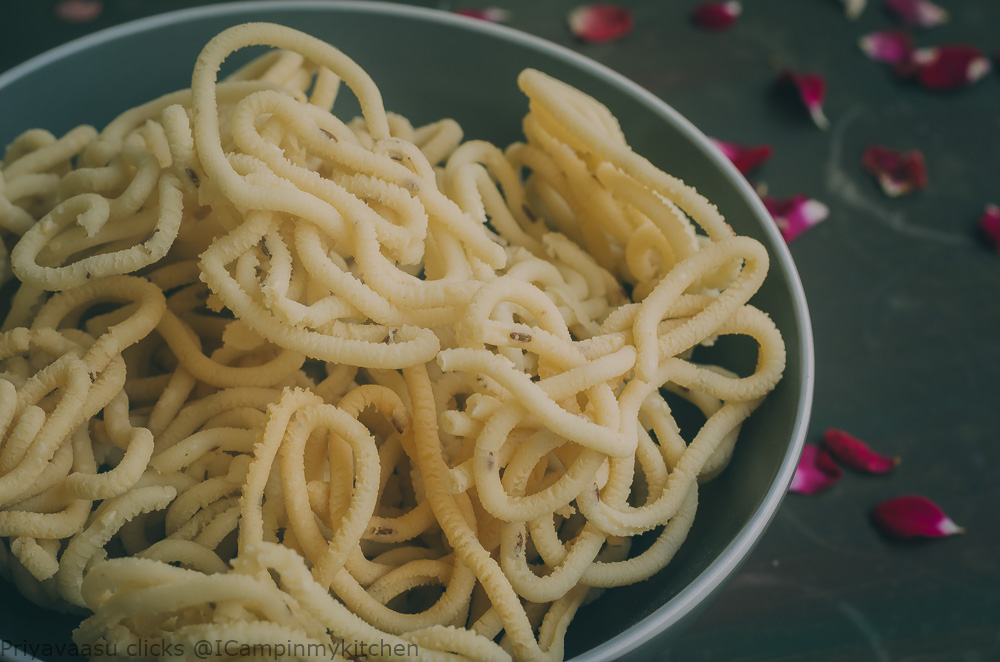 In a way, i find it easy to make than the other varieties, you can call me lazy for that. The color of the muruku is half-white. Keep the flame medium, so the murukku doesn't overcook and loses that pretty white color.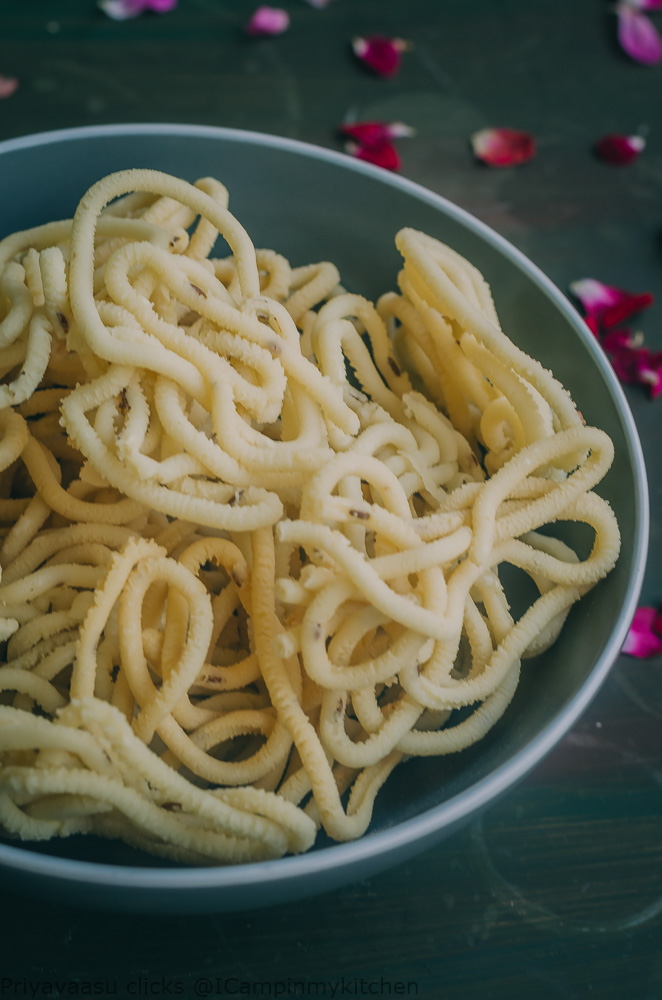 Ingredients
1 cup Rice flour, i used store-bought idiyappam flour
12-15 nos cashewnuts
½ cup of water
a pinch of ajwain seeds
2 pinches of asafoetida
½ teaspoon cumin/jeera seeds
1 teaspoon white sesame seeds
1 teaspoon ghee/clarified butter
½ teaspoon -¾ teaspoon salt
Oil for deep frying
Method
Soak cashew-nuts in water for  15 minutes. Drain and grind them to a fine paste along with a pinch of ajwain, using ¼ cup of water. 

Take rice flour, salt, hing, white sesame seeds, cumin/jeera seeds in a wide bowl. Whisk well to combine.

To this bowl add ghee, followed by ground cashewnut paste. Add another ¼ cup of water along with it and knead a soft, supple dough.
Heat a heavy bottom pan with oil for deep-frying the murukku. Use the muruku press, with round holes in the shape of triangle.

Divide the dough into 3 equal portions. Press small muruku on a flat surface, in my case i used my silicon mat, which is easy to remove the muruku.
Once the oil is hot, drop 3 to 4 muruku's at a time and fry until the sizzle ceases. Keep the flame medium. Too high, will make the muruku dark brown and too low will not yield crispy muruku. 

So keep the flame in medium, do not crowd the pan, add 3 or 4 at a time, after 30 seconds, try to turn them usign a slotted spoon, let it cook until the sizzle ceases. Remove it using a slotted spoon and drain it on a paper towel. Once it cools, keep it in an air-tight container and enjoy it with your evening cup of coffee/tea.