Time sure flys, we are reaching the end of the year now, next month FB feeds will be flooding with holiday bakes, cinnamony, nutmegy, gingery bakes!  I can't wait to bake something that will tickle our senses and bring in that holiday spirit, whether we celebrate christmas or not, that is totally a different matter, but that cheer of holidays, new year feel is ultimate.
Coming back to our Week 3 of november BM, i chose Kids delight- Veggies sneaked in, a monthly event created by Srivalli, hosted by Vidhya this month. A wonderful theme, i know all mothers would appreciate this. We only know what all we mothers do to make our kids eat a small portion of veggies. Kids these are days are smart,  they learn about junk food and importance of  e
ating their fruits and veggies in their school. 
So many of them are ok eating a fair share of veggies put on their plate, but there are kids who are lil fussy and don't like the look of certain veggies. Example, my elder one, he would run a mile if i ask him to taste a small stick of carrot, whereas my lil one would happily chomp of a whole carrot like a little bunny. So if you have such examples at home, you definitely need some help in masking veggies into some other thing, which they would happily eat.  
Here is a simple kheer, which i make regularly for festivities at home. Dump all the ingredients in the pressure cooker cook, and blend, then serve. Such an easy kheer to make. I bet your carrot hating kid would happily gulp this kheer down, the richness of cashewnuts and milk make this a filling snack anytime. 
Ingredients
80 grams carrot/1 medium carrot
3 tablespoon moong dal
4 tablespoon grated coconut
a pinch of saffron
4-5 pods of cardamom crushed
⅓ cup – ½ cup sugar
handful of cashewnuts
few almonds, crushed roughly
2 cups of milk

Method
Wash carrot, peel and chop roughly. Take chopped carrots, coconut, moong dal, saffron and 1 cup of milk in a pressure cooker. Add ½ cup water and cashewnuts to it. Pressure cook this for 5-6 whistles. 

Let the pressure fall on its own.  Add the remaining 1 cup of milk to this and blend the contents smooth.  Take the kheer again to stove-top, add sugar, cardamom and crushed nuts. The kheer might liquify a bit when you add sugar, but it is fine, let it for another 10 minutes on the stove, in a simmer flame and take it off the stove. Add some chopped nuts to this and serve warm.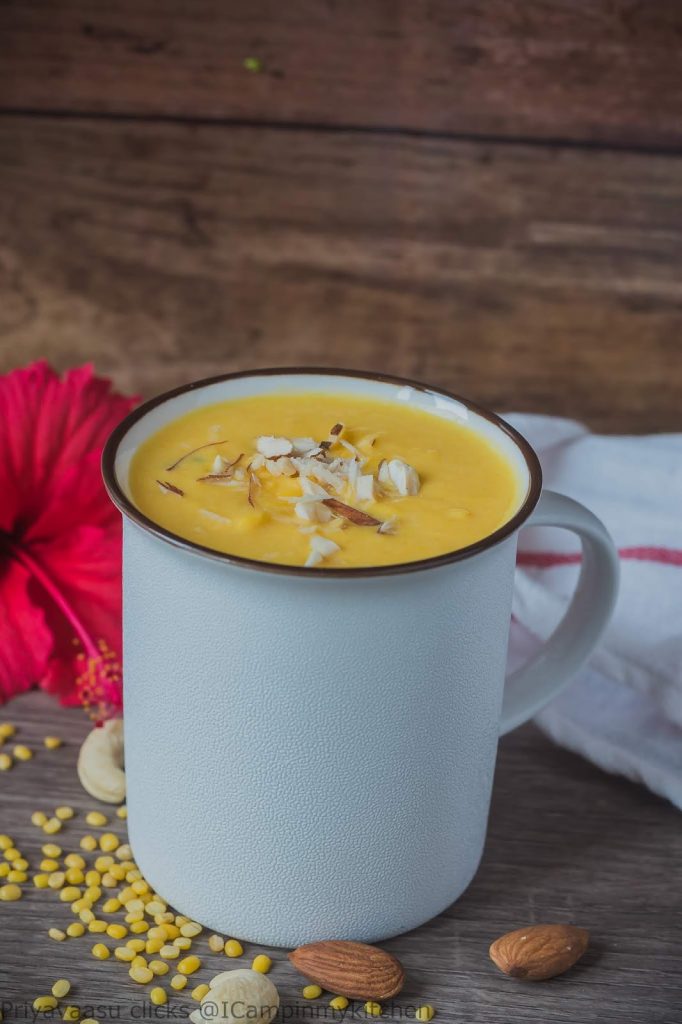 How to make the kheer in the microwave
You can also make this in Microwave. Use a deep bowl so milk doesn't overflow. Take the chopped carrots, coconut, moong dal, saffron and 1 cup of milk in a microwave safe bowl, microwave cook at power 100 for 15 minutes. 

Once cooked, remove the bowl from the microwave, add remaining 1 cup of milk, blend the contents smooth using a stick blender. Add sugar, cardamom and chopped nuts to it and microwave the contents again at power 50 for another 8 minutes. Take it off the microwave and serve warm, garnished with nuts.